By Neal Rau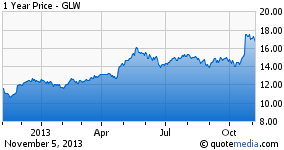 Corning Incorporated (GLW) shares are up 34% YTD and are trading near two year highs. The company has benefited from strong demand for its scratch-resistant Gorilla Glass and fiber optic products. However, the company said it anticipates that fourth-quarter results will be sequentially lower due to normal seasonal declines in non-display businesses. This decline will be larger than normal due to a more significant downturn in optical fiber sales volume, which is occurring primarily in North America and China. After a 15% run up in share price over the last month, should investors be taking profits?
Shares of Corning spiked up last week in after-hours trading after the company announced a deal with Samsung. The company is entering into a series of strategic and financial agreements with Samsung (OTC:SSNLF) intended to strengthen product and technology collaborations between the two companies. Because of the deal, Corning will be acquiring full ownership of Samsung Corning Precision Materials from Samsung. Samsung will transfer its 43% stake in the company to Corning, and Corning will pay for the rest of the minority shareholder stock.
The deal definitely helps Samsung manage its supply chain, which is important when competing against Apple Inc. (AAPL). It is notable that Corning's Gorilla glass is used in both the iPhone and the popular Galaxy phone line, made by Samsung. Samsung has many new products, including the new Galaxy Gear Smart-watch, and a pipeline of new products which both companies could collaborate on together to help develop new technologies. Display technology is one of the key drivers for new products, and many new products are likely to see curved glass among other new technologies. Earlier this month Samsung unveiled the first curved smartphone called the Galaxy round.
Corning Inc beat analyst estimates on Wednesday when it reported its quarterly results. The company earned $0.33 per share, which was a penny better than the $0.32 estimates, but in line with the pre-announcement; core net sales revenues rose 9.8% YOY to $2.11 billion versus the $2.09 billion consensus and in line with the pre-announcement of $2.1 billion. Sales in the company's telecommunications unit, which makes optical fiber cable, rose 24 percent to $650 million in the third quarter, accounting for nearly a third of total sales. This quarter marked the fifth consecutive quarter that Corning beat the analyst estimates.
Stock Review: The company pre-announced about a week ago, and delivered another better than expected quarter. In addition, the news has been very positive, as the stock has surged on the Samsung deal, which was recently announced. Based on the real-time trading report published by Stock Traders Daily, GLW is testing long-term resistance, and the recent positive news could be built into the share price already. Smart money is likely to take profits near resistance, especially after such a big move up in share price. According to rule, we are sellers at resistance, and as long as the stock remains below resistance, we expect lower levels and a test of support. That would make GLW a sell/short at resistance, with risk controls in place if resistance breaks higher.
Disclosure: I have no positions in any stocks mentioned, and no plans to initiate any positions within the next 72 hours.
Business relationship disclosure: By Neal Rau for Stock Traders Daily and neither receives compensation from the publicly traded companies listed herein for writing this article.