Many investors are probably not aware that ailing Sears Holdings (NASDAQ:SHLD) has a huge online presence, and is in fact the sixth largest online retailer. To its credit, Sears' e-commerce operations remain one of the retailer's few bright spots, with web sales growing a respectable 17% in the last 12 months, at a time when its U.S. same-store sales tanked 2.5%. Sears' CEO Edward Lampert has been quick to lavish praise on digital retailers such as Amazon (NASDAQ:AMZN) and eBay Inc.(NASDAQ:EBAY) during annual meetings, while at the same time dismissing traditional brick-and-mortar retailers such as Staples Inc. (NASDAQ:SPLS), J.C. Penney (NYSE:JCP) and Best Buy Co. (NYSE:BBY) These three have continued to struggle even after investing significant amounts of cash to put back some verve back into their stores.
Sears' apparel business
Sears is currently mulling over its next round of real estate properties sales, as well as several spinoffs of a number of its finest stores. According to the highly controversial September Baker Street Report, more than 90% of Sears' investors see the firm as a fine asset play, rather than a good turnaround bet. The truth of that statement became abundantly clear when recently the stock shot up a massive 11.8% in a single day, after Sears made a public pitch of the sale of its Lands' End brand. But the following day, the stock gave up a huge 5.5%, after investor enthusiasm about the sale wore off. Understandably, many Sears investors are more interested in the firm unlocking value from its extensive real estate properties than turning around its underperforming retail business. But the only sure way the firm will remain a sound long-term investment is if it manages to stop the hemorrhage at its stores, or find a good alternative, and right now its best bet looks like its online stores.
Sears had about $671 million cash on its books as of Aug. 3, 2013. McGinley estimates that the firm will burn through $900 million to $1 billion. Sears declared to the public its intention of separating its Land's End apparel business as well as its auto service centers. There is no denying that this move will hugely improve the firm's liquidity, with several analysts placing estimates of the deal around $2.5 billion. While that kind of money is no pocket change for even a firm of Sears' size, it will only buy it a few years' worth of liquidity at best, probably till around 2015/2016, according to McGinley.
Digital success
But will Sears' digital success be enough to turn around its flagging fortunes? Online sales account for just 3% of Sears' $40 billion sales revenues. Mr. Matt McGinley, an MD at International Strategy & Investment Group, says that online is the flavor of the moment, and where big growth will be found in the next few years. This is certainly good news for Sears. Its same-store sales decline are showing no signs of relenting, and have slid a further 3.7% in the 12 weeks running up to Oct. 26, 2013, as the firm's management recently revealed.
Edward Lampert has spent about $1.51 per square foot on Sears' physical stores since it merged with Kmart stores in 2006. The Sears CEO has spent a further $1.04 per square foot on its Kmart stores. In sharp contrast, competitor Macy's (NYSE:M) has spent $6.25 per square foot on its stores while Home Depot, Inc. (NYSE:HD). has spent $6.25 in a similar time-space. The common criticism that Sears has been neglecting its physical stores in favor of its online stores is therefore largely unfounded.
Lampert has been aggressive in expanding Sears' online presence over the past few years, investing in several initiatives that are directly aimed at boosting the firm's e-commerce platform. Sears inaugurated the same-day delivery service in 2006, allowing its customers to order online for pickups or home deliveries. In 2010, Sears set up Marketplace, a third-party vendor website with a huge portfolio of more than 100 diverse products.
In May this year, Lampert spoke at length about Member Assist, a mobile app that Sears' customers can use to send text messages to store associates. The CEO also touted Shop Your Way, Sears' loyalty reward program. Shop Your Way members account for 60% of Sears' sales.
Sears a bit late to the online party
Many industry observers feel that Sears' foray into the web has come a little too late. Bill Kenney, a long-serving Sears executive who exited in 2008, says that Sears should probably have doing what its' doing now some twenty years ago. Mr. Balter of Credit Suisse feels that Sears' online growth will not be enough to stem its declining store fortunes. He believes that it would take several years for the firm to sell off its physical stores and transform itself into a fully-fledged online retailer.
But this does not mean that Sears' online project is altogether doomed to fail. Amazon itself started off with a narrow specialty as an online book seller, but look at where the company is right now. Amazon has been busy growing its market share at the expense of physical stores such as Sears and J.C. Penney, as you can see from the graph below, further underlining the dominance of web stores over traditional stores.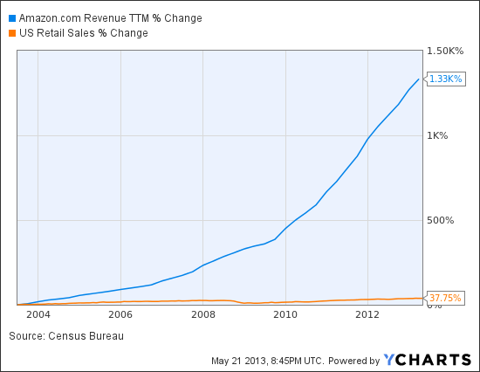 Bottom-line
Sears might have finally realized that the online juggernaut was going to steamroll traditional physical store retailers like itself. Although Sears' 17% online growth looks impressive, there's still plenty room to run before it can catch up with Macy's and Kohl's, both with over 40% online growth. If Sears can manage to grow its current $1.2 billion annual online sales at 20%, its annual online sales would have grown to more than $20 billion in about 15 years. During a similar timespan, its store sales would have declined by around $15 billion if the erosion continues at 3% per annum, meaning that overall sales would have increased by approximately $5 billion. If Sears can manage to grow its online sales at Macy's and Kohl's 40%+, then it will easily offset its decline in store sales and would have hit $40 billion in annual online sales in about eight years or less. It is, therefore, not entirely inconceivable that Sears might succeed in transforming itself into a predominantly online retailer in a decade or even less.
Disclosure: I have no positions in any stocks mentioned, and no plans to initiate any positions within the next 72 hours.
Business relationship disclosure: Syncopy Research is a team of financial analysts. This article was written by Alex Kimani, the firm's senior analyst. We did not receive compensation for this article (other than from Seeking Alpha), and we have no business relationship with any company whose stock is mentioned in the article.