We have had numerous questions regarding some of the pitfalls that might be lurking out there as it pertains to the E&P names we have been so bullish on. As readers know we try to keep up with not only the bull case on these names, but what bears are saying as well as the companies themselves when it comes to what could delay their plans moving forward.
The remainder of the week we are going to be looking at these issues on a play-by-play basis and alerting investors to issues we are watching.
Stock to Watch:
Kodiak Oil & Gas (NYSE:KOG) is a name we are a bit more cautious on after the huge run than others. It could simply be due to the fact that we were early to the name and bulls when others were not and now see the need to lock in profits. Regardless of our view we like to provide readers the opposing view to our calls and yesterday Stephens provided just that. They raised their price target to $17/share from $13/share after the company reported results as they now believe that costs will continue to fall as Kodiak deploys more pad drilling and continues to lower drilling costs via improved techniques and new technologies.
It was not just Stephens with a bullish outlook for Kodiak yesterday, Howard Weil also had good things to say. Their price target for the shares was moved to $18/share from $14/share on the company's strong acreage position and continued downspacing, which increases the number of wells per section. The firm noted that the company could very well increase the number of wells per section again depending on further results.
Chart of the Day:
Our only issue with Kodiak is that it has had a heck of a run in recent months and appeared as though it had gotten ahead of itself after the takeover speculation and spike in oil prices. We were early believers in this name and thought that $10/share would be a fair move, but with shares having gotten 30% richer we exercised caution. Kodiak continues to deliver successful production and exploration numbers and after the stock builds another base it is our opinion that this will lead us higher once again.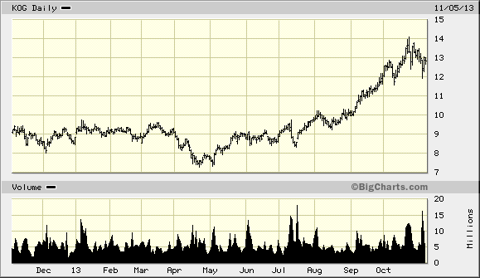 Source: BigCharts
Commodity prices this morning are as follows:
Gold: $1316.60/ounce, up by $1.90/ounce
Silver: $21.72/ounce, up by $0.015/ounce
Oil: $94.35/barrel, down by $0.27/barrel
RBOB Gas: $2.5306/gallon, up by $0.0024/gallon
Natural Gas: $3.392/MMbtu, down by $0.053/MMbtu
Copper: $3.258/pound, up by $0.005/pound
Platinum: $1454.50/ounce, down by $1.70/ounce
Comments
We have noticed a lot of different voices coming out in recent weeks with differing views on the valuation of the E&P names involved in North America's shale rush. We are of the opinion that long-term this is a space that investors need to be involved in, and that ultimately it will pan out. Yes some names may be over-hyped at this point but in our experience companies have a tendency to grow into their valuations and in many cases exceed the stock prices hit at what many viewed as a top.
The hot areas of the shale boom right now are the Bakken, Eagle Ford, Permian and Utica shales. One could look to a number of plays in each of those areas and say that valuations are out of sight but what one has to remember is that investors are paying up for growth expected results. So while many of us have gravitated toward the bigger names with proven results and track histories, those investors sticking to the names proving up areas of these plays as commercially viable might very well sport the biggest gains moving forward.
This week we will highlight a few points of emphasis we think readers need to be aware of for the next few quarters in some of these plays. Today we will focus on the Utica, and later this week we will cover the Bakken, Eagle Ford and Permian.
Utica
The Utica has some issues that are still being worked out as far as the midstream is concerned. Many operators are reporting issues with their midstream partners not having capacity for them to produce all out and this is slowing the rate at which many are able to bring wells online at. Another issue for the midstream partners is the ability to actually get pipelines in the ground as they are facing right-of-way issues with landowners. Both have been issues for the entire year, but we should see some resolutions to these issues as 2014 gets underway and companies have the opportunity to have adjusted their business practices. The one big question mark will be how the operators in the southern Utica are able to get their production to market as we see operators wanting to increase exploration efforts in the area, like PDC Energy (NASDAQ:PDCE), and others where results have come in far stronger than anticipated, such as Antero Resources (NYSE:AR). The question is whether the capacity is going to be able to keep up with production, and right now we do not have a good answer for that.
Looking at issues the E&Ps are facing themselves, readers should focus on the ramp up in drilling and whether the companies have the expertise to handle the logistics that these programs require. It seems everyone has issues ramping up, but the smaller companies which bring in more than one additional rig per quarter have had the biggest issues in the play with managing the additional workload.
Also in the Utica we are seeing a move by some, such as Gulfport Energy (NASDAQ:GPOR), to bring wells into production without rest times. This could change the game in the play and increase IRRs and the economics versus other plays if this move actually works. But once again any additional production will be affected by whether the midstream partners have the increased capacity in place.
Disclosure: I am long PDCE, GPOR. I wrote this article myself, and it expresses my own opinions. I am not receiving compensation for it (other than from Seeking Alpha). I have no business relationship with any company whose stock is mentioned in this article.