I'm pleased to announce the launch today of many exciting new features on Seeking Alpha. A number of these features have been added in response to requests from users. We are thrilled to have a dedicated user base that plays an integral part in the evolution and expansion of our community. Again and again we heard from you that users are looking for tools to increase connectivity and visibility.
Today's release is focused on making sure users can easily communicate on the site, by allowing easier tracking and following of comments and by enabling direct, private messaging between individual users.
The site improvements fall into the following categories:
Direct Messaging

Upgrades to article and Instablog comments

Nested comments

Profile preview window on each comment

Comment tracking

Toolbar notification and navigation

Changes to Leaderboards
Here's a simple how-to for the new features:
Many of you have requested an easier way to reach out to authors and users on the site. This new feature facilitates private conversations between any two Seeking Alpha users. Below the profile picture on all article, instablog, and profile pages you will notice a new "send message" button. You can use this button to quickly initiate direct message conversations with anyone on Seeking Alpha. Alternatively, you can also use the "compose" button from within the inbox. (click on image to enlarge)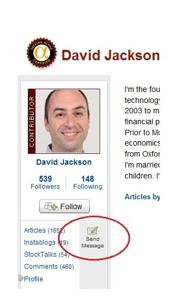 Inbox
Like many email programs and social networks, the Seeking Alpha messaging system features an inbox, archive, and sent folder as well as a saved contact list. Privacy settings allow you to control which messages you receive.
Upgrades to the comment sections of article and Instablog pages
Seeking Alpha comments have become an integral part of the site. Much of the interesting give and take between our users takes place after articles are posted. For this reason, we have made it much easier to follow interesting comment threads, track comment threads on relevant articles and posts and see the profile of any user who has left a comment.
Nested comments
Replying to a comment will result in the "reply" comment being nested underneath the original, thereby greatly improving conversation flow and readability.
Commenter profile windows
When browsing the comment section you can now see more details about each commenter without having to leave the page. Mouse over any commenter's username to generate a profile window which shows the commenter's bio, stats, recent articles, Instablog posts and StockTalks.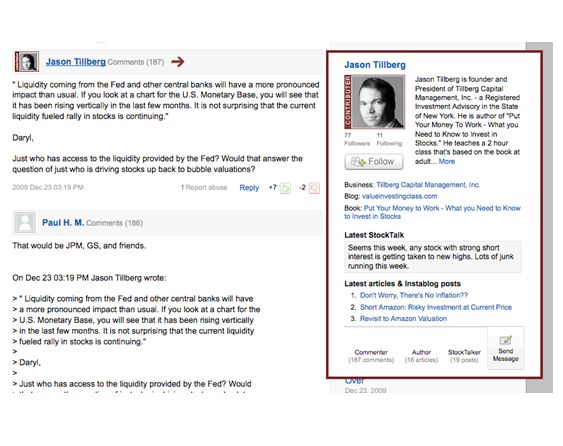 Comment tracking & notification
With the addition of the "Tracking Dashboard" we've made it simple to track the comments most relevant to you. The Tracking Dashboard notifies you of any new comments that have been left on a relevant article or post since your last visit.
The Tracking Dashboard features two tabs (click on image to enlarge):

Conversations I'm part of – indicates any new comments, including replies to comments you wrote, on any article or Instablog post that you have commented on.



Comments on my posts and articles – notifies you of new comments on any article or Instablog post that you have published.
This helps you to track comment threads even if the comments are on an older article (that has perhaps become relevant again due to recent market developments).
Toolbar notification and navigation
The toolbar anchored to the foot of every page on Seeking Alpha has two new notable features.
Notifications
The notepad next to the Seeking Alpha logo (located on the right side of the toolbar) features notifications relating to messages and comments in your inbox and tracking dashboard.
An orange flag, indicating a new notification, will appear above the notepad whenever someone sends you a new message or comments on a relevant article (click on image to enlarge):

Clicking the notepad opens a notification window detailing your most recent updates (click on image to enlarge):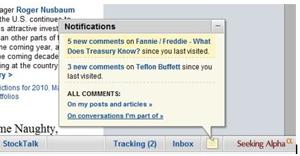 Navigation
The 'Tracking' and 'Inbox' links on the right side of the toolbar give you instant access to your Inbox and Tracking Dashboard. The toolbar is visible from every Seeking Alpha page so you can easily see all of your notifications and messages at a glance.
Please note that all of the aforementioned features are for logged-in users only – so if you'd like to take advantage of comment tracking and direct messaging – sign up today!
Improved Leaderboards
The leaderboards have undergone a make-over in both style and substance. The boards have a new look and feel and a few important changes have been made to the rankings. The SA Top 100 now includes only those authors who have had at least one article published in the last seven days. Additionally, the Fastest Climbers leaderboard now includes active non-authors as well.
Please let us know what you think by sending a direct message to Fara, here.