Investors Vote With Their Wallets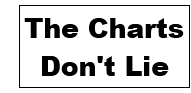 Demand is related to many things in the investing world, including confidence in the economy, earnings, innovation, and corporate leadership. One thing that is often lost when critiquing the value of analyzing stock charts (aka technical analysis) is the charts help us understand and monitor economic conditions and fundamental concepts. Market leaders speak to relative demand. Relative demand is a reflection of bullish economic conviction or the lack thereof.
Conservative Staples Paint Mixed Picture
If you are looking for market leaders, reviewing ETFs relative to the S&P 500 is a good placed to start. It aligns with common sense when demand for conservative consumer staples (NYSEARCA:XLP) is greater than the demand for growth-oriented equities; investors are concerned about the economy, earnings, systemic risk, etc. The chart below shows the performance of XLP relative to the S&P 500 (NYSEARCA:SPY). When the demand for defensive XLP is greater than the demand for SPY, the ratio rises. The chart below captures the current mood of the markets from two key perspectives:
The longer-term trend favors the bulls and a positive economic bias.
Over the past three weeks, some doubts have crept into the picture.
The blue and red moving averages in the chart below are used to help filter out some week-to-week volatility, allowing us to focus on the longer-term trend as determined by the market's pricing mechanism. A bullish trend features (A) price above the red and blue moving averages, (B) blue above red, and (C) positive slopes on both the blue and red lines. A bearish look is the mirror image. A detailed description of how traders use the moving averages can be found in this video segment; the concepts apply to all the charts in this article.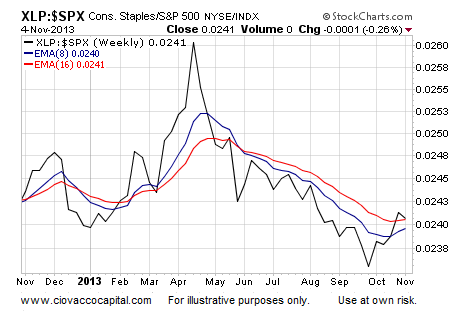 Cyclical Leadership Trends Remain In Place
All things being equal, when technology stocks (NASDAQ:QQQ) outperform, it sides with the risk-on case. The convincing leadership from QQQ has been in place for some time. As you can see below, the recent pause has done little damage to the bullish trend for QQQ relative to the S&P 500.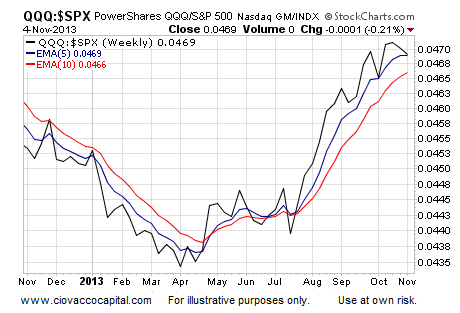 Similarly, the recent demand for small caps has provided an economic vote of confidence over the past several months (see chart below). Like QQQ, the recent relative weakness in IWM has not yet morphed into anything too concerning relative to the longer-term outlook.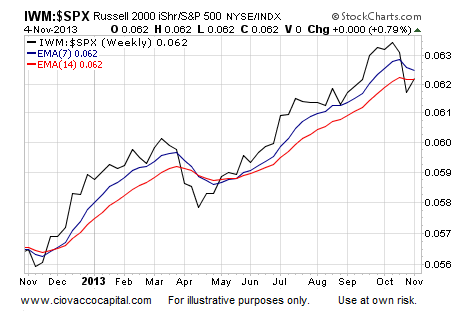 Economic Fear Is Deflationary
Gains in bonds are somewhat of a double-edged sword. Increasing demand for defensive assets aligns with increasing fear and moves the big picture closer to a risk-off stance. However, when bonds rise in price, it means interest rates are falling, which can be a positive for the economy and stocks. As shown in the bond vs. stock chart below, recent gains in TLT have not significantly altered the demand profile relative to stocks when viewed from a weekly perspective. If investors thought economic weakness would overpower the Fed's printing press, they would be demanding deflation-friendly assets, such as bonds. The hard evidence does not align with the deflation/bearish case at this time.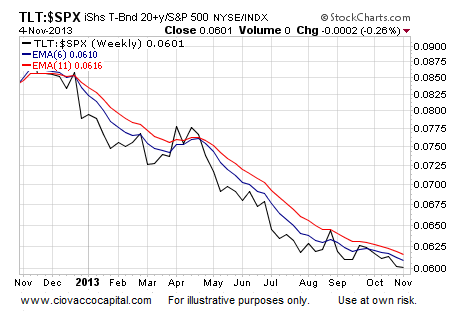 TLT has a little brother that invests in Treasury bonds with shorter maturities (NYSEARCA:IEF). A new weekly low appears on the IEF vs. S&P 500 chart below which serves as a confirmation of the weak demand for bonds relative to stocks.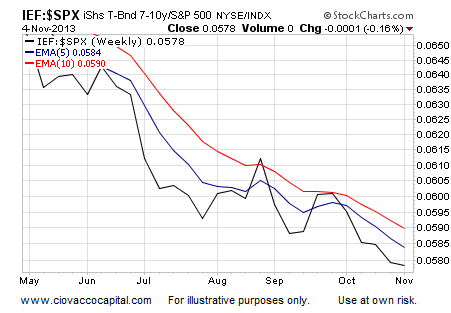 It's Different This Time
A fair argument is the Fed has skewed the Treasury market with their money printing and bond buying program, known as QE. The demand for a diversified basket of bonds (NYSEARCA:AGG) paints a similar picture, which aligns with "risk-on".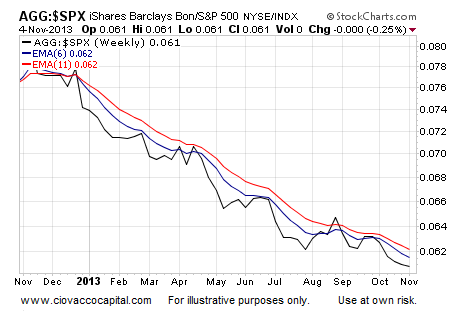 The Ratio That Needs To Turn For Stock Bears
Some may still counter with "the Fed has skewed the entire bond market", which is hard to argue against. The chart below, showing the performance of shorts (NYSEARCA:SH) relative to longs (S&P 500), is immune to "it is different this time" responses. When the aggregate opinion of investors flips to risk-off, it is a mathematical certainty that the chart below will respond with a rising ratio, which is not what we have as of Monday's close. If the ratio below morphs from what is clearly a bullish economic bias to a bearish bias, our market model will call for defensive adjustments inline with the magnitude of the shift.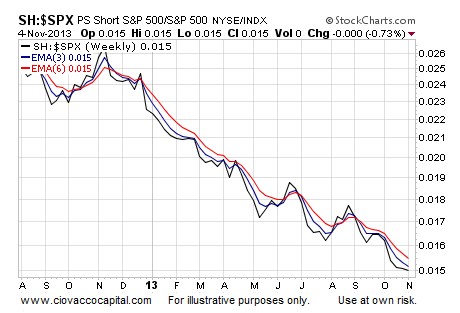 How About Precious Metals?
The chart below helps us answer the question would I rather be in stocks or would I rather be in gold. The market's answer continues to be "stocks".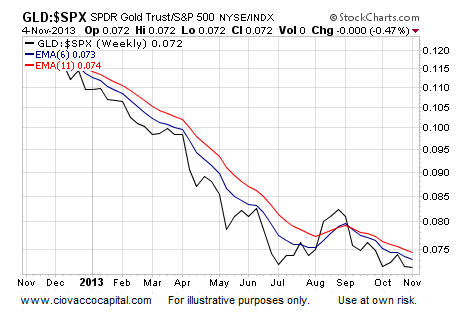 Dollar Strength Slows Foreign ETFs
Strength in the U.S. dollar has contributed to the recent relative weakness in foreign stock ETFs. The most favorable conditions for investors occur when the global economy is healthy, rather than just the U.S. economy. For the first six months of 2013, concerns about economic growth in emerging economies were reflected in the weak relative performance of EEM. As shown in the chart below, EEM has seen demand pick up in recent months, which bodes well for global growth. Like QQQ and IWM, emerging markets have seen some weakness recently as economic data continues to come in on the soft side.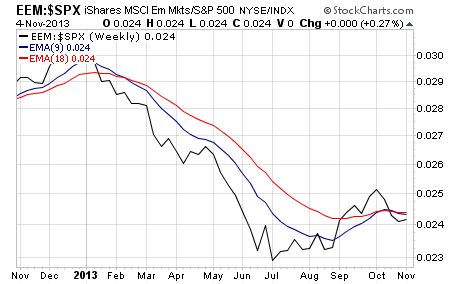 Similarly, the EAFE ETF (NYSEARCA:EFA) has outperformed in recent months, but has hesitated along with other economically-sensitive ETFs. We have not seen a bearish moving average crossover (blue drops below red) in the chart below, which means the recent weakness can be classified as volatility to ignore within a rising trend.
Cracks Need To Widen For Stock Market Bears
As we noted in Central Banks May Limit Severity Of Any Stock Market Correction, investor hesitation in cyclical ETFs has not yet morphed into a concerning state. Higher beta and cyclical exchange traded funds tend to perform better during periods of increasing economic optimism. Readers who know the ETF landscape will agree the weekly leadership shown in the charts above has a bullish/pro-cyclical bias. This collection of ETFs tells us the economic doubts have not yet flipped the markets to "risk-off" mode.
Investment Implications
Twitter gives you 140 characters to state your case. Therefore, it acts as a powerful filter for complex subjects. The charts above can be summarized via the tweet below.

Given what we know today, our game plan is to exercise patience during any corrective activity in stocks. Since flexibility is one of the keys to success, we are open to making adjustments based on the observable evidence if necessary. We continue to hold positions in the United States (NYSEARCA:VTI), Europe and emerging markets ((NYSEARCA:EEM)). If you remain skeptical of the usefulness of monitoring the market's pricing mechanism, we used similar rationale to pen 22 Charts Say Be Open To Bullish Stock Market Resolution on October 4 when Armageddon talk was running rampant concerning the fear of a U.S. debt default.
Disclosure: I am long SPY, VTI, EFA, EEM, QQQ. I wrote this article myself, and it expresses my own opinions. I am not receiving compensation for it. I have no business relationship with any company whose stock is mentioned in this article.