By Brandon Matthews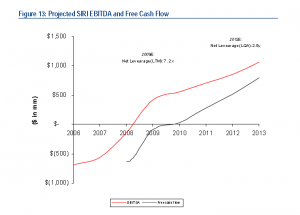 Just before the holiday season took hold, Bank of America/Merrill Lynch (NYSE: BAC) initiated coverage of Sirius XM Radio (NASDAQ: SIRI) bonds with an overweight rating, as reported by our friends at Benzinga.com. The report was issued on December 23, 2009 and should come as no surprise given the recent notice issued by Standard & Poor's, which promises a Sirius XM Radio credit upgrade in the not too distant future. [ image]

The report itself offers an exceptionally bullish outlook on Sirius XM Radio, despite the analysts' clear opinion that Sirius XM Bonds offer greater potential reward than the equity. I remain baffled by the suddenly favorable institutional bias towards Sirius XM bonds — following the institutional accumulation of most of Sirius XM's debt. Okay, I admit it's not all that baffling. They bought the debt at rock bottom prices and are now looking to sell those bonds to retail investors. I get it.
There can be no doubt that for income investors, Sirius XM bonds offer exceptional yields against moderate risk. A check of the Sirius XM bond market, however, suggests that the bonds are currently fairly priced in most cases, and in my opinion leave little room for appreciation from an investment perspective.
The one notable exception that I can find, are the Sirius 3 1/4% Convertible Notes due 2011 (CUSIP 82966UAD5). These CCC+ notes that are convertible at $5.30 a share in October of 2011, and have traded for as little as 82 basis points as recently as November. The potential gains have not been missed by Farrallon Capital; a hedge fund that has accumulated $42.88 million of the $230 million issued by Sirius as of September 30, 2009.
As an equity specialist, I view the report differently than it is meant to be read. The bullish outlook is one of the most well thought out presentations I have found. I find that contrary to the analysts' intent, it makes a strong case for equity ownership. As an example, the analysts cite:
…a "still relatively small (<10%) penetration rate of the entire domestic automobile base, amid growing OEM penetration with the used car market providing additional opportunity. "
This seems to suggest that Bank of America/Merrill Lynch foresees significant future subscriber growth for Sirius XM Radio. The report indicates that the firm's economists currently forecast that light vehicle sales "are expected to increase by 18% in 2010 to 12.3 million." This number would surpass Sirius XM's guidance of 11.4 million.
In the title of the report, the analysts compare Sirius XM's debt picture to Dish Network's (NASDAQ:DISH) situation in years past and in fact reads: "Reflections of DISH/EchoStar (NASDAQ:SATS)." Comparisons are made to historical EBITDA and Free Cash Flow performances of DISH, a theme seen throughout the report. Projections within the report are calling for Sirius XM Radio to achieve $1 billion in positive EBITDA and $750 million in positive Free Cash Flow by 2013.
A quick look at the nearly $10 billion market cap of DISH Network, would again seem to offer an exceptionally bullish equity case for SIRI shares when compared to its current $2.3 billion market cap — or even its $4 billion market cap on a fully diluted basis.
Position: Long SIRI