The year 2013 will I suspect be chiefly referred to in the history books as the year of the Obamacare flub. It will be less well known as the 150th anniversary of the first diet book. But indeed, it is. 150 years ago back in 1863 as the Civil War was raging, William Banting published his "Letter on Corpulence Addressed to the Public". In it, he advocated a low-carbohydrate no-grain diet consisting of meat, green vegetables, fruit, and dry wine. It became so popular in the 19th century that dieting itself became known as "Banting".
Banting's original diet book was virtually forgotten for over half a century as government-backed USDA food pyramids took center stage, recommending 6-11 servings of grain a day, 300 grams of daily carbohydrates, and low fat intake to promote weight loss. Little did Banting know, however, that his diet, which is basically the diametric opposite of the USDA food pyramid, would make a spectacular comeback. Here I am not referring to the Atkins diet, which hit peak popularity in 2003 with the publication of Dr. Robert Atkins' "Dr. Atkins New Diet Revolution" in 2002. The Atkins' diet turned out to be a one-year fad that only succeeded in putting a large but temporary 8.2% dent in pasta sales in 2003. By 2005 the diet was so out of style that the Atkins Nutritional Company filed for chapter 11 bankruptcy.
Though the Atkins diet was successful in spurring weight loss to a degree, its popularity waned due to its rigorous four step method, appeal only to overweight people, and strict mathematical approach to eating by meticulous carb counting.
What I am referring to rather is the paleolithic diet which, like Atkins, is based on a low carbohydrate intake, but unlike Atkins, has the potential to make long lasting impact, changing the way Americans eat on a long term basis. Basically, instead of making a one year dent in pasta sales, the paleo diet could cause the food industry to restructure itself long term.
The Basics of Paleo
The cornerstone of the paleo diet and the basic theory behind it is that human beings-all of them, not just obese ones-should only eat foods that the human body evolved on. The logic being that if our bodies did not evolve on a particular food, then that food wasn't designed for the human body and will therefore cause problems down the line. This immediately eliminates all grains (including whole grains), rice, beans, and corn, none of which were consumed by humans until about 10,000 years ago. There goes the entire base of the USDA food pyramid. There are different flavors of paleo, but the common core boils down to meat, fish, eggs (basically animal products), vegetables, fruit, and nuts.
So while both happen to be low carbohydrate diets, the major differences between paleo and Atkins are target audience, mindset, and structure. With Atkins, the target is the overweight population, the mindset is weight loss, and the structure is very regimented and rigorous, with various "stages" and specific and tedious calculations at each stage. This lent Atkins to being short-lived and faddish with limited outreach potential as people got tired of keeping track of everything they ate all the time. With paleo, the target is everyone, the mindset is healthy eating in general, and there is very little structure. Just eat what you want when you want, as long as its meat, vegetables, fruit, or nuts, almost exactly what Banting told us all to eat way back in 1863.
Paleo is catching on in a major way
The above is not meant to convince anybody of the effectiveness of any diet. Rather, it is to explain the widespread appeal of the paleo eating style and its revolutionary potential on the food industry in the United States, and in turn, the investment landscape. And there is ample evidence that this revolution has already begun.
Exhibit #1 is the Google keyword planner. Comparing average monthly searches in the United States for these popular diet terms below, "paleo diet" blew every other search out of the water.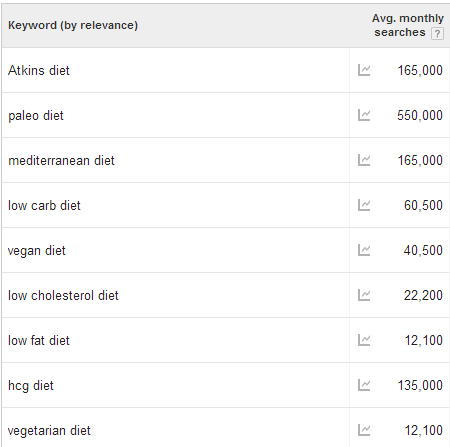 Exhibit #2 is this article from Business Insider entitled "Thirteen Nutrition Lies That Made The World Sick And Fat", most of which are consistent with the paleo diet approach. When you click on it, you will notice the view count at the top, which currently sits at 4.1M. It was published on October 16. Business Insider's unique views for the entire site were 5.4M for all of June 2012 according to the Wall Street Journal. This gives you a small idea of the interest and appeal of paleo diet ideas.
Exhibit #3 is National Geographic. This article on the dangers of sugar appeared as the cover story in its August 2013 issue, so this is not just an internet/link bait viral burst phenomenon. Avoiding sugar is another major cornerstone of paleo eating. While a caveman may have arguably chewed on a piece of sugarcane now and then, refined sugar would have had no place in his diet whatsoever.
Exhibit #4 is bread sales. As paleo has gained in popularity over the last few five years, bread sales have been slumping at a rate of .3% annually over the same timeframe according to IBISWorld. Clearly this is not just a one year Atkins fad.
The big question is, how does this impact the investment field, and what can investors do to capitalize on the change? In general, those that can adapt will gain. Those that can't will lose. My thesis is that while large food companies that can adapt will insulate themselves against large swings, the biggest impact will be felt in the more specialized industries that could benefit from the paleo revolution.
General Mills successfully adapts to paleo
A very good example of a food company adapting to the new paleo mindset is General Mills (NYSE:GIS). By adapting to the new mindset, I do not mean that companies like General Mills will start tailoring to strict adherents of paleo eating and market itself that way. What I mean is more subtle changes in a paleo direction. As Americans become more and more conscious of the amount of grain in their diets and the paleo tendency to replace grains with animal protein, we will start to see a general shift away from grains and towards protein. This is exactly what is happening with General Mills.
According to its latest 10-K (page 93), since 2011 breakfast cereals (all grains) have dropped from its largest money revenue source down to 3rd place in 2013, dropping 1.5% since last year. Comparatively low-carb yogurt, on the other hand, and especially high protein Greek yogurt, has skyrocketed from 6th place all the way up to 2nd place, surpassing cereal for the first time ever. A particularly eye-opening statistic is that an astonishing 44% of General Mills' net sales increase from 2011 to 2013 came from yogurt. In fact, increasing manufacturing capacity for high-protein Greek yogurt is mentioned explicitly in its expansion plans for the coming year (link above, page 30). Also interesting on a paleo anti-grain note is that the largest sales loser since 2011 has been its dough products.
So despite the big changes happening in food consciousness, I believe General Mills can absorb them and adapt nicely. The fact that high protein yogurt has expanded so quickly and successfully indicates that the company has the ability to meet new consumer demands on the fly. With its dividend steadily increasing every year and its plans to further expand its yogurt manufacturing capacity, it is safe to assume that steady growth will continue, as long as General Mills keeps successfully responding to new paleo-inspired consumer tastes.
Coca Cola is in a much more dangerous position
To return for a minute to the Atkins/paleo comparison, even at its peak in 2003 when fully 1 in 11 Americans was estimated to be on the Atkins diet, Coca Cola (NYSE:KO) was not much affected. In fact, in FY2003, Coca Cola's sales rose 7.6% from the year before. But If pasta sales plummeted close to 10% that year, why not Coke? The answer, I believe, is that the Atkins diet sees nothing wrong with diet soda. You can drink as much Diet Coke as you want, still be on Atkins, and still lose weight. But the paleo diet is not necessarily about losing weight, and no caveman was ever caught dead reaching for a Diet Coke.
Coca Cola has not yet been affected by the wave of interest in paleo in a broad sense, but there is evidence that it might soon be. Some main stream media outlets are questioning whether America has hit "peak soda" as quarterly revenues are showing signs of leveling off. And if we have hit peak soda through the evolution of a paleo consciousness (no pun intended), then Coca Cola has a lot less maneuvering room than a company like General Mills that can switch from cereal to high protein yogurt on a dime.
It isn't often that KO is considered a riskier stock than GIS, but considered on this metric, it is.
Is Stevia the Answer for Coke?
This question has been pondered a few times here by different writers, and I believe that long term, if Coca Cola is going to stay on top, it has to embrace stevia as the only all natural calorie free sweetener. If America's recent interest in paleo eating maintains itself, then stevia is the only solution as both sugar and artificial sweeteners are out of the question. A caveman chewing on a stevia leaf is, on the other hand, quite conceivable.
Smaller companies are already taking the lead. Zevia, a stevia sweetened soda around since 2007, is already available in 15,000 stores throughout the US including Target and Whole Foods. Coke is already beginning the transition, but only on a small scale product testing basis. Coke's stevia products are available in France, Argentina, and Mexico, and there is a stevia-sweetened Fresca available in the US as well.
Cargill, famous for stevia sweetener Truvia, is still private, and there are only a handful of stevia companies that are publicly traded today. None of them, sadly, are what we would call comparatively safe investments. The largest, PureCircle (OTCPK:PCRTF) is a Malaysian company, and while both Coca Cola and Pepsi are clients, the stock has zero liquidity and almost no trading volume. The others are microcap stocks subject to unpredictable swings at this point. This means that the safest way to bet on stevia is just to buy KO and benefit secondarily if succeeds with stevia.
The most interesting play though in my opinion is Stevia First (OTCQB:STVF) if only for what it is trying to do. Stevia First has exclusive worldwide patents on a novel way of producing stevia while bypassing the entire agricultural process. It is currently developing a microbial fermentation approach, which would enable stevia extracts to be expressed by a microbe instead of being grown agriculturally. If successful, it would cut the cost of stevia production by 70% and presumably bring Coca Cola over to them from PureCircle.
For what it's worth, the company plans to showcase its microbial-fermentation produced stevia extract next month before the holidays, along with its traditionally produced agriculture-based stevia extracts grown from its company-owned stevia fields in California. It seems this announcement made back on September 3 that has catalyzed the stock's 46% move since then. People are speculating if Stevia Firsts' newly branded "Nature-Identical™ Stevia" synthesized from a microbe really tastes good, and if so, what Coca Cola will do about it.
Disclosure: I have no positions in any stocks mentioned, and no plans to initiate any positions within the next 72 hours. I wrote this article myself, and it expresses my own opinions. I am not receiving compensation for it (other than from Seeking Alpha). I have no business relationship with any company whose stock is mentioned in this article.