In this article, I will run a simple stock screen that will be able to identify momentum stocks. Some of the main characteristics of momentum stocks are that they have extremely high valuations, high growth rates, and high short interest. I used those main characteristics as the basis for my screener criteria. The stock screener I will be using is the Finviz.com stock screener, and I will be using the following criteria:
Forward PE: Over 50
Price/Book: Over 10
Sales Growth Q/Q: >15%
EPS Growth Next year: >15%
EPS Growth Next 5 years: >15%
Sales Growth Past 5 years: >15%
Float Short: >10%
After running the screen, I found five total stocks that met these criteria. Not surprisingly, Netflix (NASDAQ:NFLX) and Tesla (NASDAQ:TSLA) were two of the stocks included. The other three stocks smaller in size, and are lesser-known companies, and they are Pandora (NYSE:P), athenahealth, Inc. (NASDAQ:ATHN), and Insulet Corporation (NASDAQ:PODD). While Netflix & Tesla are popular momentum stocks, in this article I will be focusing on the three less popular stocks. The table below shows how each of the five momentum stocks from my screen has performed so far YTD, and the results show a significant outperformance of the broader market.
| | |
| --- | --- |
| | YTD Return |
| TSLA | 417.27% |
| NFLX | 264.62% |
| ATHN | 89.44% |
| P | 179.63% |
| PODD | 86.19% |
Pandora
Pandora provides customized internet radio to consumers on a multitude of devices, including PCs, mobile devices, and automobiles. Pandora makes money in two ways, the first is through its subscription service and the second is through selling advertisements. The biggest factor leading to the strong performance of the stock is that Pandora has been able to monetize the switch to mobile. The first chart below from a recent Pandora investor presentation showed that Pandora is second only to Facebook (NASDAQ:FB) in how long the average mobile user is on the Pandora mobile app. The second chart below shows that Pandora is the 3rd largest mobile advertising company in the United States, and trails only Facebook, and Google (NASDAQ:GOOG). With the continued shift to mobile, I expect Pandora will continue to monetize its position as the leader in internet radio.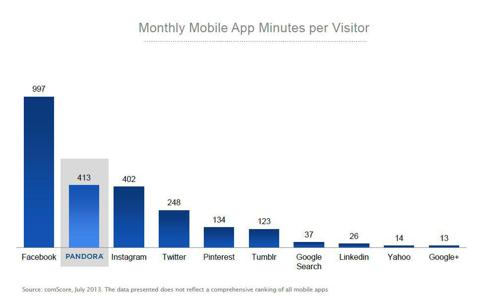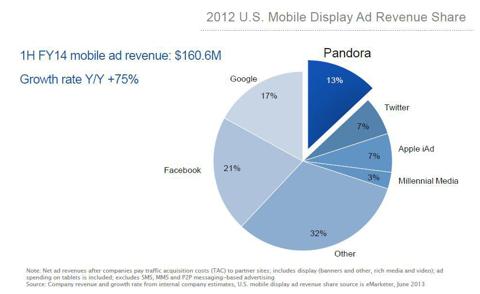 athenahealth
athenahealth provides cloud-based billing, electronic health record services, patient communication services, and order facilitation services to medical providers and individual doctors. With hospitals and doctors looking to cut costs to make healthcare more affordable and efficient, they have been switching from paper records to electronic records. This allows health records to be sent to other doctors or healthcare facilities simple, rather than sending a physical record. This is where athenahealth comes in by having the best electronic health records service. In a recent report by research firm KLAS, athenahealth was, "the most usable EMR [electronic medical records] solution, with 69 percent of providers surveyed recognizing athenaClinicals as "ready-to-use" out of the gate, and 85 percent of providers attesting to its usability "today."" This status of best in class, I believe will lead to continued growth in the share price of athenahealth, as the shift to electronic health records continues.
Insulet Corporation
Insulet is a medical device company, which provides insulin management to patients with diabetes. Insulet offers the Omnipod, which is a tubeless device that delivers insulin, and is attached to the body like a band-aid. Traditionally insulin is injected into the body using a needle, but with OmniPod, you put the insulin in the pod, and then attach the pod to your body. Here is a short video that shows how simple the OmniPod is compared to injecting yourself. With this simple process and no injections, it is easy to see why revenue for Insulet grew 18% in the last quarter. In addition, with statements from the CEO in last earnings report saying, "We shipped a record setting level of initial orders of the OmniPod in the second quarter" I fully expect the share price to continue higher in the long-term.
Closing Thoughts
In closing, I believe all three of the stocks I focused on have strong growth trends behind them, and have the potential to be high quality momentum stocks going forward. While these companies might not get the press and attention that Tesla and Netflix receive, they have the same characteristics, and thus should not be over-looked when talking about momentum stocks.
Disclosure: I have no positions in any stocks mentioned, and no plans to initiate any positions within the next 72 hours. I wrote this article myself, and it expresses my own opinions. I am not receiving compensation for it (other than from Seeking Alpha). I have no business relationship with any company whose stock is mentioned in this article.