Note to regular readers: This article is not for the average BDC investors looking for stable income from a buy and hold strategy. This method of investing is risky and the only reason I feel comfortable doing it is because of my familiarity with the industry. Invest at your own risk.
In a weekly newsletter I discuss general BDC market trends and turning points to allow investors to pick up various BDC stocks to add to their portfolios. The FOMC statements have been signaling a top to the cycle followed by a bumpy flat to down session leading to a low that is 15 to 30 days before the next Fed statement. This has been an opportunity to buy needed components for a high-yield portfolio. I usually invest in specific BDCs because I am particular, but when I feel that the industry has been beaten down for reasons such as interest rate fears and I want to increase my overall exposure without tinkering with my allocations, I buy UBS 2X Leveraged Wells Fargo BDC (NYSEARCA:BDCL) or "UBS ETRACS 2X Leveraged Long Wells Fargo Business Development Company ETN." Then I sell the day before the Fed statement comes out and hopefully able to collect a large dividend while I owned it. The rest of this article will discuss my rationale and process as well as returns and next steps. This investment idea is for investors with a larger appetite for risk and reward.
As discussed in my "BDC Investment Philosophy And 4 Portfolios," I consider investing in BDCs as an investment in the overall market with risk levels similar to other equity investments. I do not consider BDCs as simply a financial sector investment but take into account the sector diversity of each portfolio. Each investor has different needs and allocations but I believe that BDCs deserve a large portion of the overall stock allocation. BDCs can be volatile and affected by interest rates in the short term but I believe they will benefit from rising rates, given the high amounts of variable rate investments and fixed-rate borrowings.
In my newsletter, I wrote the following and included the chart below: "Well it happened again and as predicted the Fed statement last week signaled another top to the BDC market and then headed back down. The next statement will be on December 18th. Over the last three cycles the troughs have not been as low as the previous but that could change. I am projecting the next trough to be during the last two weeks of November and then back up again so we could see some buying opportunity soon."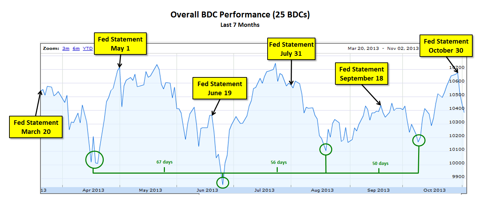 UBS 2X Leveraged Wells Fargo BDC
BDCL is an ETN based on the Wells Fargo Business Development Company Index and a component in my "High-Yield BDC Portfolio." There are many issues with investing exchange traded funds such as capitalization and liquidity limits as well as tracking fees. With this fund, there is also the added risk of 2X leverage, roughly equating to double the gains or losses in the BDC index, but this is what pays the 14.3% yield. The top six holdings account for over 50% of the fund as shown in the chart below: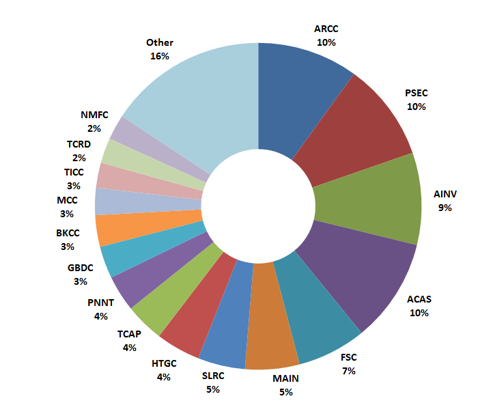 Current Holdings
One of the key issues I have with BDCL (besides paying fees) is that almost 50% of the fund is invested in companies that I would not invest in individually. That does not imply that they are bad investments but maybe ones that I do not follow or have an opinion on. However, there is a small portion of the fund, at around 7%, invested mostly in three BDCs that I would not recommend at this time: MCG Capital (NASDAQ:MCGC), BlackRock Kelso Capital (NASDAQ:BKCC), and KCAP Financial (NASDAQ:KCAP), two of which I recently explained my reasoning in "KCAP Financial: Will It Continue To Fall?" and "MCG Capital: An Overpriced BDC." KCAP has continued to fall.
The good news is that there are many BDCs included in the fund that I consider a 'buy,' some of which are the larger components such as Prospect Capital (NASDAQ:PSEC), Main Street Capital (NYSE:MAIN), Ares Capital (NASDAQ:ARCC), Fifth Street Finance (FSC), Triangle Capital (NYSE:TCAP), and Medley Capital (NYSE:MCC). I still consider FSC, MCC, ARCC, and PSEC, some of the most underpriced BDCs as discussed in "BDC Pricing: October 2013." One of the key BDCs that is missing is TCP Capital (NASDAQ:TCPC) but I believe the fund will be adding it in the next round of disclosures considering it is larger and growing faster than both Harris & Harris Group (TINY) and Medallion Financial (TAXI) that I do not currently follow but are already investments in the fund. TAXI reported yesterday and missed by $0.04 but recently increased its dividend and is covering with net investment income.
There are a few BDCs that I am neutral on in the fund such as American Capital (NASDAQ:ACAS), which was up almost 3% yesterday and still buying back shares but does not pay a dividend and depresses the ability of the fund to pay higher dividends. The average BDC (w/o ACAS) yields around 9.3% in regular dividends and assuming 2x leverage less tracking fees the current yield of the fund should be around 16% to 17% instead of 14.3%. The other two BDCs that I am neutral on are TICC Capital (TICC) and Apollo Investment (NASDAQ:AINV). I have recommended TICC in the past but there might be some dividend coverage issues in the near future (same with FSC as well but it is underpriced) and AINV is covering but I consider it to be higher risked and overpriced.
The chart below is my opinion (or not) of the fund components: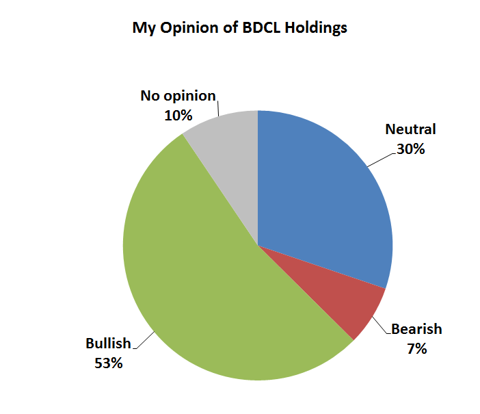 Risk
This is a levered fund with twice the risk of investing in the average BDC. Risk is great in bull-markets and not your friend in bear-markets. The chart below shows the exaggerated swings of investing in BDCL compared to the average BDC: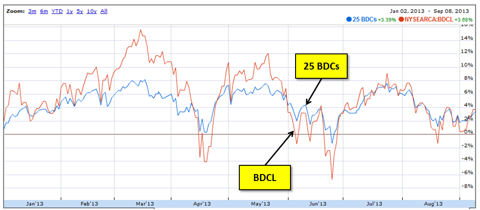 I use these swings to my advantage and buy on the dips after each Fed statement. The chart below shows my buys and sells for BDCL over the last seven months. The only set rule I have is to sell the day before the Fed statement shown in the green boxes below. I wait to buy until it drops by at least 10% or $2 from the recent high (or what I sold it for). This is almost always 15 to 30 days before the next Fed statement.

The next Fed statement is December 18 and the most recent high was $28.75, so I will most likely wait until it is priced between $25.75 and $26.50 or the lowest price I can get 15 to 30 days before the statement, especially if there is upward momentum at the time. Keep in mind that the peaks and troughs for both the industry and BDCL have been moving higher in general which indicated BDCs are being priced higher as investors learn that higher interest rates are not as bad for the industry as other rate sensitive sectors. Also keep in mind there are many BDCs reporting this week which will impact a few things.
Q3 Reporting Dates
Already reported - SLRC, SUNS, MCGC, PSEC, TCRD
November 5th - ARCC, ACAS, HRZN
November 7th - MAIN, BKCC, TCAP, TICC, HTGC, TCPC, FDUS, KCAP, FULL
November 8th - AINV
Next week - NMFC, PNNT, PFLT
Later - GLAD, FSC, GBDC, MCC
Returns
The amount I invest depends on my total exposure to the BDC industry at the time. I usually make around 10% per trade every 45 days on average and trying to collect at least two of the quarterly dividends a year. At the current yield that would return over 80% annually. But who knows if this cycle will stay as consistent as it has. The only reason I feel comfortable trading in and out of BDCL is because I do not worry about the potential of not being able to sell it for what I paid. I believe in the industry and the long-term is headed up regardless of rates. It is easy to spot selling pressure that has nothing to do with the fundamentals of the underlying companies. Even if you are stuck holding it for a while, you receive high dividends and in a diversified (multiple companies) fund in a diversified industry. It is cyclical and many investors only view BDCs as the financial industry and high-yield. These investors will sell baskets of stocks, driving prices down temporarily and I am sure there will be many comments from them regarding this article.
Next Steps (for me)
Again, I am waiting for a low price in the last two weeks of this month and then will likely sell on December 17. The next ex-date for the large quarterly dividend is early January and the Fed statement after that is January 29. This methodology of investing is not for the 'average' BDC investor and personally I am more of a 'buy and hold' type but when I see opportunities in a volatile market that I believe in the long-term, I take them.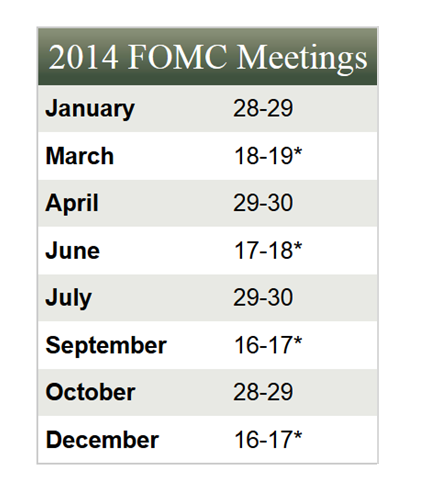 Investors should only use this information as a starting point for due diligence. See the following for more information:
Disclosure: I am long ARCC, MAIN, PSEC, TCPC, NMFC, TCRD. I wrote this article myself, and it expresses my own opinions. I am not receiving compensation for it (other than from Seeking Alpha). I have no business relationship with any company whose stock is mentioned in this article.