The typical essay I write in these pages is 700-1,500 words or so. Today's essay will be setting an all time record because my first 1,000 words are the following: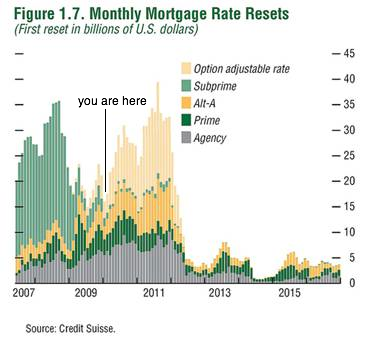 The above picture illustrates the monthly mortgage rate resets for mortgages in the US. If you're unfamiliar with a mortgage rate reset, it's essentially when the rate of interest charged on the loan you take out to buy a house becomes acquainted with "reality."
You see, in order to get a housing bubble of the magnitude we saw in the US, you need to make it so that more people buy homes than ever before. Historically, the US has maintained homeownership levels in the mid-60's percentile": in 1960, roughly 62% of Americans owned a home… the number then hovered around 64% for most of the '80s and '90s.
Now, a 64% homeownership rate is not going to get you to bubble-status in the housing market. In order to get more and more people to buy homes, you need to make housing more "affordable." However, the problem with this is that a house isn't like a hamburger; buying a house requires you to borrow a large sum of money (this is especially true for a nation with savings rates in the single digits like the US in the '90s).
So in order to make homes more affordable (thereby bringing a whole slew of new homeowners to the market) you need to make it cheaper to borrow money. The way to do this is to charge a rate of interest that is serviceable even by someone who historically couldn't cover "normal" interest payments.
To do this, banks (granted the right to do this by legislation coming from Congress and the White House), introduced all kinds of insane mortgages at interest rates that were far lower than historic precedents.
However, banks don't lend money out of the goodness of their hearts; they lend it because they want to make money. So these absurdly low interest rates were "teaser" rates: rates that would jump dramatically higher at some point in the future.
Thus, someone making $7 an hour at a fast-food restaurant could walk into a bank, put no money down, and pay next to no interest on the mortgage for several years, thereby qualifying as a homeowner. This is how we got a homeownership rate of 69% in the US in 2004.
However, "teaser" rates are exactly what the name implies: they only "tease" the homeowner into believing he/she can afford the house. As soon as the money owed hits a large enough size (due to the fact that the homeowner is barely paying back the interest, let alone any principal on the loan), the mortgage rate "resets" to a much higher rate (say from 0.5% to 5%).
Suddenly, our fast-food employee cannot service the loan and has to file for foreclosure. Which brings us back to the beginning of this essay: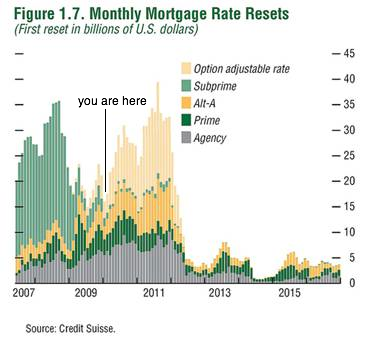 As you can see, 2009 was a bit of an "eye of the storm" year, a time in which mortgage rate resets dropped to multi-year lows. It is not a coincidence that 2008 featured a peak in mortgage rate resets accompanied by a stock market implosion and massive write-downs in the banking sector. We are now heading into a similar wave of resets for 2010-2011. Indeed, from a mortgage rate reset perspective, 2010-2011 looks virtually identical to 2007-2008.
The only difference is that for this wave of resets, the Federal Reserve has already played its hand. Back in 2007, the Fed had pumped a few hundred billion Dollars into the financial system, but had yet to resort to the unbelievable array of lending windows/ bailouts/ outright acquisition of toxic waste assets.
Since then the Fed has done the following:

Cuts interest rates from 5.25-0.25% (Sept '07-today)
The Bear Stearns deal/Fed buys $30 billion in junk mortgages (March '08)
Opened various lending windows to investment banks (March '08)
Taken over AIG for $85 billion (Sept '08)
Implemented the $700 billion Troubled Assets Relief Program (Oct '08)
Bought commercial paper (non-bank debt) from non-financials (Oct '08)
Offered $540 billion to backstop money market funds (Oct '08)
Backstopped up to $280 billion of Citigroup's liabilities (Oct '08).
Given another $40 billion to AIG (Nov '08)
Backstopped up $140 billion of Bank of America's liabilities (Jan '09)
Bought $300 billion worth of Treasuries (Mar '09)
Bought $1.25 trillion in agency mortgage backed securities (Mar '09-'10)
Bought $200 billion in agency debt (Mar '09-'10)
Honestly, that's all I can remember offhand. There are undoubtedly more moves (including the ones we don't know about due to the Fed's complete lack of transparency).
In plain terms, the primary difference between 2007-2008 and 2010-2011 is that this time around, the Fed has already thrown everything including the kitchen sink at the financial system. There are virtually no weapons left in the Fed's arsenal (save for just leaving a paper weight on the "print" button).
Moreover, this time around, everyone seems to believe that the Fed has fixed everything. Fed Chairman Ben Bernanke is Time's Man of the Year. Heck, he was reappointed based on the fact that he "saved" the financial system.
So what do you think will happen when the next wave of mortgage resets hit the market and several hundred more banks go under and we get another series of write-downs?
Put another way, what will happen when the world wakes up and realized Bernanke hasn't solved the US crisis?
Here's what happened for stocks in 2007-2008: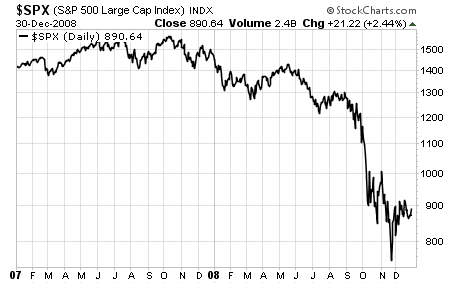 Here's where we are in terms of resets: