"Wrong does not cease to be wrong because the majority share in it."

Leo Tolstoy
Tesla (NASDAQ:TSLA) reported Q3 figures yesterday and disappointed investors despite estimate beats: Q3 EPS came in at $0.12 and compares to analyst estimates of $0.11. Revenues came in at $603 million vs. analyst estimates of $535 million. Though the company beat estimates the market clearly expected more of Tesla in terms of deliveries. Tesla's flagship product, the Model S, was delivered more than 5,500 times in the third quarter of 2013 and the company expects another 6,000 deliveries in the fourth quarter. Tesla now produces 550 cars per week.
Non-GAAP revenues increased 9% q-o-q to $603 million while GAAP revenues rose 6% to $431 million compared to last quarter. Q3 non-GAAP net income stood at $16 million ($0.12 per share) but excludes lease accounting, non-cash interest expenses and stock-based compensation. Accounting for these items pushed net income to a GAAP net loss of $38 million (a loss of $0.32 per share). Tesla's gross margin (excluding ZEV credits) increased to 21% from 14% in the last quarter.
Despite those results Tesla shares have lost around 12.34% in After Hours trading as disappointment about Tesla's low delivery projections mounted.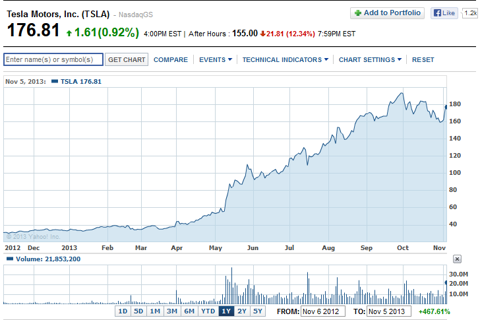 Putting numbers back into perspective
Tesla's net income-, free cash flow- and margin growth gained traction during the most recent quarter. However, actual financial results are light-years behind Tesla's valuation.
It is no secret that Tesla trades at an outrageous earnings multiple of 104. Tesla's free cash flow valuation also yields a multiple of around 100 which substantiates that Tesla's valuation is utterly detached from its fundamentals.
Tesla has achieved massive negative operating cash flows from 2010 to 2012 which is fair enough because Tesla needed to get its production going. However, even when considering a generous turnaround in operating cash flows in 2014, the free cash flow to equity would still only stand at $240 million. Considering 137.1 million fully diluted shares (as of the third quarter 2013) the free cash flow to equity per share would then stand at $1.75. This translates to a forward FCFE multiple of 101 and proves that Tesla shares are trading at unsustainable levels. The forceful decrease in Tesla's share price in After Hours trading shows how fragile valuation levels have become and that the marginal investor is likely a speculator rather than an investor.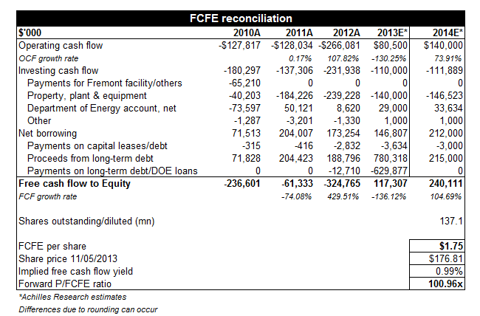 Applying a DCF model also shows that Tesla shares have massive downside potential if fundamentals instead of fantasy are considered. Assuming a long-term FCFE growth rate of 5% and capital costs of 10%, the intrinsic value of Tesla common stock comes out to be $36.37 per share. At an inflated current share price of $176.81 this implies a staggering 79% correction potential.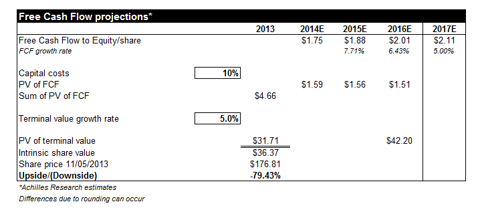 No company deserves to trade at 100x free cash flow no matter how optimistic growth prospects are. Even a multiple of 20x free cash flow would be a premium valuation. With a multiple of around 100x forward earnings and free cash flow Tesla is in good company with Netflix (NASDAQ:NFLX) and Amazon (NASDAQ:AMZN) which also make two outstanding short candidates based on massive overvaluation and absence of tangible earnings (thesis here and here).
Ford (NYSE:F), for instance, trades at 9 times forward earnings and General Motors (NYSE:GM) manages to trade at less than 8 times earnings. Those are multiples that are much more in line with fundamentals and reality (and likely exhibiting undervaluation).
P/E ranges as indication of value
Generally, the lower the P/E ratio the better the entry point for investors. High multiples suggest high growth projections. Nonetheless, there are limits as to what growth premium is reasonable for investors to pay. The P/E categorization below can give an indication of an investment's value:
P/E of 5-8: Likely turnaround investment, maybe short-term headline risk, market focuses on restructuring instead of long-term growth prospects and industry dynamic, great upside potential, nearing bottom, huge margin of safety.
PE/ around 10: Earnings yield of 10% still very attractive, good long-term entry point, still substantial multiple expansion possible.
P/E 12-15: Chances of multiple expansion low, probably fairly valued even with EPS outperformance.
P/E above 15: Premium multiple, questionable if growth premium can be justified.
P/E above 20: Extremely optimistic revenue- and earnings projections, like a 'hot-stock' loved by the unassuming retail investor, high risk of disappointing investors (both in terms of operational- and share performance).
P/E approaching 100: Clearly bubble territory, totally detached from fundamentals, shares trade on inflated sales- and earnings projections, very high risk of disappointing expectations and collapsing stock price. The marginal investor is a speculator. Tesla falls into this category.
Conclusion
Tesla trades at unsustainable multiples based on free cash flow (and earnings). From 2010-2012 Tesla was a highly free cash flow negative company and is now just about to turn a corner. Investors pay a gigantic growth premium in hopes of further delivery increases. Tesla now has substantial downside potential of 79% based on an intrinsic value of $36 per share which is more in line with the underlying profitability of Tesla. The massive correction witnessed after presentation of Tesla's Q3 results shows that just slight disappointments can cause huge disruptions for the shares. After all, Tesla is expected to sell about 6,000 cars in the next quarter (annualized 24,000 cars). Does a company like this really deserve a market capitalization of $21 billion?
Even the CEO & Chairman of the company, Elon Musk, says the shares are overvalued. If that is not reason to shun the shares what is?
Disclosure: I am short TSLA. I wrote this article myself, and it expresses my own opinions. I am not receiving compensation for it (other than from Seeking Alpha). I have no business relationship with any company whose stock is mentioned in this article.