When it comes to the quintessential family friendly summer vacation, the first thing that comes to mind is Disneyland. Therefore it's no surprise that Disney (NYSE:DIS) had a stellar third quarter. Although, come the changing of the seasons also comes Disney's expected fall in earnings for this upcoming quarter.
However, with expected earnings and revenue being $0.68 and $10.78 billion higher than last year respectively, DIS is still having a stellar year despite the end of its three quarter streak of growth. What DIS needs for growth in the next quarter is innovation and analysts will be listening for exactly that; updates on DIS's MyMagic+ program, upcoming blockbusters, and the serious effects they'll have on DIS are expected to be addressed in its upcoming conference call.
Disney is expected to report FQ4 2013 earnings on November 6th after the market close. The information below is derived from data submitted to the Estimize platform by a set of Buy Side and Independent analyst contributors.
The current Wall Street consensus expectation is for DIS to report $0.76 EPS and $11.448B revenue while the current Estimize consensus from 4 Buy Side and Independent contributing analysts is $0.8 EPS and $11.487B revenue. The magnitude of the difference between the Wall Street and Estimize consensus numbers often identifies opportunities to take advantage of expectations that may not have been priced into the market. In this case, we're seeing a smaller differential between the Estimize and Wall Street numbers compared to previous quarters.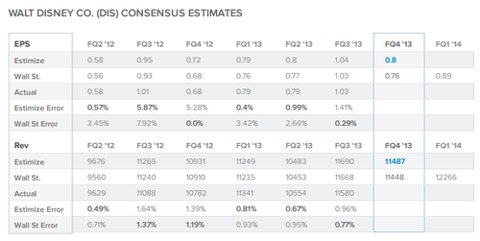 Over the past four months, the Wall Street consensus trend for EPS has decreased from $1.03 to $0.8 while Wall Street revenue expectations have decreased from $11.668B to $11.448B. The Estimize EPS and revenue consensus have decreased this quarter, with EPS going from $1.04 to $0.8 and revenue decreasing from $11.690B to $11.487B.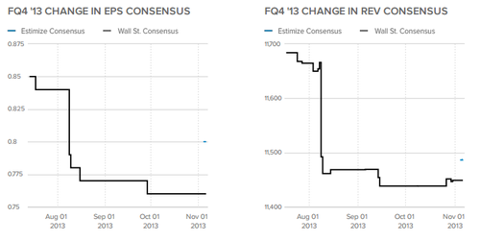 Over the previous 6 quarters, DIS has beaten the Wall Street consensus for EPS 4 times and revenue 3 times. Over the same time period, DIS has beaten the Estimize EPS consensus 1 time and the Estimize Revenue consensus 3 times.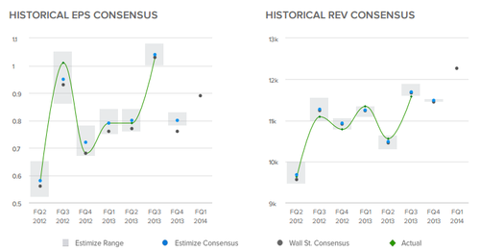 The distribution of estimates published by analysts on Estimize range from $0.78 to $0.83 EPS and $11.450B to $11.489B in revenues. We're seeing a smaller distribution of estimates this quarter for DIS than normal. The size of the distribution of estimates relative to previous quarters often signals whether or not the market is confident that it has priced in the expected earnings already. A narrower distribution signals the potential for greater volatility post earnings, a wider vice versa.
The analyst with the highest estimate confidence rating this quarter is Justin, who projects an $0.83 EPS and $11.519B in revenue. Estimate confidence ratings are calculated through algorithms developed by our deep quantitative research which looks at correlations between analyst track records and tendencies as they relate to future accuracy.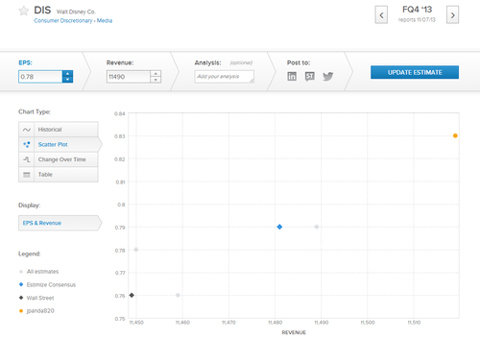 Disney is a company that's able to grow at great rates and to amazing levels. With a plethora of expected blockbuster movies coming out soon, expect Disney to put up some great numbers. One tumble down in earnings won't kill a company that's already so ingrained in both our minds and our hearts. But what some analysts are hoping for is for Disney to create some new innovations outside of its realm of movies, such as MyMagic+, which intends to make Disney park visits both easier and simpler. Nevertheless, it is without question that Disney can and will do better.