"Hindsight is the historian's necessary vice." - Hilary Mantel
With hindsight, 2013 will be known as the year that eradicated the need for risk management, destroyed the benefits of asset allocation, and championed buy and hold investing. It will also be known as the year bulls got the trend in US markets right, but for the wrong reasons, given no acceleration in growth, jobs, or reflation. There are no bears anymore as evidenced by sentiment surveys and the wall of cash that has chased momentum. All is well, and the 1990s are back. If this were Twitter, I would be sure to include #sarcasm after that sentence.
The prevailing theme? Markets have perpetual support from the Fed. When it comes to the stock market, money grows on QEs, and indeed the correlation between the S&P 500 and Fed bond buying has been very high. Extrapolating the growth of the Fed's balance sheet is precisely why year-end targets for the S&P 500 continue getting pushed higher and higher. Everywhere I look, no one believes a correction can happen. Buy the dip? No - more like buy the blip.
The argument that stocks cannot fall and must continue to rise because of QE is false. Japan, for example, has had an immense run in 2013, but performance has gone nowhere for several months now despite QE which is far bigger as a percentage of GDP than what is currently happening in the U.S. Perhaps flat is the new down in a world driven by central bank liquidity, but that does not mean one should not be concerned with intermarket deterioration which continues despite markets continuing their rise, and positive seasonality.
Take a look below at the price ratio of the Russell 2000 ETF (NYSEARCA:IWM) relative to the S&P 500 (NYSEARCA:SPY). As a reminder, a rising price ratio means the numerator/IWM is outperforming (up more/down less) the denominator/SPY.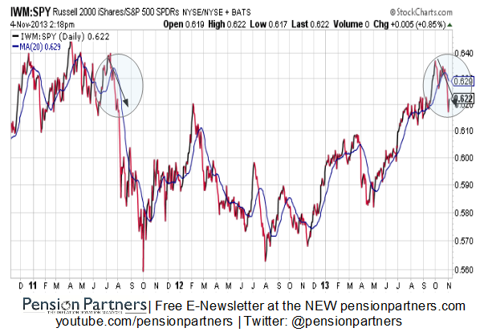 I made a point about high momentum stocks breaking down last Thursday on Bloomberg, suggesting that recent weakness at the leading edge of risk could be a red flag for further upside gains. Note the far right of the chart which looks similar to the breakdown prior to the Summer Crash of 2011. Small-cap, high beta trades are important to watch for clues on underlying market sentiment. Following a strong run of outperformance, it does appear that a reversal may be at hand.
Does that mean stocks must fall? No - it's plausible US markets meander similar to Japan despite continued bond buying. The Fed has no incentive to taper when inflation targets have not been hit, but I continue to believe that there will come a point sooner rather than later where Fed officials will try to taper the stock market. Should the Fed begin to express concern, not that stocks are in a bubble now, but rather they could be should the current pace continue without economic acceleration, all bets are off. Small-cap weakness may be anticipating some of this now, and history shows that strong gains in markets are unlikely to repeat in the near-term.
Of course, honey badger don't care. Any kind of bearish analysis has been eviscerated, and there is no risk. Stocks must continue rising, right?
Disclosure: I have no positions in any stocks mentioned, and no plans to initiate any positions within the next 72 hours. I wrote this article myself, and it expresses my own opinions. I am not receiving compensation for it (other than from Seeking Alpha). I have no business relationship with any company whose stock is mentioned in this article.
Additional disclosure: This writing is for informational purposes only and does not constitute an offer to sell, a solicitation to buy, or a recommendation regarding any securities transaction, or as an offer to provide advisory or other services by Pension Partners, LLC in any jurisdiction in which such offer, solicitation, purchase or sale would be unlawful under the securities laws of such jurisdiction. The information contained in this writing should not be construed as financial or investment advice on any subject matter. Pension Partners, LLC expressly disclaims all liability in respect to actions taken based on any or all of the information on this writing.