ETF Securities (ETFS) indicated in a filing with the SEC last week that financial firm Susquehanna Capital Group has bought 100,000 shares of its proposed first-ever platinum ETF, with delivery expected by the end of this week. Susquehanna has also purchased 100,000 shares of a physically-backed palladium ETF proposed by ETFS. According to an October SEC filing, ETFS planned to register about 12.9 million shares of its palladium fund with a maximum offering price per share of $19.40.
Susquehanna will also serve as the lead market maker for the new products, which came a step closer to becoming reality on December 22 when the SEC approved a rule change to list and trade shares of the trusts proposed by the London-based ETF issuer.
Although there are multiple exchange-traded products linked to platinum available to U.S. investors, the proposed ETFS fund would be the first to be backed by physical deposits of the metal. The iPath Dow Jones-UBS Platinum Subindex Total Return ETN (NYSEARCA:PGM) and the UBS E-TRACS CMCI Long Platinum Total Return (NYSEARCA:PTM) both employ a futures-based strategy to offer exposure to platinum prices, investing in exchange-traded futures contracts on the precious metal.
While PGM and PTM are relatively efficient means of achieving platinum exposure, a physically-backed product from ETFS would offer potential advantages to both. The correlation between existing platinum ETPs and the spot price of the metal is high, but far from perfect due to the nuances of a futures-based investment strategy.
The potential differences are perhaps best demonstrated by the returns of two gold exchange-traded products. The SPDR Gold Trust (NYSEARCA:GLD) physically holds gold bullion in secure vaults, while the PowerShares DB Gold Fund (NYSEARCA:DGL) tracks a rules-based index composed of futures contracts on gold. While these products have generally moved in the same direction over the past three years, the difference in annual return over this period approaches 3%: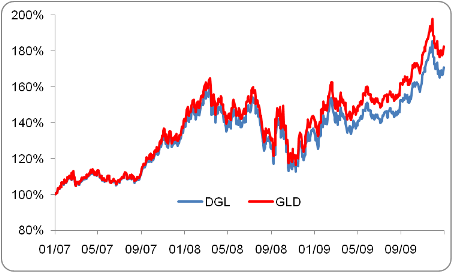 Given the relative scarcity of both platinum and palladium — annual global supplies total about 6 million ounces and 7 million ounces, respectively — the impact on the market for these commodities will be closely monitored once the ETFS products officially launch.
Disclosure: No positions at time of writing.