With the merger of Progress Energy now complete, Duke Energy (NYSE:DUK) is the largest multi-state holding company of regulated electric and gas utilities, with regulated utilities in the Carolinas, Indiana, Florida, Ohio, and Kentucky that deliver electricity and gas to about 7.1 million customers. Duke's competitive merchant power generation operates primarily in the Midwest, and its international energy segment owns and operates hydroelectric generation assets in Latin America.
From the latest investor's presentation (pdf), below is a graphic of DUK service areas: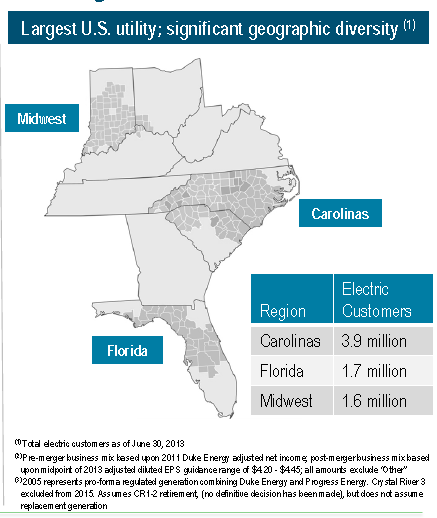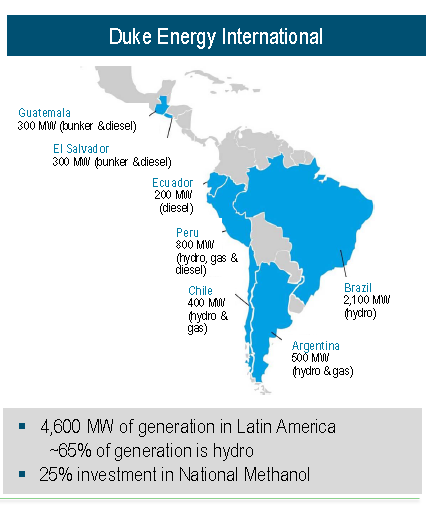 Regulated operations represent about 90% of Duke Energy's profits while the balance is the merchant power and international businesses. The merchant power footprint includes 6,848 MW of generating capacity and the international exposure adds another 4,600 MW of capacity. Total US generating capacity of the company is 57,700 MW. This represents about 5.5% of the total US summer 2011 generating capacity, based on information from eia.gov. In addition, DUK operates about 32,000 miles of transmission lines, making it one of the largest transmission operators in the country.
Recently, there has been several rate cases decided that favor DUK in the long run. The North Carolina Utilities Commission decided last month on a $235 million rate increase over the next three years and a 10.2% allowed return on equity. This compares very favorably with the most recent national average of 9.8% for those cases decided last quarter, according to eei.org. In addition, Florida has approved a $3.2 billion cost recapture plan for both the shuttered Crystal River nuclear plant and the ill-fated Levy County nuclear plant.
While the jury is still out concerning the mega-acquisition of Progress Energy in 2012, the combined entity is a utility powerhouse with heft where it counts. The major question remains the fuel savings of over $650 million the company has promised as part of the merger approval process. If the company is unable to generate this level of fuel savings, profits will be reduced and shareholders will carry the burden of providing the expected relief to ratepayers.
Concerning the valuation of the Progress Energy acquisition, it seems the merger was accomplished at a fair market price. Below is a table offered by Gabelli Funds that outlines the valuations of major utility mergers over the past three years. DUK paid 8.4 times EV/EBITDA, which is on the lower end of the valuation scale. Over time, this acquisition should continue to generate increasing shareholder benefits.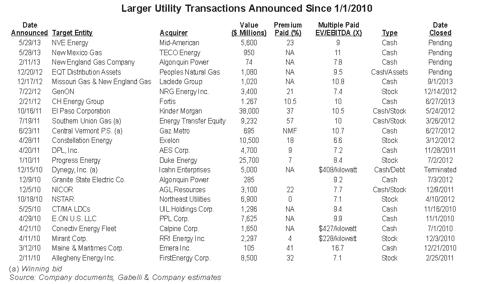 Over the previous ten years, DUK stock has provided better total returns than either the S&P 500 or its peers in Diversified - Utilities category. DUK has outperformed the S&P since early 2005 and its peers since mid-2011. Below is a chart of total returns courtesy of morninginstar.com: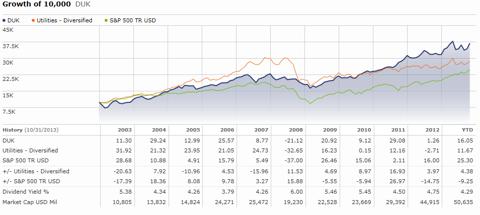 Between now and 2016, DUK is expected to spend $18.7 billion on capital expenditures of which $15.7 billion is in its regulated utilities. This asset expansion will help drive earnings higher over time as the expanded asset base is incorporated in future rate case results.
With weak power prices in the Midwest and Northeast, management is reviewing their options concerning the merchant power business. With 6.8 gigawatts of generating assets, a sale may bring in between $2 billion and $3 billion. In addition, a sale of international businesses could generate an additional $1.5 billion to $2 billion of capital. This capital could be redeployed either to fund the aggressive capital expenditure budget or to pay off debt.
With approximately $5 billion in annual operating cash flow and $1.7 billion in dividend payments, the shortfall of spending $6 billion a year for capital expenditures is about $2.7 billion a year. If 50% of the capital expenditure shortfall is generated from equity issues, investors should expect a dilution of approximately $4 billion over the next few years, or about a 8% dilution based on the current market cap of $51 billion.
DUK service territory lies within several state oversight jurisdiction. S&P Credit has an assessment of the regulatory environment and below is a table of the rating by each state:
| | |
| --- | --- |
| North Carolina | Credit Supportive |
| South Carolina | Credit Supportive |
| Florida | More Credit Supportive |
| Indiana | More Credit Supportive |
| Ohio | Credit Supportive |
| Kentucky | Credit Supportive |
"Credit Supportive" is considered "average" for S&P. DUK service territory is at or above average for regulatory environments across the US.
DUK has not been a stellar performer on generating shareholder returns based on total capital deployed. Return on invested capital ROIC incorporates all avenues of capital, both equity and debt. Historically, DUK has generated a 15-year average ROIC of 4.15% but a 5-year average of just 3.2%. Below is a graph of ROIC as reported by fastgraph.com: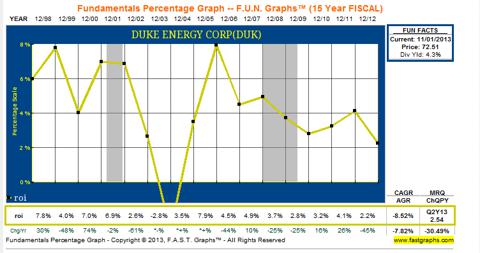 DUK service territory does not lend itself to much direct competition from the disruptive nature of wind and solar. Unlike the Southwest or Midwest to Texas geography, the south and eastern Midwest areas are not hotbeds of either solar or wind activity. However, DUK is expanding its alternative energy footprint with 1,700 MW of generating capacity.
Major brokerage houses have a mildly positive approach to DUK. Of the 20 brokers that follow DUK, 2 are listed as "strong buy", 9 as "buy", 11 as "hold", and 1 as "underperform". Below are major recommendation changes since Jan, as reported by finviz.com:

Below is a daily chart of DUK stock. What becomes obvious is the strength since early October which has taken out several key trading benchmarks. Over the past 30 days, the stock has rallied from a low of $66 to a current price of $72, crossing both the 200-day moving average and the downward trend line from the two previous trading peaks in May and August.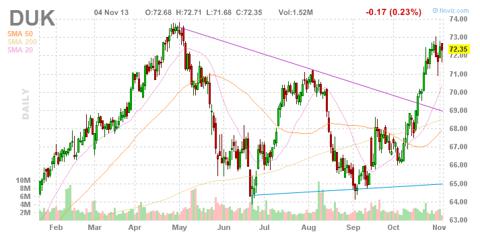 The point and figure chart is more bullish with a three box reversal at $69 and a bullish triangle breakout on Oct 23 at $71.00. DUK would have to close below $69 for the P&F chart to turn bearish by virtue of a three-box reversal: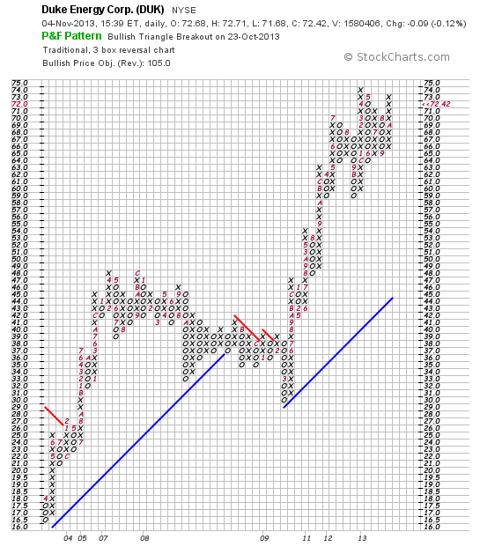 The current yield of 4.3% is not high enough to get excited about but is also is not low enough to become a detriment to purchasing these shares. Dividend growth over the past five years has averaged 3.4% and just 2.3% over the previous three years. While this is below average for the utility sector, the benefits of the Progress merger along with higher allowed returns should drive earnings by 4% to 6%. This could create the opportunity for higher dividend growth over the next few years.
With a five-year average yield of 5.1% and a current dividend of $3.12 a share, a better buying period would be in the low $60s. However, based on the potential uptick in earnings and dividends, the low $60s may be a thing of the past. A more reasonable future could be dividends chase the stock performance until annual payouts reach $3.60 in 2015 - thus creating a 5% yield on an investor's cost of $72 today.
Author's Note: Please review important disclaimer in author's profile.
Disclosure: I have no positions in any stocks mentioned, and no plans to initiate any positions within the next 72 hours. I wrote this article myself, and it expresses my own opinions. I am not receiving compensation for it (other than from Seeking Alpha). I have no business relationship with any company whose stock is mentioned in this article.