On November 5, 2013, Depomed, Inc. (NASDAQ:DEPO) reported financial results for the third quarter ended September 30, 2013. Total revenues in the quarter were $37.5 million, comprised of $16.3 million in product sales, $15.4 million in royalties, and $5.8 million in licensing and collaborative fees. The breakdown of revenues for each line item can be seen below:

Gross margin in the quarter was an impressive 95.3%. Operating expenses were primarily driven by sales, general and administrative (SG&A) costs of $26.4 million. This was right in line with our forecast. R&D cost totaled only $1.3 million in the quarter, as the company has no active clinical programs. Net income for the quarter totaled $6.5 million, or $0.11 per share. This was $0.02 ahead of our estimate of $0.09 per share.
Guidance Shows Solid Business Fundamentals
Management expects revenues in 2013 to come in between $113 million and $116 million, meaning revenues for the fourth quarter are expected between $19.4 million and $22.4 million. We currently model $20.0 million in revenues, which does not include any additional sizable milestone from Mallinckrodt or any other licensing agreements during the quarter. Management is still going over the accounting for the PDL BioPharma transaction (discussed below), and obviously recognizing any portion of this revenue will have a profound impact on estimates going forward. For operating expenses, management believes total expenses for 2013 will be between $116 million and $118 million.
Depomed exited the third quarter 2013 with $85.4 million in cash and investments. On October 21, 2013, Depomed announced that it had sold its interests in royalty and milestone payments under its license agreements in the Type 2 diabetes therapeutic area to PDL BioPharma, Inc. for $240.5 million in cash. This includes interest in all future royalties from Santarus with respect to Glumetza, from Merck with respect to Janumet XR, from Janssen with respect to potential future development milestones and sales of its investigational fixed-dose combination of Invokana (canagliflozin) and extended-release metformin, from Boehringer Ingelheim with respect to potential future development milestones and sales of the investigational fixed-dose combinations of drugs and extended-release metformin, and from LG and Valeant for sales of extended-release metformin in Korea and Canada, respectively. During the first three quarters of the year, these royalties totaled approximately $44.5 million.
Cash Rich And On The Prowl
Adding in $240.5 million in cash to the September 30, 2013 figure brings the current cash level to north of $325 million. Management has posted guidance that they expect the company to exit 2013 with between $318 million and $322 million on the books. As of today, the current market capitalization is only $421 million. An astonishing 76% of the current market value is cash. Depomed intends to use the cash to acquire products that will drive long-term growth and build on the company's commercial expertise in pain and neurology.
Knowing that the future of Depomed's stock is now tied directly to how the company invests its massive war chest of cash, below we take a look at management's effectiveness and "shopping history" over the past two years. Current President and CEO, James A. Schoeneck, joined the company in April 2011. Current CFO, August J. Moretti, joined the company in December 2011. Therefore, we will focus our effort in identifying return for shareholders over the past two years.
Depomed's lead product is Gralise, an extended-release gabapentin molecule for the treatment of post-herpetic neuralgia (PHN). Gralise was approved in January 2011. Management launched Gralise in October 2011, six months after James Schoeneck came on board. Depomed launched Gralise with a contract sales force sourced from InVentiv Health in June 2011. We think it was a wise move to start Gralise promotion with this type of scalable contract sales force because it allowed management to make changes to the promotion of the product without significant repercussions to the full-time staff. Once management saw the sales force making inroads with respect to Gralise promotion, they were able to convert the contracted employees to full-time employees. This took place in October 2012. We note earlier this year, management made some changes to the size of the staff and number of territories, slightly reducing the overall size of the field force while increasing efficiency.
Gralise sales since the launch of the product have totaled $59.5 million. The product is currently on a $40 million run-rate and prescriptions are tracking around 5,000 per week, or around 0.6% of the entire gabapentin market. Management has raised the price of Gralise a number of times, and recently has been focusing the company's effort on winning formulary coverage and listing under Medicare Part-D. Last year the company won a key contract for tier-2 listing with CVS Caremark. On yesterday's third quarter call, we learned that management has won yet another key listing for tier-2 coverage, this time with ESI Medco.
Below are the prescription track data for Gralise since the launch. Although clearly not gang-busters, we believe management is doing a good job keeping prescriptions growing. We think Medicare Part-D coverage and the new formulary listings with CVS Caremark and ESI Medco should help accelerate the trends in the coming quarters.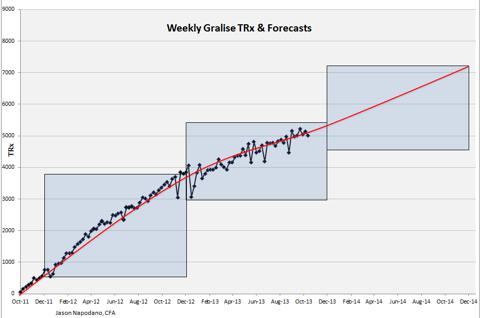 On the exclusivity side, the company has been busy winning patent protection for Gralise; Depomed now has a total of eight listed patents in the FDA's Orange Book. They have had success defending the Gralise IP against generic challengers -- most recently seeing two players exit the active lawsuit -- and have even gone toe-to-toe with the FDA on Orphan Drug exclusivity. Although the outcome of the remaining active challenges and the battle with the FDA has yet to be resolved, we consider management's effort here commendable.
Sure, we would like to see Gralise at a much higher run-rate than only $40 million almost two-years post launch, but the truth of the matter is that the drug competes in a very tough generic gabapentin market, and goes up against behemoths like Pfizer's Lyrica and Eli Lilly's Cymbalta. Plus, let's not forget that Depomed received $48 million from Abbott for approval of Gralise back in early 2011, and then another $40 million when Abbott returned the rights back to Depomed and opted not to commercialize. All in all, Gralise is a nice product and management has done a nice job creating value here. We give them a 'B' on Gralise so far.
In June 2012, Depomed acquired the rights to Zipsor (diclofenac potassium) Liquid Filled Capsules. The purpose of this acquisition was to give the current sales force another product to promote alongside of Gralise. Management paid $25.9 million for Zipsor. At the time, Zipsor was annualizing to around $19 million in sales. That equates to roughly 1.4x sales. Depomed's current valuation based on our 2014 estimate is around 4.0x sales. So right there we get a sense of the frugalness of the deal.
When management acquired the product, prescriptions were declining. The product was in neglect at Xanodyne Pharmaceuticals and sales were dropping. One of the first things management did was assess the market opportunity for Zipsor and realize that with some active promotion, and a hefty price increase, Zipsor sales could be turned around. The company raised the price of Zipsor by 40% in April 2013.
In the most recent quarter, Zipsor sales totaled $6.0 million. That's a run-rate of $24.0 million, up nicely from when the company acquired the product just over a year ago. In fact, since Depomed has been selling Zipsor, sales have totaled $24.4 million, just shy of the total acquisition price. Prescriptions under Depomed hit an all-time high for the week ending October 18, 2013.
We model $21.0 million in Zipsor sales in 2013, growing to $25.0 million in 2014. Assuming a 95% gross margin, the Zipsor acquisition will pay for itself by the end of the year; and obviously giving the sales force a second product to promote has helped efficiency. Zipsor certainly wasn't a 'homerun' for Depomed, but it was a very astute and frugal transaction that is now starting to pay off nicely. We give management an 'A-' for Zipsor.
In July 2013, Depomed announced the acquisition of Lazanda from privately-held Archimedes Pharma Limited. Lazanda nasal spray is a transmucosal immediate-release fentanyl (TIRF) product indicated for the management of breakthrough pain in cancer patients (BTPc) 18 years of age and older who are already receiving and who are tolerant to opioid therapy for their underlying persistent cancer pain. Keeping with their frugal ways, Depomed acquired all U.S. and Canadian rights to the product in return for only $4.0 million of upfront cash to Archimedes. Trailing twelve month sales of Lazanda at the time of the acquisition were only $3.3 million. That equates to paying only 1.2x sales for the product. We note that Archimedes is entitled to receive future milestones (up to $16 million) and royalties (13-15%) on sales of Lazanda at Depomed, but the acquisition price hardly made a dent in Depomed's cash balance.
Lazanda is an interesting product for Depomed, mainly because the TIRF market is so large. The acquisition of Lazanda makes good sense for Depomed because the company can plug Lazanda into its existing 155-person sales force promoting Gralise and Zipsor to pain specialists. Archimedes was previously focusing only on oncologists. We note that pain specialists tend to write more prescriptions and at higher doses than oncologists for breakthrough cancer pain medications. We believe as focus shifts from oncologist to pain specialists, Lazanda prescriptions are likely to see significant growth in 2014.
Lazanda may not be as big a drug as Gralise, but from a risk / reward standpoint this looks like a very favorable deal. For example, assuming the average patient will be prescribed the 400 mcg bottle, one bottle of Lazanda, which cost around $475, will last the average patient two-and-a-half days. That equates to $5,700 per month. We assume the average patient will stay on drug for six months, equating to $34,200 in revenues to Depomed per patient taking Lazanda. TIRF products have penetrated around 6% of the total opioid market. If Lazanda is as good as the average product, then Depomed is looking at peak sales around $63 million. That may be a tad optimistic, but still a very smart deal nevertheless.
It is difficult at this stage to give the Lazanda acquisition a grade. Sales in the third quarter totaled only $0.4 million, but the company only just formally re-launched the product in late October 2013. The acquisition clearly makes sense, and if Lazanda only reaches $10 million in peak sales, it was still a good buy. We think peak sales more like $40 million are achievable. As of right now, Lazanda looks like an 'A' for Depomed, but we concede that an 'incomplete' is more realistic given how early we are into the transaction.
Besides the company's three commercial products, Depomed has been a licensing and collaborative machine over the past three years. Deals with Merck for Janumet-XR, J&J for canagliflozin and Nucynta-ER, Mallinckrodt with acetaminophen-opioid combinations, Boehringer Ingelheim for metformin-XR combinations, and Ironwood for early-stage formulation work round out an impressive business development run since the beginning of 2011. Backing out Gralise, Depomed's licensing and collaborative business has generated revenue totaling around $80 million over the past three years. The company netted $5.0 million in the third quarter alone from Mallinckrodt. There's another $10 million that could come from Mallinckrodt before the end of the year on MNK-795, and another product in phase 3, MNK-155, that could repeat this scenario in 2014. That's pretty darn impressive!
The recent deal to sell all diabetes drug royalties to PDL Biopharma netted the company $240.5 million in cash. We've done some NPV analysis on this revenue line - year-to-date it generated around $44.5 million - and we can't seem to come up with a number as high as $240.5 million. That tells us either PDL BioPharma overpaid or there are some hidden gems in there Depomed never told us about. We doubt the latter. It might just come down to the fact that management is just really good at negotiating. After all, the revised royalty agreement with Santarus struck in August 2011 was a thing of beauty for the company. In terms of business savvy and deal-making, we give Depomed an 'A+'.
Of course, it wouldn't be fair to talk about management's effectiveness without mentioning some mistakes - the biggest being the attempt to gain approval for Serada (renamed Sefelsa) back in mid-2012. As a reminder, Depomed conducted two phase 3 trials with Serada, an extended release gabapentin identical in every nature - expect for the dosing schedule - to Gralise. These two phase 3 studies, dubbed BREEZE-1 and BREEZE-2, failed to show separation from the placebo in a composite endpoint of reduction in frequency and severity of hot flash at 4 weeks and 12 weeks in menopausal women. The company decided to conduct one additional phase 3 study, BREEZE-3, and that also failed.
Despite the failures of these three trials, management decided to pool the data and file the new drug application (NDA) in July 2012. An advisory committee took place in early 2013 and recommended against approval of the drug, and the FDA followed with a complete response letter in May 2013. At the time of the filing the market was highly skeptical of approval, but management noted the cost to file, a milestone to a sub-licensee, and preparation for the ADCOM totaled only around $5 million. Around the middle of 2012 Depomed held $89 million in cash so this wasn't terribly meaningful. Nevertheless, the last thing shareholders like to see is a management cavalier with money.
Serada was a mistake, simple as that. But hindsight is 20/20. Was it worth $5 million to "take a shot"? Perhaps! The hot flash market is pretty large and highly under-served. An approval would have been a very nice surprise. The stock barely moved on the rejection, a testament to the fact that the market had low expectations here. Since Serada, management has all but ceased internal R&D projects. R&D spend in the third quarter 2013 totaled only $1.3 million. We do not see the company ramping back up R&D anytime soon. Depomed is a commercial story. Therefore, although we have to rate Serada an 'F', we invoke the "Freshman Rule" and hope management never goes down that route again.
Conclusion
From a financial standpoint, Depomed has done a fantastic job of generating non-dilutive cash and managing shareholder money. The cash balance at the end of the second quarter 2012 totaled $89.0 million. Cash at the end of the third quarter 2013, five quarters later, totaled $85.4 million. That's pretty impressive management of the balance sheet considering over that five quarter span management was ramping sales of Gralise and acquiring two new products to promote in Zipsor and Lazanda. The share count at the end of 2011 was 56.1 million. As of today, it's 57.7 million. Again, Serada notwithstanding, management has proven to be astute in its deal-making, prudent in its decision making, and responsible with respect to how it treats the company owners. That a rarity in the small-cap healthcare stock world.
Above we noted the current market capitalization of $421 million is supported by $320 million in cash. Gralise and Zipsor are ramping and Lazanda is now re-launched and ready to contribute. Depomed has $320 million in cash to put to work. The phones over in the business development division of the company are ringing off the hook. Management is looking for a late-stage (most likely post-phase 3) or commercialized asset between the price of $20 and $200 million to plug into the existing commercial model.
History tells us management will be prudent and economical in their decision. So far they have not strayed from the core focus of pain or neurology. The track record says to expect good things. If we assume the company puts half that money work over the next twelve months, and can take that $160 million and turn it into $200 or $300 million in new revenues between the end of 2014 and 2017, then Depomed's stock is very cheap. Downside seems limited, barring another foray into women's health. Thus, based on our quick analysis, this is a management worth betting on and a stock worth owning at today's price.
Disclosure: I have no positions in any stocks mentioned, and no plans to initiate any positions within the next 72 hours. I wrote this article myself, and it expresses my own opinions. I am not receiving compensation for it (other than from Seeking Alpha). I have no business relationship with any company whose stock is mentioned in this article.