E. I. du Pont de Nemours' (DD) operating earnings for third quarter of fiscal year 2013 increased year over year from $0.43 per share to $0.45 per share. This increase in operating income is attributed to growth in DuPont's agriculture business. However, decline in the operating income from the chemical business partially counterbalanced the growth in its overall operating income. Going forward, DuPont expects to increase its operating income by spinning off this loss making business.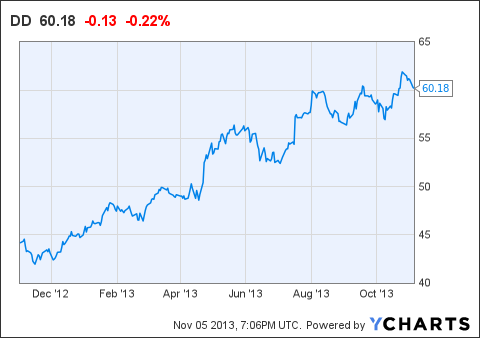 Spin off
The chemical business of DuPont manufactures titanium dioxide, a chemical found in products like paint and sunscreen. Global prices for titanium dioxide decreased this year compared to last year. The prices declined due to oversupply and rising costs of titanium ore, which is the raw material for titanium dioxide. On account of this decline, DuPont announced on October 24th that it will spin off its performance chemical business. This spin off is expected to complete within the next 18 months. In the third quarter of fiscal year 2013, this segment's earnings declined by 38.5% year over year to $254 million. Since the decline in this segment's earnings is diminishing the company's total earnings, the spinoff will have a positive effect on the company's earnings.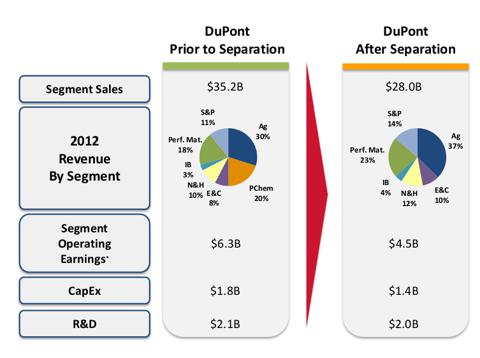 After the spin-off, the company will focus more on its other growing segment - agriculture. Consequently, based on last year's segmental revenue distribution, the revenue contribution of its agriculture business is expected to increase from 30% to 37%.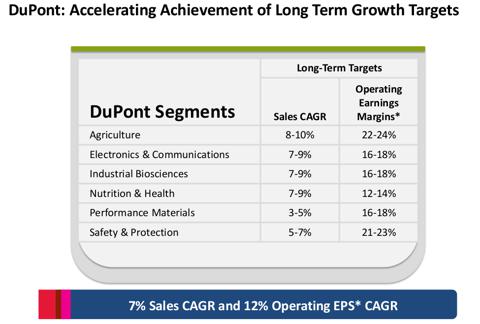 DuPont's shareholders will own 100% of the new performance chemical business entity. The company's dividend won't be affected by this divestiture, as they will be entitled to receive the earlier announced dividend. Due to the spin off, a part of this dividend will come from the parent company and the remaining is expected to come from the new unit. To ensure growth in cash flow to pay the dividend, the performance chemical unit is expected to focus on low cost processes and productivity.
The titanium industry is also expected to grow by approximately 4% - 5% by 2018. We expect that with the industry growth, the titanium dioxide's prices will revive, which in turn will enhance the spun off performance chemical segment of DuPont. It will also enhance the cash flow generation capability of this unit, leading to a hike in the regular dividend paid to the company's shareholders.
Due to the decline in the cost of titanium dioxide, Rockwood (ROC) announced on September 17th to sell its titanium dioxide business and four other non-strategic businesses to Huntsman (HUN). These non-strategic businesses include color pigments and services, timber treatment chemicals, rubber or thermoplastics compounding, and water chemistry. Huntsman is expected to pay around $1.1 billion for acquiring these businesses. This acquisition is expected to complete by the first half of next year. After this acquisition, Huntsman will become the world's second largest producer of titanium dioxide. Rockwood's titanium dioxide business accounted for revenue of around $900 million, which is around 25% of the company's total revenue in 2012. In the last two quarters, the revenue from Rockwood's titanium dioxide business has declined. With this sell off, Rockwood will focus on its core business of lithium, which will grow with the increase in demand for rechargeable batteries used in laptops, automobiles, and mobile phones.
In addition to its strategy to grow the company fundamentally, Rockwood fetched investors' attention with its share repurchase program of $400 million. This program completed on September 5, 2013. Moreover, Rockwood increased its quarterly dividend by around 30% year over year to $0.45. All the above discussed factors make Rockwood a profitable investing opportunity.
Sprouting the agriculture segment
In the third quarter of fiscal year 2013, the agriculture business of DuPont accounted for 20.69% of the company's net sales. DuPont expects to increase this revenue contribution with growth in its agricultural products and its major acquisition in Africa. One such agricultural product of the company is 'Rynaxypyr', an insecticide, which is expected to drive demand for DuPont's agriculture products. Rynaxypyr is the first insect killing chemical that is able to control almost all harmful insect species, including Lepidoptera.DuPont considers this insecticide a game changer and Rik L. Miller, president of DuPont Crop Protection, stated:
"What makes Rynaxypyr the game-changer for agriculture is not only the new chemistry, but also the way we integrated chemistry and biology to fundamentally redesign the new active ingredient discovery process".
The company expects that this insecticide will generate revenue of more than $900 million by the end of this year. We expect that DuPont is correctly estimating this revenue contribution, with respect to above discussed factors. In the third quarter, the crop protection business of its agriculture segment grew by 21% to $726 million on a year over year basis. We expect that with the growth factors of Rynaxypyr, its demand will increase in the future, which in turn will increase the growth rate of its crop protection business, next year.
Besides the growth of Rynaxypyr, DuPont also expects to boost its agriculture segment with its acquisition of 80% stake in an African seed producing company, Pannar Seed. We discussed the financial impacts of this deal on DuPont's agriculture segment in our previous article on DuPont. The agriculture segment is DuPont's most revenue contributing segment, which registered a growth of 15% year over year in the third quarter. We expect that with the growth of Rynaxypyr and acquisition of major stake in Pannar Seeds, this growth rate of the agriculture segment's revenue will sustain in the future.
Another agriculture chemical company that expects to expand in Africa is Syngenta (SYT). The company has a long term growth plan to generate revenue of $1 billion by 2022 from its operations in Africa. In a bid to succeed with this growth plan, Syngenta acquired Zambia based, MRI Seed Zambia and MRI Agro, or MRI. The acquisition is expected to complete by the end of this year. MRI is a leading developer, producer, and distributor of white corn seeds. The white corn market has high growth potential in Africa, and consequently the company is well positioned to grow in this region with this acquisition. In the third quarter of fiscal year 2013, the 'Europe, Africa, and Middle East' segment of Syngenta accounted for 29.49% of the company's total sales. With this acquisition, the revenue contribution from this geographical segment will rise in the future.
Regarding the valuation parameters of Syngenta, its trailing twelve months price earnings, or PE, ratio is 20.97, which is significantly higher than its forward PE of 16.46, implying that going forward the earnings of the company will increase. The company's return on equity, or ROE, is 41%, which is also higher than the industry's ROE of 18.9%. Along with strong fundamentals, the valuation of Syngenta also supports the growth prospects of its stock.
Conclusion
The stock valuation parameters of DuPont support its strong fundamentals. The forward PE ratio of DuPont is 14.24, lower than its twelve months trailing PE of 24.09. The company's price to book, or PB, ratio is 4.33, significantly lower than the industry's PB of 10.3. DuPont's ROE is 39.5% higher than the industry's figure of 19.1%. Another valuation parameter, dividend yield, also supports the growth prospects of the company. Currently, DuPont's dividend yield is 2.94% higher than the industry's dividend yield of 2.3%. All these valuation parameters imply that DuPont's stock is currently undervalued and is expected to rise in the future. Considering the growth prospects of the company, we suggest investors include DuPont in their portfolio.
Disclosure: I have no positions in any stocks mentioned, and no plans to initiate any positions within the next 72 hours.
Business relationship disclosure: Fusion Research is a team of equity analysts. This article was written by Shweta Dubey, one of our research analysts. We did not receive compensation for this article (other than from Seeking Alpha), and we have no business relationship with any company whose stock is mentioned in this article.