"It is not the creation of wealth that is wrong, but the love of money for its own sake." - Margaret Thatcher
The stated goal of the Fed over the past year has been simple. In an effort to juice economic growth, SuperBen and the League of Extraordinary Bankers have explicitly targeted the wealth effect. What is the wealth effect? Essentially, the idea is that as assets like housing and stock portfolios increase in value, the owner of those assets "feels" better about the future, increases spending, and boosts economic activity. Sounds somewhat logical, right? Studies do indicate there is some marginal increase in economic activity going forward as markets rise, with housing values having the most impact on consumer psyche over time.
The problem with this of course is that the policy assumes broad based participation in those rising asset markets. Quantitative easing has not boosted inflation expectations, and one can argue has really only benefited the wealthy the most. After all, only those with substantial assets really participate in an increase of asset values. It is worth considering then, that despite US stocks rising and being so diverged from reflation (a big theme of mine all year), perhaps the wealth effect is failing given no real pickup in demand-pull or cost-push inflationary pressures.
Of course, this could change. Maybe stocks do go up ad infinitum and the Fed gets what it wants longer term. However, in the short-term I continue to stress that near-term caution should be warranted and that intermarket trends should be respected. Take a look below at the price ratio of the Consumer Staples ETF (NYSEARCA:XLP) relative to the Consumer Discretionary/Cyclical Sector ETF (NYSEARCA:XLY). As a reminder, a rising price ratio means the numerator/XLP is outperforming (up more/down less) the denominator/XLY.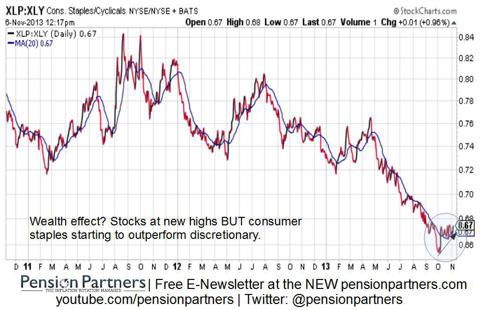 Consider this a need/want ratio. Consumer Staples stocks tend to be less cyclical, less sensitive, and more defensive than Discretionary stocks. Note that since October, and despite stocks at new highs, internally within the market money is favoring those areas LESS sensitive to the economy. Sure - this could entirely be simply a reaction to an overbought market, but it is worth considering if this is a warning sign for a near-term correction as sentiment shifts.
The wealth effect affects the wealthy more than the economy. Perhaps movement into Consumer Staples is starting to reflect that.
Disclosure: I have no positions in any stocks mentioned, and no plans to initiate any positions within the next 72 hours. I wrote this article myself, and it expresses my own opinions. I am not receiving compensation for it (other than from Seeking Alpha). I have no business relationship with any company whose stock is mentioned in this article.
Additional disclosure: This writing is for informational purposes only and does not constitute an offer to sell, a solicitation to buy, or a recommendation regarding any securities transaction, or as an offer to provide advisory or other services by Pension Partners, LLC in any jurisdiction in which such offer, solicitation, purchase or sale would be unlawful under the securities laws of such jurisdiction. The information contained in this writing should not be construed as financial or investment advice on any subject matter. Pension Partners, LLC expressly disclaims all liability in respect to actions taken based on any or all of the information on this writing.