The continually emerging supply realities of the Permian Basin persist in conveying a story of reduced imports of oil. For the U.S. economy, this is a good news development that has been supporting existing economic growth. In absence of the oil boom in the U.S., prices for oil might have been higher, much higher than $100 oil. The impressive economic growth rates in Texas and North Dakota have largely come on the backs of the oil and gas industry. Texas and North Dakota were the two main growth-economy stories over the last few years, with GDP growth in 2012 of 4.8% and 13.4%, respectively.
Recent articles have lamented the implications of $70 oil on the Permian's capacities - that the boom could go bust. The problem is that $70 oil is not imminently in sight. It would take some really bad events to trigger such a fall, and even then it might be a short-term price fluctuation. The most likely cause of reduced prices would be a rapid switching of transportation fuels, reduced demand from global recession, or self-fulfilling prophesies wherein market beliefs trump fundamentals. But OPEC would likely make the adjustments to supply to keep prices elevated as much as the market could bear.
The latest report from Pioneer Natural Resources (NYSE:PXD) offers more information about the scale and scope of production capacity in the Permian Basin and the Spraberry/Wolfcamp play, in particular. Results for Pioneer's Wolfcamp D drilling, also known as the Cline play, has been extended 50 miles to the West, meaning more areas that are productive. This extends beyond some of the well findings from peer Glasscock County wells to include Martin and Midland Counties to the North and West, respectively. The Wolfcamp D interval is below 10,000 feet.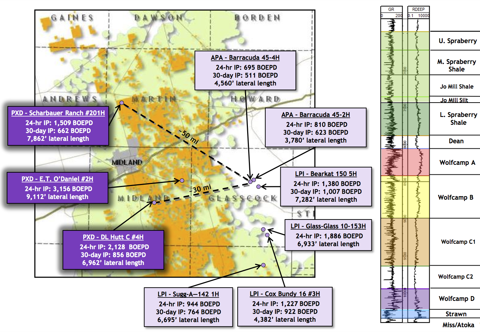 Most of these Wolfcamp D wells in the chart below are following an 800Mboe EUR type curve, except for the Martin County Scharbauer Ranch well.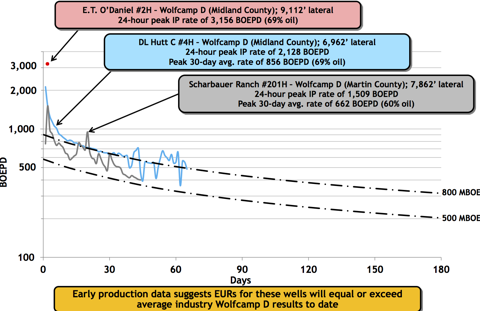 The latest earnings call about the third quarter reflected some new information:
• Alaska operations were discontinued. Proceeds to fund capital needs.
• Projected cumulative average production growth rate from 2012 to 2015 (estimated) is 13-18% based on $100 oil/$4.25 gas or $85 oil/$3.25 gas, respectively.
• Liquids growth moves from 59% in 2012 to ~70% in 2015 (estimated).
• New production from Eagle Ford and Spraberry/Wolfcamp will benefit the fourth quarter production numbers, from 168 Mboepd to 179-184 Mboepd per guidance.
• Eagle Ford production continues to show strong results and increased EURs.
Relative to the Midland Basin, Pioneer was running 1 horizontal Wolfcamp rig in the north in the early part of the year, then to 5, and just now 8. They expect to be starting next year with 10, maybe more, according to the call reportings. Importantly, the estimated 50 billion barrel Spraberry/Wolfcamp play is likely growing in reserves expectations.
Below is a table of Pioneer's wells in comparison to independents Apache (NYSE:APA) and Laredo Petroleum (NYSE:LPI):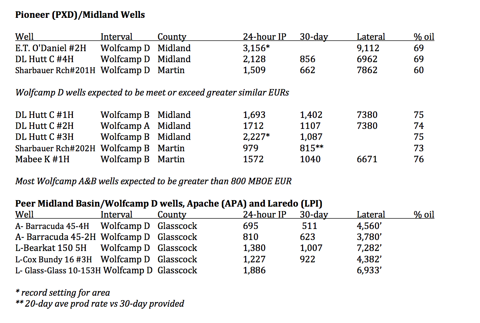 Next are smaller peers Concho Resources (NYSE:CXO) and Energen (NYSE:EGN) reporting results:
These two tables, while a snapshot of Permian and firms' potential, offer a few insights:
• Several record-breaking wells have been reported among firms in the third quarter, specifically Pioneer and Energen (see article).
• Firms continue to drill deeper, drill longer laterals and find ways to reduce drilling and completion costs and/or enhance recovery expectations.
Citigroup raised Pioneer's price target to $260 from $190 and reiterated its buy rating. Its stock price broke below 200 in mid-afternoon trading. Its P/E is 54.22. Its one-year target estimate is $219.16.
Sources include:
media.corporate-ir.net/media_files/IROL/....pdf
media.corporate-ir.net/media_files/IROL/....pdf
(See UBS Houston Energy Symposium for data here)
investors.pxd.com/phoenix.zhtml?c=90959&.... See Third Q 2013 Earnings presentation.
Disclosure: I am long CXO. I wrote this article myself, and it expresses my own opinions. I am not receiving compensation for it (other than from Seeking Alpha). I have no business relationship with any company whose stock is mentioned in this article.
Additional disclosure: Opinions expressed herein by the author are not an investment recommendation and are not meant to be relied upon in investment decisions. The author is not acting in an investment advisor capacity. This is not an investment research report. The author's opinions expressed herein address only select aspects of potential investment in securities of the companies mentioned and cannot be a substitute for comprehensive investment analysis. Any analysis presented herein is illustrative in nature, limited in scope, based on an incomplete set of information, and has limitations to its accuracy. The author recommends that potential and existing investors conduct thorough investment research of their own, including detailed review of the companies' SEC filings, and consult a qualified investment advisor. The information upon which this material is based was obtained from sources believed to be reliable, but has not been independently verified. Therefore, the author cannot guarantee its accuracy. Any opinions or estimates constitute the author's best judgment as of the date of publication, and are subject to change without notice.