With the very substantial rise in the markets since March 2009, and some stocks selling at all time highs even while the economy still faces significant problems, the value investor must ask the question, "Are there any real bargains left?"
The investment philosophy used in account management at my firm Freedom Mountain Investments is to identify and exploit market inefficiencies. My belief is that all long term out-performance must come from such an approach. One of the specific strategies within this is what I term the "Venerable Owner" strategy. The VO strategy in a nutshell contends that companies with super-normal insider ownership (approx. 30% +) often trade inefficiently. Mutual funds etc. avoid these companies because of thin and irregular trading volumes. Often the VO or his heirs must sell the whole company in a deal to capture the full value. Patient investors willing to put up with the temporary illiquidity can profit. I have had a number of investing successes in the past years using this technique. A couple of examples are Noland and Valley National Gas, where aging owners sold the companies at nice premiums before retiring.
Here are two companies that I believe to be bargains. Both fall within the scope of the VO strategy.
Arden Group (NASDAQ:ARDNA) - operates 18 full service supermarkets under the Gelson and Mayfair names in southern California. This company has had a strong history of operations dating back to the 1960s. It sports one of the highest net profit margins (over 5%) I have ever seen for a grocery chain. While the company serves a wide clientele, it has a solid core of ethnic customers. (e.g. the company discusses the effect of the dates of Rosh Hashanah in its SEC filings). ARDNA has been very conservatively managed by CEO Bernard Briskin in recent years. The company has not added new stores for a long time. It is instead run as a cash machine. Briskin who is 85 years old owns 57.1% of the outstanding shares.
ARDNA had its best year in 2007 with EPS of $9.24/share. It has seen softening in its markets the last 2 years as the California economy has suffered and customers sought out lower prices at competitors. Even with the issues, EPS are still tracking in the $7/share range. The stock which spent much of 2007-8 in the $150 range and even spiked to over $190 at one point, now stands around $95/share. This corresponds to a p/s around 0.6. The balance sheet is solid with essentially no debt and $31 million in cash (even after a recent large special dividend). The stock trades irregularly as one often finds with these "Venerable Owner" strategy picks.
My view is that this company has a unique franchise. It seems unlikely that Mr. Briskin will sell the co. in his lifetime. But at some point it is a very likely acquisition target. In any case if the California economy turns, this solid franchise can shine again. I have been acquiring a substantial position in individual and managed accounts.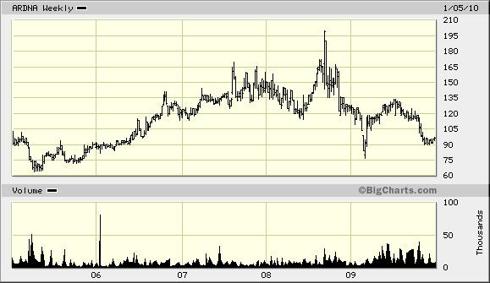 My second pick also involves the "Venerable Owner" strategy and the state of California. It is Barrett Business Systems (NASDAQ:BBSI).
BBSI. provides human resource management services to small and medium-sized businesses in the United States. It offers professional employer organization services in the areas of payroll and payroll taxes, employee benefits, health insurance, and workers compensation support services. BBSI has historically concentrated its operations in California but has geographically diversified in recent years.
Operating results have been hurt in the recession with the high unemployment rates particularly in California. But BBSI has maintained a very strong balance sheet with $47 MM in cash and short term investments. The company has also maintained its dividend during this difficult period. CEO William Sherertz has successfully led the company through past recessions and has done a good job again this time. BBSI is currently selling at 1.33 x book value and less than 0.6x sales. As the economy recovers, BBSI should see excellent stock price appreciation. BBSI currently pays a 2.6% dividend.
I think BBSI has seen the bottom for this cycle. A logical strategy for Mr. Sheretz who is now 64 years old and who has had some health issues, would be to ride the recovery for the next few years and then try to sell the business to a suitor at a nice price. He currently owns 27% of the float. No relatives are actively involved in running the business.
I have been a large buyer of shares in the 10-11 range, but think the current price is quite good.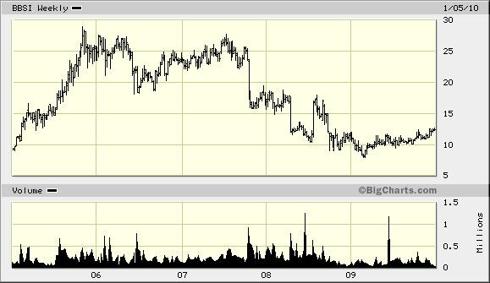 Both ARDNA and BBSI can trade irregularly. I would strongly recommend using limit and "All or None" orders in buying the shares.
Disclosure: I am long ARDNA and BBSI in individual accounts and accounts manaaged for Freedom Mountain Investments.