Recently, Cepheid (NASDAQ:CPHD) received an Emergency Use Authorization (EUA) from the US Food and Drug Administration (FDA) for its Xpert Flu A Panel test, which is for identifying the H1N1 influenza virus in less than one hour.
Given the swine flu scare, we expect Cepheid to benefit significantly from the introduction of this test. The FDA has issued the EUA to take care of public health due to the outbreak of the pandemic flu virus. The duration of the emergency is set to expire in April 2010.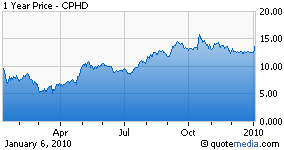 Cepheid, based in Sunnyvale, California is a molecular diagnostics company that develops, manufactures and markets fully integrated systems for genetic analysis in the clinical molecular diagnostic market. The company derives revenues primarily from the sale of two instrument platforms, SmartCycler and GeneXpert systems and reagents associated with these instruments. The H1N1 test will run on its GeneXpert system.

We believe the approval will help Cepheid clock more revenues in the forthcoming period. It has become all the more necessary to combat the spread of swine flu since many children are being affected by the virus. Moreover, the prevailing winter season in the northern hemisphere makes the situation more difficult.
Although vaccines for this virus have been developed by many pharmaceutical players, including Sanofi-Aventis (NYSE:SNY) and AstraZeneca (NYSE:AZN), supply of the vaccine is not sufficient to meet the demand. In this scenario, a proper clinical test becomes a necessity for proper treatment of the infected.
Although Cepheid narrowed its loss during the third quarter of 2009, we remain concerned about the declining trend of the company's system sales. We believe a tight spending environment in the current recessionary situation is impacting the ability of healthcare providers to purchase capital equipment.
Cepheid, being in the molecular diagnostics segment, does have huge potential, as this is the fastest growing segment in the in vitro diagnostics market. We are Neutral on the stock at this time.