Quite a remarkable performance by the Brazilian Bovespa Index. After a 83% gain in 2009, it has recaptured the 70,000 level and is only 4.5% off of its all time high of 73,517. This despite efforts to keep the flood of US pesos from over heating its markets and economy. [Oct 20, 2009: Ben Bernanke's Money Printing Parade Forces Brazil to Slap a Tax on Outside Investors]

[click to enlarge]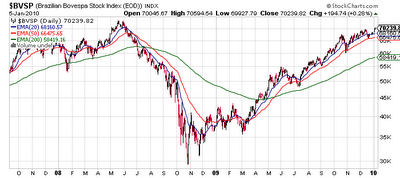 Much like a stock that returns to old highs, I'd expect this move to stall as the index revisits (if and when) the summer 2008 high. However, much like a strong stock, after that cursory pullback from the retest of old highs - one could expect a short term consolidation period and then a successful push through in an ensuing attempt. We shall see how it works out ... as we pointed out yesterday, even Mark Mobius - who loves his international stocks - has turned cautious on emerging markets. Amazingly, Brazil - while no longer cheap - actually trades at a massive discount to the slow growth developed market indexes.
The Bovespa fetches 20.8 times reported earnings, near the highest level in six years. The index trades at a 40 percent discount to the MSCI World Index of 23 developed countries, according to weekly trailing price-to-earnings ratios compiled by Bloomberg.

Longer term, as the US market has gone nowhere in the past decade, the Bovespa has quadrupled. Brazil remains the most intriguing longer term opportunity in the Western hemisphere - if not the world.

[Oct 27, 2009: Goldman Sachs - "Hazardous" to Underweight Brazil]
[Sep 23, 2009: Brazil's Credit Rating Raised to Investment Grade]
[Aug 11, 2009: BW - Brazil's Coming Rebound]
[May 16, 2008: Brazil is Sexy]