If you are looking for exposure to the growing electronic cigarette market, investors have a number of choices to choose from. However, Ecig sales currently make up only a small fraction of most of these company's earnings and barely move the needle.
If you want to take on more risk for higher reward, investors should consider a speculative position in the company Vapor Corp (NASDAQ:VPCO), which is the only publicly-listed company whose business is solely focused on sales of electronic cigarettes.
Before I get into the details of Vapor Corp, I would like to go over the market for Ecigs and why I think this market has so much potential going forward.
What is an Electronic Cigarette?
Ecigs are battery-powered devices. They heat a liquid nicotine solution in a disposable cartridge, creating a vapor that is inhaled.
Ecigs contain no tobacco, which means they are considered to be far more safe to smoke than traditional cigarettes.
Electronic Cigarette Market Growth Has Tremendous Potential
Analysts are projecting tremendous things from the Ecig market, with some seeing this industry grow into a $10+ billion industry.
I believe that these projections are actually quite attainable. Consider the following:
- An analyst with Wells Fargo Securities recently estimated that the company Reynolds American (NYSE:RAI) will have $4 billion in revenue from Ecigs in 2021, compared with $3.9 billion from conventional cigarettes (They had barely any sales from Ecigs in 2013).
- Wells Fargo says the Ecig market is currently a$2 billion market and estimates it will grow to $10 billion by 2017, or five times its current value in less than four years, according to an article in BusinessWeek.
- Lorillard's (NYSE:LO) Blu Cigs are the current market leader and the company currently gets about 4 percent of revenue from Blu Cigs. The company reported $63 million in sales from Blu Cigs in the recent quarter, up from just $8 million and year ago and better than the $57 million in sales the previous quarter. Ecigs have been a tremendous growth driver for Lorillard, but things are just getting started.
- Lorillard also just bought a UK company called SKYCIG® for approximately £30 million in cash paid at closing and additional contingent consideration of up to an additional £30 million to be paid in 2016 "based on the achievement of certain financial performance benchmarks." More acquisitions could be on the way.
- Electronic cigarette usage is increasing at a very quick rate among teenagers. E-cigarette experimentation and recent use doubled among U.S. middle and high school students during 2011-12, resulting in an estimated 1.78 million students having ever used e-cigarettes as of 2012, according to a report by the CDC.
- Critics of Ecigs might argue that more FDA regulations are needed and some are even calling for a complete Ecig ban among teens. I think it is quite premature to call for an Ecig ban and don't see this as likely (if you're going to ban Ecigs, then wouldn't you have to ban regular cigarettes first?)
- I wouldn't be surprised to see regulations on the flavor of Ecigs (such as banning certain flavors of Ecigs to discourage teen usage) or regulations on advertisements, but this would not come as a shock to me. I think many of these companies are prepared for this to happen anyway.
- Would I would like to see is a study of young adults who use Ecigs, but previously smoked cigarettes and stopped smoking with the help from Ecigs. Companies that make Ecigs will have a strong argument that Ecigs have more beneficial effects than negative.
The bottom line? I believe Ecigs are a new, much better alternative to the traditional cigarette and I think they are here to stay.
Vapor Corp: Home-Run Potential?
Stocks like Lorillard and Reynolds American are multi-billion dollar companies. I certainly like both as investments, and I believe Lorillard is still a buy here, but if you are looking for a more speculative position in your portfolio, one which has home-run, 5-bagger type of potential, I urge investors to take a look at Vapor Corp.
Vapor Corp shares trade on the OTC markets. The company is based in Ft. Lauderdale, Florida and as a market cap of just $52 million with a little over 60 million shares outstanding.
Vapor Corp distributes a number of Ecig brands including Krave, a disposable Ecig, along with Smoke 51, Green Puffer and VaporX. This is the only publicly-traded company I know of that sells only Ecigs. Its products are available to purchase online and in retail outlets across the US.
Shares of Vapor Corp have been on a tear in 2013, starting the year at around just $.20 to today's price of $.87: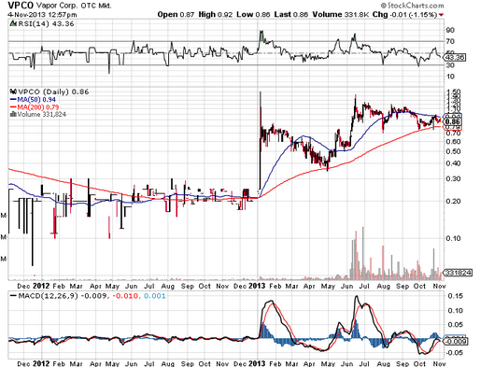 Vapor Corp Quarterly Results
The company reported Q3 2013 results on Oct. 21. Here are the highlights:
- Sales exceeded $6.4 million, an increase of approximately $2.6 million, or approximately 66.3% from the same quarter in the preceding year.
- Gross margins increased to 38.9% from 35.1% in the same quarter in the prior year
- Profitability: Operating income was $393,282 compared to operating losses of ($1,252,086) for the same quarter in the prior year.
- The company has new products launching in the fourth quarter of 2013, for both their VaporX line and their VaporX Hookah Stix, as well as a branding update for their KRAVE brand.
- As of the end of the quarter, the company has $610,358 in long-term debt, made up of senior convertible notes. The company had $303,097 in cash but just completed a large financing (more details below).
Here's what the company said in the Q3 earnings report:
"During the third quarter of 2013, we utilized all of the approximately $1.6 million of gross proceeds from the indebtedness we incurred during the third quarter to purchase additional inventory, which enabled us to fulfill the existing back orders of approximately $1.5 million (above our normal level of approximately $0.5 million) at June 30, 2013 and additional new orders, which increased sales.

At September 30, 2013 our back orders reverted to normal levels. The increase in sales is primarily attributable to our ability to immediately and efficiently deploy the gross proceeds from the indebtedness we incurred during the third quarter to optimize our inventory levels to satisfy increasing demand for our products, in particular increased sales to new and other existing distributors, wholesale customers and increased direct to consumer sales, net of decreased sales to an existing distributor."
The bottom line is Vapor Corp reported a profitable quarter and took care of their existing back orders. They followed up the great quarter with an equity financing.
Vapor Corp Completes $10 Million Private Placement
The company completed a $10 million placement on Oct. 29 of 16,666,667 shares of its common stock at a price per share of .60 cents, for gross proceeds of $10 million:
"Vapor received net proceeds of approximately $9 million from the private placement, after paying placement agent fees and estimated offering expenses, which will be used to fund the company's growth initiatives and for working capital purposes." Oct. 29 Release
Vapor Corp will use this capital infusion to "implement its growth initiatives and capture greater market share" as demand for its products increases, according to Kevin Frija, CEO.
Bottom Line? Still a Speculative Bet... With Big Upside Potential
Vapor Corp is a tiny, tiny company compared to Lorillard and other tobacco names, but this isn't necessarily a bad thing. While Ecig shares barely move the needle currently at those companies, and make up less than 10 percent of sales, Vapor Corp gets 100 percent of its sales from Ecigs.
I also think Vapor Corp is an obvious buyout candidate. The recent private placement shows me that this might not happen for a while, however, as the company focuses on growing its brands and gaining market share.
With over $9 million in cash and a line of products with potential, Vapor Corp could be a multi-bagger at current prices if they can continue to increase sales going forward.
I will be following this company and the Ecig market closely going forward, so please follow me here at Seeking Alpha to receive alerts to future articles.
Disclosure: I am long LO. I wrote this article myself, and it expresses my own opinions. I am not receiving compensation for it (other than from Seeking Alpha). I have no business relationship with any company whose stock is mentioned in this article.