Caution: This article will provide a detailed financial model, which can be applied to institutional or individual investing, to create an enormous amount of wealth if implemented correctly.
As defined on the Federal Reserve website.
"...the Fed, is the central bank of the United States. It was created by the Congress to provide the nation with a safer, more flexible, and more stable monetary and financial system."
Safer
Any trader or investor will say one of the most important concepts in investing is to preserve your capital. If starting with $100,000 and losing 50%, it will take a 100% return to start back at even versus if you lost 30%, you'll only have to obtain a 43% return to start back at even. There are many ways to mitigate the risk of losing money such as: 1) Purchasing high quality securities with a dividend yield to offset losses, 2) diversify your holdings, 3) having multiple streams of income and 4) having an understanding of what you're invested in besides just at the surface level.
To build a safe portfolio each security owned should essentially be a pillar, which can support itself, while at the same time holding a much greater purpose in the portfolio. Think tobacco stock Philip Morris International, Inc (NYSE:PM). The company has many quality characteristics such as a high-dividend yield, international exposure, history of share buy backs, market leader etc. Other pillars could include consumer healthcare, Johnson & Johnson (NYSE:JNJ), real estate, Boston Properties Inc. (NYSE:BXP), and technology, Microsoft (NASDAQ:MSFT). All these companies in their respective industry are market leaders and are intertwined with others in the economy; both on a local and international basis. While each one of these companies are independently sufficient as an investment, in aggregate they provide cash generating abilities which are beneficial in a downturn to purchase additional shares, provide for liquidity needs, and invest in other opportunities in the market. If you're an individual you can think of your job as a supportive pillar as well.
Flexible
As an investment portfolio serves as your own federal reserve, you decide where to allocate your capital in the most efficient manner. Portfolio managers and investors alike learned in 2008 that cash is king. As cash is generated from your investments (pillars as referenced above), opportunities are created and provide flexibility to service liabilities, purchase additional shares, and invest in other market opportunities. Allowing money to work for you creates for a fluid federal reserve system in our model (refer to model below), in which cash can travel from one investment idea to the next. In addition, if one of the pillars is experiencing financial duress, we have the ability to cut off the investment from the rest of the system with minimally invasive damage.
Stability
Investors welcome volatility when it's in their favor, but it's difficult to sleep at night when you're on the other side of the trade (I know). A strategy which has pillars is imperative to your investment success. Having these defining investments make or break a portfolio. As discussed above, having these pillar investments serve a broader purpose for your portfolio (Federal Reserve System), and allow for stability in your portfolio. Each additional pillar added to a portfolio provides more stability, but remember statistically the marginal benefit of more than 25 different investments decreases.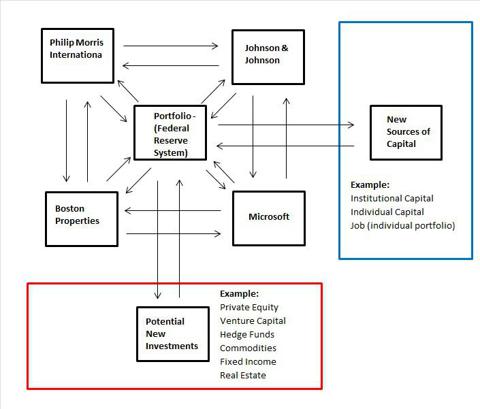 Central Banks
As a participant in the global capital markets, it was more evident than ever that in 2008 the coordination of Central banks had to work together in order for the global economy to recover to some sort of normalcy. Similar to our portfolio (Federal Reserve Bank see model above), the investor has to have the foresight to make changes when necessary by reducing positions, purchasing existing/new positions, put on the risk/risk-off trade. This involves having an understanding of the macro/micro environment, understanding trends, companies, etc. For many investors it's a more efficient use of time to let others do their investing for them and figure out the intricacies of the market. Though as we have seen in Washington DC lately, our policy makers are the laughing stock of governments around the world, much similarities can also be said of the investment profession.
Summary
The investment model at its most rudimentary level, if implemented correctly will generate more wealth for your clients/yourself than you could possibly fathom. As we are only limited by time remember to do what you love, as death is just around the corner.
"Give me control of a nation's money and I care not who makes its laws" ~ Mayer Amschel Bauer~
Disclosure: I have no positions in any stocks mentioned, and no plans to initiate any positions within the next 72 hours. I wrote this article myself, and it expresses my own opinions. I am not receiving compensation for it (other than from Seeking Alpha). I have no business relationship with any company whose stock is mentioned in this article.