Retailers turned in a stronger-than-expected sales performance in December, as better inventory management and less promotional activity helped drive the best same-store sales results since April 2008. For the 32 companies RetailSails tracks, preliminary results show total sales rose 5.4% in December to $52.11 Billion, while same-store sales increased 3.0% compared to a 3.8% plunge in the year-ago period.
While the strong gain is more a function of extremely easy comparisons from last holiday season, the results are nonetheless encouraging. Most retailers were much better prepared heading into the new year, as lean inventories and smarter promotions helped significantly boost gross margins, leading several companies to increase 4th quarter earnings guidance.
See below for a summary of results by sector and company. We will be updating individual retailer results all day, and will be posting in-depth coverage of the monthly reports and holiday performance over the next several days, so check back later or sign up for our feed to get a complete breakdown.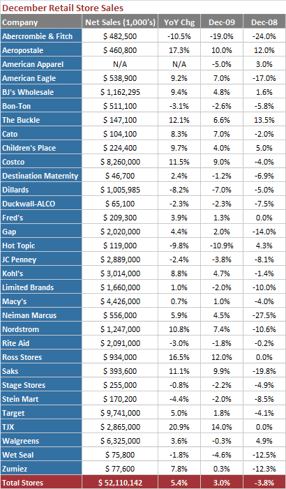 Disclosure: No Positions