US stocks rose as higher energy and metal prices lifted commodity producers and some Federal Reserve policy makers said they would consider more stimulus measures, overshadowing declines in technology and telephone shares. Baker Hughes (BHI) and Freeport-McMoRan Copper & Gold (NYSE:FCX) rallied at least 4% as freezing weather boosted energy prices and threatened to disrupt metals production. Bank of America (NYSE:BAC) and Citigroup (NYSE:C) climbed 1%-plus as minutes from the Fed's last meeting showed central bankers debated an increase in asset purchases if the economy weakens and gave no sign they plan to lift interest rates anytime soon.
In brief, stocks on the move today. Tate & Lyle slumped 6.7%, the biggest intraday drop since May after Credit Suisse cut the shares to "neutral" from "outperform. Continental jumped 8.8% on news a group of banks led by Deutsche Bank (NYSE:DB), Goldman Sachs (NYSE:GS) and JPMorgan Chase (NYSE:JPM) had agreed to underwrite the sale of 31 million new shares at €35 each and have already placed about 75% of the stock. Vodafone (NASDAQ:VOD) slipped 1.8% after Verizon Communications (NYSE:VZ), which co-owns its wireless business with the world's biggest mobile phone company, said its 2009 earnings fell 13 cents to 15 cents a share from a year earlier, missing analysts' estimates. Metro, Germany's biggest retailer, lost 3.6% on news that retail sales in Germany unexpectedly fell in November as rising energy costs and unemployment fears kept consumer confidence in check. Lagardere shed 3.4% after Goldman Sachs downgraded shares of France's largest publisher to "sell" from "neutral" and added them to its "conviction sell" list. Wolseley (OTCQX:WOSCF) is up 2.3% as the world's biggest supplier of heating and plumbing gear was raised to "buy" from "neutral" at UBS which cited possible "positive share price momentum" before the company's strategic review in March. RSA Insurance gained 1.3% after the UK's biggest non-life insurer was upgraded to "buy" from "hold" at Citigroup, which cited "high quality" earnings at its international unit and a "solid and affordable" dividend.
To be complete, Bed Bath & Beyond (NASDAQ:BBBY) added 7% after hours yesterday as the largest US home-furnishings retailer forecast fourth-quarter profit of at least 67 cents a share, topping the average estimate of 63 cents from analysts.
Today's Market Moving Stories
Reuters reported that China's Central Bank surprised the market by raising the auction yield of its three-month bills for the first time since mid-August, and the significant step-up in liquidity tightening sent offshore non-deliverable interest rate swaps (NDIRS) sharply higher. The People's Bank of China is also set to drain a net $20 billion from the market this week, the biggest weekly drain in 11 weeks, as it intensifies the pace of quantitative tightening to curb excessive market liquidity. "Both the hike of the auction yield and heavy drain were unexpected as the market had thought that the Central Bank would at least be lenient ahead of the Spring Festival," said money market analyst Liu Junyu at China Merchants Bank. Concerns about rising inflation and asset bubbles in the key property sector are also among reasons for the move.
Post Greece / Iceland / the Baltics / Ukraine, is Argentina the next shoe to drop? Headline risk in Argentina is on the rise. The administration asked Cenbank President Redrado to resign over a refusal to transfer $6.5bn in international reserves to fund the Fondo del Bicentenario's guarantee of 2010 Government debt service. Redrado refused to resign and was sacked. To remove him, though, the Executive needs the "advice" of a special Congressional committee. With Congress in recess, expect delays. Also, supposed Cenbank President-in-waiting Blejer has refused to take over, leaving the Fondo del Bicentenario on hold for now. The use of international reserves is bad economics as it weakens the independence of the Central Bank and opens the door for laxer fiscal policy. Asset prices are stable for now, but there is certainly downside risk.
No surprises from the Bank of England's MPC today as it held the Bank rate at 0.5% and the Quantitative Easing program at £200 billion. The Committee expects the announced programme to take another month to complete. The statement was brief, containing the usual line that the scale of the programme will be kept under review.
The VIX (aka the index of fear) continues to make new complacent lows not seen since Lehman Brothers and this appears to be mirrored in other asset classes too, so tail risks are being priced out on a persistent basis. So Q1 looks like a continuation of the end of last year. Potential problems in the US housing market are possible in the spring and in Europe the question of whether lending is really hampering growth will only be more visible for discussion when firms start actively expanding. So it looks as if the near term has slightly improving economic data combined with lots of liquidity. Time for the contrarians to buy some cheap downside protection (aka "puts").
China overtook Germany as the world's top exporter last year, data compiled by Global Trade Information Services showed. China shipped products worth $957.7 billion in the first 10 months of 2009, while Germany sold goods worth $917.7 billion to customers abroad. Exports from China exceeded German shipments every month since April last year. China has already slipped past Germany to become the world's third-largest economy and is forecast to overtake Japan this year. Exports have driven a 15-fold increase in China's economy to more than $3.8 trillion since the nation opened its doors to foreign trade and investment in 1978.
In Japan, new National Strategy Minister Yoshito Sengoku said that "the current state of the Japanese economy is not favourable – my role is to ensure progress in the government's emergency economic measures." Sengoku also said that he wants debate about the consumption tax before a crucial mid-year election.
And newly appointed Japanese Finance Minister, Naoto Kan, said that "it would be nice if the JPY weakened a bit more". He comments that many Japanese firms are in favor of USD/JPY at around the JPY 95 level.
In Iceland, a Capacent Gallup poll showed that 51% of Icelanders disagree with President Grimsson's decision to veto the Icesave bill. However, this compares with a recent newspapers poll which showed that 58% of citizens will vote the bill down.
German retail sales fell 1.1% MoM in November following an unchanged index in October. The consensus forecast had anticipated a 0.2% increase. To put this in context, this monthly drop matches the decline seen in October 2008, right after the Lehman collapse, which in turn was the sharpest fall since October 2001 (right after 9/11). The fall is all the more remarkable since it happened on the face of a continued improvement in confidence indicators. Consumer confidence as reported today by Eurostat rose one point to -16, and the overall economic confidence indicator had a big jump of two and a half points to 91.3, thus recovering pre-Lehman levels. So this is a wake-up call that better confidence numbers will not necessarily translate into higher spending figures, and that the Euro area economic recovery stays under siege, with unemployment still on the rise and the effects of a stronger currency still having to work their way through the economic system.
The Bank for International Settlements (BIS) will gather top central bankers and financiers this weekend amid rising concern about a resurgence of the "excessive risk-taking" that sparked the financial crisis. Some specific proposals include lowering return-on-equity targets banks as a way to discourage such risk taking. The BIS also expressed its concerns about deteriorating public finances warning. These meetings used to take place once a year in the past but have been more frequent recently.
The FT had a short note saying that the iTraxx Crossoverindex, an index of European credit default swaps (CDS) of underlying junk bonds, has fallen below 400 basis points, the lowest level for two years. CDS indices are indicators of market attitude towards risk, and the fall in the CDS index suggests that the markets are rediscovering their risk appetitive.
Outrun Madoff, Palin, And Balloon Boy In "2009: The Game".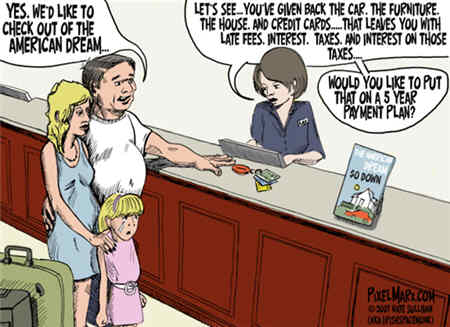 Commodities Corner
The cash price of iron ore delivered to China, the world's biggest buyer, rose to the highest in more than a year amid what Goldman Sachs said was "panic buying" by steel mills. The cost of 62% iron-content ore delivered to Tianjin port increased 2.9% to $124.80 a metric ton yesterday, according to The Steel Index. The so called spot price has surged 24% in four weeks and has more than doubled from its 2009 low on March 27. Chinese mills have stepped up iron ore purchases to meet rising steel demand fuelled by the nation's stimulus spending. The gains boost expectations for a rise in annual contract prices, which would raise profits for Vale SA (NYSE:VALE), Rio Tinto (RTP) and BHP Billiton (NYSE:BHP), the three biggest exporters.
Crude oil fell in New York, snapping 10 days of gains, on concern the current rally is unsustainable after a US government report yesterday showed an unexpected increase in stockpiles. Traders are selling contracts to lock in gains from the 15% climb in crude prices since December 21. The Energy Department said crude oil inventories rose 1.3 million barrels last week. Stockpiles were forecast to fall. Oil for February delivery declined as much as 53 cents, or 0.6%, to $82.65 a barrel.
Company News
Sainsbury's (OTCQX:JSAIY) Q3 like for like sales for the 13 weeks to 2 January came in at 4.2%, ahead of expectations of 3.7%. This represents a slowdown from the 5.4% recorded in Q2, although this decline is from the widely flagged reduction in inflation from the system. The good performance was driven by the continued strong performance in non food categories, which grew four times faster than non food. This adds to evidence that this has been a solid xmas for UK food retailers, with Waitrose (John Lewis) being the outperformer.
Following a market study into the industry, the OFT have decided to refer UK local bus services, excluding London and Northern Ireland, to the Competition Commission. This has been a widely publicised investigation and indeed it comes as no surprise that concerns identified by the OFT have been deemed sufficient enough to warrant a full investigation. Discussions we have held with respective management teams from FirstGroup (OTC:FGROF), Stagecoach and National Express have indicated that all will vigorously defend their positions whilst fully co-operating with the Commission's investigation. Of the three above mentioned operators, Stagecoach will potentially be the most impacted, given that it derives 39% of its revenues and 55% of its operating profits from UK Bus.
A group of mobile phone operators has called for the proposed merger between Orange and T-Mobile to be investigated by UK regulators rather than Brussels. O2 and 3 said the UK competition authorities were best placed to look at the planned joint venture between France Telecom's Orange UK and Deutsche Telekom's T-Mobile UK.
Hewlett-Packard (NYSE:HPQ), the world's biggest personal-computer maker, is testing Qualcomm's (NASDAQ:QCOM) Snapdragon chip for use in a scaled-down personal computer, a challenge to Intel's (NASDAQ:INTC) dominance in the processor market. The device has a 3G wireless connection and supports Wi-Fi networking. Lenovo (OTCPK:LNVGY), China's biggest PC maker, is also working on a so-called smart book computer that uses Snapdragon.
Microsoft (NASDAQ:MSFT) Chief Executive Officer Steve Ballmer introduced a touch-screen tablet computer from Hewlett-Packard and said US sales of PCs running Windows jumped 50% over the holidays. The computer will go on sale this year and was one of several machines that Ballmer showed off last night at the Consumer Electronics Show in Las Vegas.
And finally… And You Thought I Was Gloomy!

Disclosures: None