By Julian Murdoch
Tariffs, Duties and Fees—Oh My!
In 2009, regulators launched a number of investigations into the importation of Chinese products, including steel products. Many are still ongoing, but one in particular made big news last week.
On Dec. 30, the U.S. International Trade Commission, the semi-governmental agency that advises all branches of the government on trade issues, issued a determination that the domestic steel pipe industry had been "materially injured" by the importation of certain subsidized steel products from China.
It all began back in April, when the United Steelworkers Union and eight U.S. steel producers—including U.S. Steel (NYSEArca: X)—joined forces to file their case. Their claim? The Chinese government was unfairly subsidizing production costs for the huge pipes used to line oil and natural gas wells, the ones that transport raw materials from well to consumer.
Why would these two sometime-opponents band together and go on the warpath? Well, it could have something to do with the fact that between 2006 and 2008, U.S. imports of said steel pipes rose from $681 million to $2.8 billion. And even though the Shanghai Customs Office reported that exports of steel oil well pipes dropped 85 percent during the first 11 months of 2009, U.S. companies say the Chinese continue to gain market share.
All of this translates, of course, into domestic job losses; 2,400 domestic steelworkers lost their jobs during the first nine months of 2009, something of prime interest to the U.S. Steelworkers union.
In November, the U.S. Commerce Department responded to the situation by imposing duties on these steel pipes ranging from 10.4 to 15.8 percent. The ruling last week means that those duties can now be finalized.
Of course, the Chinese are not pleased, claiming instead that the demand drop for U.S. made pipes is tied to the oil price collapse in early 2009, not less expensive Chinese pipes.
In addition, the Commerce Department recently imposed preliminary anti-dumping duties of up to 145.18 percent on Chinese steel grate products. "Steel grate products" are things like drainage covers, industrial floors and ramps—exciting and sexy they may not be, but the U.S. imported $91 million of the stuff in 2008.
It doesn't stop there. Even those industrial wire shelving units you eyed at Home Depot last weekend may now become a bit more expensive. On Monday, the U.S. Commerce Department made another preliminary determination that certain Chinese companies were selling their wire decking products at unfair prices. The consequences are steep. Chinese companies are being hit with levies from 42 percent all the way up a whopping 289 percent.
Since this is just a preliminary determination, the U.S. won't be collecting the money immediately; companies will have to deposit the duties until the final ruling about six months from now, and there's always the chance of an appeal. This case isn't as high profile as the $2.8 billion steel oil pipe controversy, given that imports of Chinese wire decking equaled only around $317 million in 2008, up from $213 million in 2006. Still, it is yet another shot at the Chinese steel industry.
Steel's Stellar 2009
All of this happened during a year that was pretty good for steel and steel companies—even U.S. ones: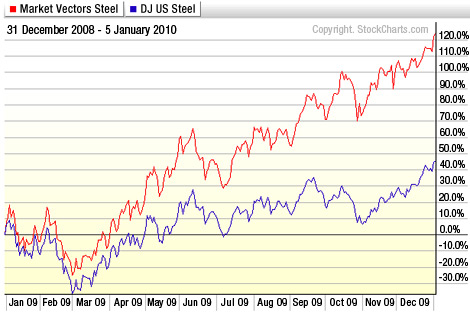 The Dow Jones US Iron and Steel Index (blue line) consists of the six big U.S. steel companies: AK Steel Holding Corp. (NYSE: AKS); Allegheny Technologies Inc. (NYSE: ATI); Carpenter Technology Corp. (NYSE: CRS); Nucor Corp. (NYSE: NUE); United States Steel Corp.; and Worthington Industries Inc. (NYSE: WOR). As such, it gives a good picture of the state of the domestic steel industry. After bottoming out in early March (along with practically every other company in the U.S.), the index posted good gains, managing to end up over 40 percent for the year.
A 40 percent gain for the year looks great, until you look at the performance of Market Vectors Steel ETF (NYSEArca: SLX), that nearly magical red line on the chart. SLX tracks the NYSE Arca Steel Index, which measures the performance of companies across the wide range of steel production—from iron ore extraction to the manufacture of finished steel products. The fund ended up an astonishing 120 percent for 2009.
Why the difference? Although 40 percent of SLX's holdings are in U.S.-based companies, it also includes international heavy hitters such as Rio Tinto (NYSE: RTP), Vale (NYSE: VALE), ArcelorMittal (NYSE: MT) and POSCO (NYSE: PKX) as its top four holdings. In particular, Rio Tinto posted quite the run for 2009, moving up 162.78 percent between Dec. 31, 2008 and Jan. 5, 2010.
The 2010 Outlook
Analysts predict a mixed bag for the year ahead. Demand is expected to rebound as the economy strengthens in the first part of 2010, but all is not rosy.
Analysts such as GFMS predict demand will grow in the first half of 2010 due to low steel stocks in mature economies, which will boost apparent consumption. Prices will most likely rise during the first half of the year, as steel stocks are replenished. But GFMS doesn't see this lasting. "... we are forecasting that the global economy will only exit the recession slowly," says a recent GFMS report, "while capital-intensive (and steel-intensive) construction demand will lag. The industry therefore runs the serious risk of excess supply and price weakness by the second half of the year."
Regarding specific steel products, there are some concerns that increased tariffs could decrease the availability of steel piping for oil and gas wells in the U.S. As Mike Jordan, CEO of Mike Jordan Co., told the Wall Street Journal, "There's not enough quality steel mills in the world to produce the type of steel needed for wells drilled in the U.S." and expects domestic steel producers to raise prices.
If you're interested in steel, you might want pick your index or company and benefit from increased demand in the first half of the year. But stay vigilant: The second half of 2010 may call for more caution, as we see how the economy recovers, as well as how the various trade clashes start to affect imports and exports. These new duties may be just the start of a huge domino chain, and the picture for the steel industry could change rapidly if a trade war escalates.