As shown below, the percentage of companies that have beaten earnings estimates this season has dropped below the 60% mark (59.8%).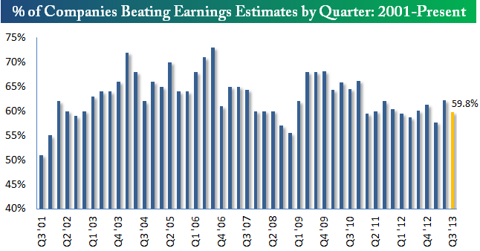 Early on this season, the earnings beat rate looked pretty good, but things have turned around over the past few weeks. The blue bars in the chart below show the overall earnings beat rate as earnings season has progressed. The green area chart represents the total number of companies that have reported this season. As of today, nearly 1,800 companies have reported.
On October 23rd, 63.9% of the companies that had reported had beaten earnings estimates, which was the highest reading seen this season. Since then the beat rate has trickled lower. On November 1st, the beat rate was down to 61.1%, but as of today, it has crossed below the 60% mark (59.8%). Earnings season ends next Thursday when Wal-Mart (NYSE:WMT) reports its numbers. It's looking like that day can't get here fast enough.