The last couple of years have been rather disappointing for chip giant Intel (NASDAQ:INTC). A weak PC market and the company's slow move into the mobile revolution has set the company back. As a result, Intel shares have not done very well, as you can see in the table below. While the stock does have a small gain over the past two years, the stock has been one of the worst performing large cap technology names, when compared to Apple (NASDAQ:AAPL), Google (NASDAQ:GOOG), Microsoft (NASDAQ:MSFT), Cisco Systems (NASDAQ:CSCO), and even competitor ARM Holdings (NASDAQ:ARMH). Intel has also greatly underperformed many major indices. Four index ETFs to look at include the SPDR Dow Jones Industrial Average (NYSEARCA:DIA), SPDR S&P 500 (NYSEARCA:SPY), PowerShares QQQ (NASDAQ:QQQ), and the iShares US Technology ETF (NYSEARCA:IYW). Intel is a component of all of these ETFs. Here is a look at how these ten names have performed over the past two years, with dividend adjustments per Yahoo! Finance.

So what's my main point? Well, it is time for Intel become a leader again, and I'm not talking about its technology. I'm talking about the stock. The next three months for Intel will be extremely important for the company, and today I will detail why. Just like a sports team that's about to make its next draft pick, Intel is now on the clock.
Will the dividend be raised?
One of the largest concerns for Intel shareholders has been a lack of dividend raise this year. The 22.5 cent per quarter payout has now been paid for six straight quarters. Intel didn't raise the dividend after four payouts at that level, so now the question is when will the next raise come? I've stated in some of my past Intel articles that I thought Intel could be setting itself up for a calendar year cycle. What does that mean? Well, in the past 10 years, almost all of the dividend raises were for the first payment of the year. Intel got "off-cycle" in a sense when they raised it for the 3rd payout of 2012.
Intel raising the dividend accomplishes a few things. First, it provides a reward to investors, many of which have stuck with the name through these tough times. Second, it allows those who only buy stocks with growing dividends a chance to re-enter the name (if they have left). Third, it signals something positive about the business. If Intel is not raising the dividend, doesn't that tell you something about how business is faring?
I'm not arguing for a huge dividend increase here, not one of those 20% or 30% raises. Even a half penny a quarter or penny per quarter would be nice. A penny per quarter is only 4 cents per year, which would cost the company about $200 million per year. You can't tell me that a company with more than $50 billion in revenues a year can't afford an extra $200 million in dividend payments. In fact, total dividend payments are now declining year over year thanks to the buyback. An extra penny per quarter would bring the dividend yield up by about 17 basis points based on Wednesday's close. It would also spark some positive energy into a stock looking to breakout.
How about increasing the buyback?
One of the biggest reasons I told investors to be concerned with Intel after the latest earnings report was that the buyback slowdown was not a short-term item. Intel started slowing the buyback down earlier this year, but I hoped that maybe it would just be for the first half of 2013 as the second half was supposed to be better for the company. Well, the third quarter report confirmed my worst fears. The buyback slowdown was not temporary. Just read the following piece from the latest 10-Q filing on the repurchase program:
During the third quarter of 2013, we repurchased 23.6 million shares of common stock at a cost of $536 million (46.4 million shares of common stock at a cost of $1.2 billion in the third quarter of 2012). During the first nine months of 2013, we repurchased 72.1 million shares of common stock at a cost of $1.6 billion (143.9 million shares of common stock at a cost of $3.8 billion in the first nine months of 2012).
That's not exactly a small slowdown, when you go from $3.8 billion over nine months to $1.6 billion. That hurts Intel's share price because it removes another bidder from the market, and buybacks usually help to cushion a stock when it is falling. Intel's earnings per share figures are also hurt, because you are not reducing the share count as fast as you could be. In the past, I've shown a chart of the buyback rate over the past few years, but I'm going to change it up a bit for this article to change the topic. Here's the remaining amount for Intel's buyback over the past two years, at the end of each quarter.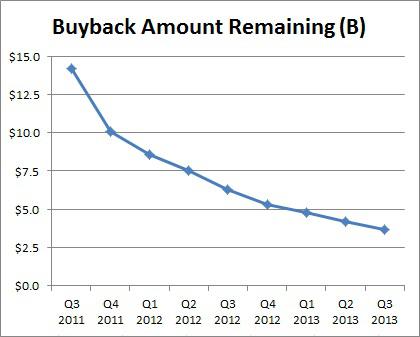 You can see the slowdown, but you'll also notice that the program is nearing completion. There was $3.7 billion remaining on the program at the end of Q3. At 2012 rates, that would be less than a year until completion. However, at current rates, completion time would be somewhere between 18 and 24 months.
Now might be a good time for Intel to either start a new buyback program, or add on to the current one. It's not uncommon for a company to announce a buyback program increase or new program before its current one ends. Microsoft had a similar amount left on its buyback when it announced a new large buyback. Intel doesn't even need to put a time frame on this buyback. Just the announcement would be a positive sign to shareholders. But at the same time, they also have to make sure the buyback doesn't slow down further. Intel is almost getting to the point where a further reduced buyback won't decrease the share count, it will just slow the rate of increase. There's a big difference.
2014 revenue and expense forecast:
In the next three months, we will also get another earnings report from Intel, most likely during the second or third week of January. While the Q4 2013 numbers will be interesting, the most important part of the release will be the 2014 revenue and expense forecast. When it comes to the revenue forecast, I would expect Intel to provide one of the following statements (in percentage terms compared to 2013).
a decrease in the mid single digits.
a decrease in the low single digits.
revenues to be flat.
low single digit growth.
mid single digit growth.
high single digit growth.
The first and last on that list are the extremes, so you probably could take those out if you really wanted to. However, anything is possible, because going into 2012, nobody saw two straight years of revenue declines, and that is what's happening now. My best guess is that Intel will start out with a "low single digit growth" forecast, and they will adjust it as the year progresses. That's what they started out with for 2013, and unfortunately, it didn't happen.
Investors will also be looking at the company's expense guidance. Will gross margins rebound in 2013? Intel started with a decent gross margin forecast for 2013 but was forced to cut it at the Q2 report. Intel will also provide R&D plus MG&A spending (basically, operating expense) guidance. The company has been very conservative with this guidance lately, guiding high originally but coming in low. Other items like amortization expense, other income items, and the tax rate will be important to determining an earnings per share estimate. Intel has not been one to provide a specific EPS forecast.
2014 capital expenditures forecast:
Perhaps one of the most important items in terms of the dividend/buyback will be Intel's capital expenditures forecast. Intel's cash can either be paid out to shareholders, or be invested in the business. When Intel reported fourth quarter results back in January, the company set a $13 billion capex figure for 2013. That figure was seen as very aggressive, and it has come down a few times since. The current forecast is for $10.8 billion. Obviously, Intel's results have not been great this year, so with reduced revenues and earnings, it makes sense that the company cut a high capex forecast.
So Intel's 2014 capex forecast will be very interesting. As the company continues to battle for position in the tablet wars, you would expect 2014 capex to be higher than 2013 capex. But will it be $11 billion, $12 billion, more? The answer to that question will go a long way to determining what Intel will do with the dividend and buyback.
Current forecasts:
Now that earnings season is basically over, except for one name on the following list (Cisco), we have some updated growth forecasts. The following table shows some growth and valuation numbers for Intel and other top tier tech names as of Wednesday.

*EPS growth and P/E values are non-GAAP.
Until Intel tells us otherwise, analysts are going to see the chip giant as the one with the least amount of growth for its 2014 fiscal year. Right now, the only savior is that Intel has the highest dividend yield. But for the price you are paying, there are much better values. Apple offers a lot more growth at a cheaper valuation, and Apple has a much more powerful buyback. Microsoft looked better than Intel a week or so ago, but Microsoft's recent rally has made the valuation a little lofty right now. Intel also needs its buyback to be strong, or investors will flee to other names who are returning more capital.
The silver lining for Intel, if you want to call it that, is that estimates have not fallen any further yet. 2013 and 2014 estimates for both revenues and earnings are at their lowest points, so I wouldn't exactly be celebrating. Also, the mean and median price targets for Intel are actually about a percent or two below where the stock is currently, with the average rating barely above a hold. Analysts are not negative on Intel right now, but they aren't screaming that Intel is a strong buy either. Investors are surely strong in their opinions, because Intel's short interest hit another new high in the middle of October. Next week, we'll find out if the Q3 earnings report and weak Q4 guidance sent short interest to another new high at the end of October.
The death cross has been averted, for now:
I was very concerned about the technicals behind Intel's stock for a while. The company was about to hit the dreaded death cross, where a short term moving average (the 50-day) crosses below a longer term moving average (the 200 day). When this occurs, a stock usually drops. The last time Intel hit this mark, it was around the time it also warned in September of 2012. Intel shares went from $26 to $19 in a couple of months.
Had Intel shares traded lower after the most recent earnings report, the death cross would have probably been reached. As you can see in the chart below, things got very close. However, as Intel shares have ticked higher, the spread between the two moving averages has increased. For now, Intel has avoided hitting the death cross, but if shares go lower, this key technical level could be back in play.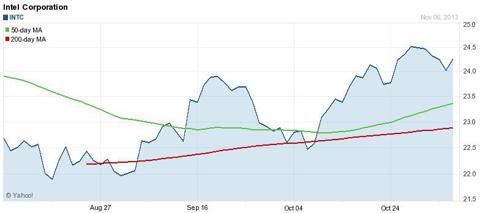 (Source: Yahoo! Finance)
Final thoughts:
The next three months could be critical for Intel. The company has some serious questions to answer in regards to the dividend and the buyback. A strong capital return plan could boost the investor base for this name and get some energy back into the stock. The company will also provide its 2014 forecast that investors will be keying in on for potential revenue growth and capital expenditures. Intel shares have been a laggard for the past couple of years, but things could easily turn in the next couple of months depending on the answers to a couple of key questions.
Disclosure: I have no positions in any stocks mentioned, and no plans to initiate any positions within the next 72 hours. I wrote this article myself, and it expresses my own opinions. I am not receiving compensation for it (other than from Seeking Alpha). I have no business relationship with any company whose stock is mentioned in this article.
Additional disclosure: Investors are always reminded that before making any investment, you should do your own proper due diligence on any name directly or indirectly mentioned in this article. Investors should also consider seeking advice from a broker or financial adviser before making any investment decisions. Any material in this article should be considered general information, and not relied on as a formal investment recommendation.