Dangdang Inc. (NYSE:DANG), a leading business-to-consumer e-commerce company in China, will report third quarter earnings results on November 14, 2013, before the market opens.
Following the results, a conference call will take place to discuss the financial results at 7:00 A.M. Eastern Time (or 8:00 P.M. Beijing/Hong Kong time). The conference call can be accessed here.
After beating analyst expectations for the last four quarters, Dangdang looks to beat expectations once again. Will the company be able to keep the streak going? Let's take a look at the numbers for the upcoming quarter.
Wall Street Expects:
Revenue: $261.8 Million
EPS: -0.12
Q4 Revenue Guidance: $327.4 Million
| | | | | |
| --- | --- | --- | --- | --- |
| Revenue History | November 2012 Q3 | March 2013 Q4 | May 2013 Q1 | August 2013 Q2 |
| Revenue Estimates: | $200.9M | $258.8M | $214.6M | $235.5M |
| Actual Revenue: | $204.9M | $259.2M | $214.7M | $243.3M |
| Difference: | +$4.0M | +$0.4M | +$0.1M | +$7.8M |
| Average: | | | | +$3.07M |
Just this year, shares of Dangdang have produced big gains for shareholders as the stock has more than doubled. However, shares have recently fallen nearly 30% and has caused some concerns for investors.
So what caused the big drop and is Dangdang still a good choice going forward? One of the first things that investors should look at is how are the markets in general doing? If the markets are all down, then obviously Dangdang is just reacting to the market.
Unfortunately, this doesn't seem to be the case with Dangdang. The next thing investors can do is look at other Chinese companies and compare them to Dangdang. This will give investors a better idea if this is just a general sell-off in Chinese Internet companies or if it's something specific with Dangdang.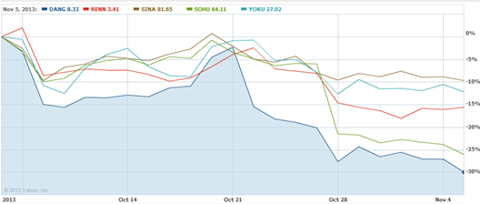 As we can see from the chart above, there has been a slight sell-off in other Chinese Internet companies as well. We cannot forget either that Dangdang has recently warned that third-quarter revenues would come in lower than expected. These things combined with other events have helped to drive the recent sell-off.
Dangdang Preliminary Earnings
On October 21, 2013, to a surprise of many, Dangdang provided preliminary third quarter results. When companies pre-release earnings it's usually a bad sign that revenues are coming in lower than expected. This case was no different as Dangdang announced that its total net revenue would be in the range of $249M-251M, instead of $260M that it previously forecasted.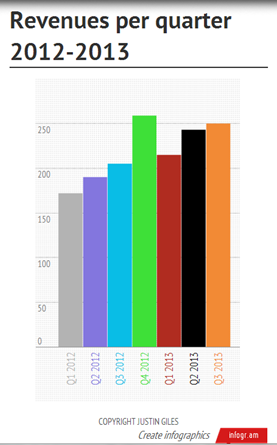 * Q3 2013 projections
After that announcement, shares of Dangdang fell by more than 13% to close at $10.04. As of right now, shares are trading even lower as they sit around $8.24 or (-29%) since the announcement was made. So the million dollar question becomes, did the pre-earnings release really warrant the big selloff? I don't think so, and will explain why.
We've all heard the saying, "What goes up, must come back down." This no different in the market as stocks are pushed around by sellers and buyers. After a strong run-up a pullback is quite common as short-term investors cash in on profits. However, a 29% drop is not your ordinary healthy pullback.
It's obvious that investors priced a lot of growth into Dangdang with the sharp rise in share price this year. Preliminary earnings did not meet investors' expectations and many took their profits and got out. Nevertheless, the recent sell-off provides investors with another great opportunity to make some money.
Think about this for a moment. Since the announcement, Dangdang has lost more than $269 million of its total market capitalization. Does this really make sense? Dangdang announced that revenue would slip around 3% from estimates of $260 million for the upcoming quarter. Does a 3% slip in revenue ($10M) warrant a decrease of $269M in market capitalization? Absolutely not!
In the press release, Dangdang explained to investors about the changes they are currently undergoing, and what is taking place. The Company is taking a small step back for the time being to jump 10 steps ahead.
The Company went on to say that the change in forecast was primarily due to the decision to reduce sales of certain lower margin products and focus more on bottom line performance.
Let's be honest, Dangdang has never had a problem generating revenues. The only thing that has disappointed investors are the bottom line numbers over the years. Dangdang wants to fix this, which is why they are taking action to become a profitable company.
In the upcoming earnings report, Dangdang estimates that gross margins would be in the range of 17.5% -17.7%, compared to 15.2% in the corresponding period in 2012. The estimated net loss looks to be around $4 million, as compared with a loss of $16 million in the corresponding period in 2012.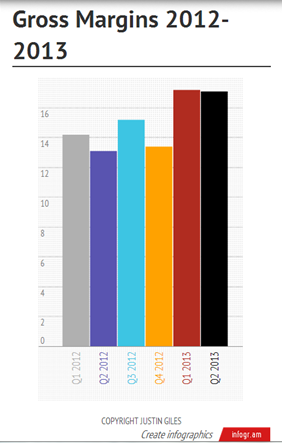 Peggy Yu Yu, Dangdang's Executive Chairwoman, talked about margins and the upcoming earnings report saying, "Although our estimated third-quarter revenue is below our previous forecast, we believe the business was better served by focusing on bottom line performance. By improving our category selection and reducing some low margin general merchandise, we were able to achieve higher gross margin. We are optimistic about our future prospects as we continue to transform our company from an online bookstore into an integrated online shopping mall targeting mid- to high-end customers."
I've outlined (in bold) the steps that Dangdang is taking to improve the company. They are looking to improve the bottom line performance by achieving higher margins. They can do this by selling high margin merchandise to mid to high end customers. This new approach as well as its flash sales program (which was launched in May) will generate bigger revenues and better margins going forward. This is why Dangdang can take a small step back in order to jump ahead in the long run.
Flash Sales
Online retail sales in China are growing enormously and are expected to more than triple by the year 2015. So who is going to be benefiting from this trend?
Vipshop Holdings, (NYSE:VIPS) based out of Guangzhou China, centers its business around flash sales. VIPS has proven to the market that if run right, Flash Sales can be a very rewarding business. After all, the Company's stock price is up 1,000% from its IPO price ($6.50) back in March of 2012.
Flash Sales are becoming quite popular in China as we can see by the records that VIPS continually sets every quarter. And just like Baidu back in the early 2000s, VIPS really hasn't had much competition to deal with.
Dangdang is looking to change all of that as it taps into the Flash Sales market. If successful, Dangdang would take huge steps forward with its business. After all, Flash sales would not only bring better margins, but would be bringing in tens of millions of additional revenue to the company. The growth in this area is enormous and Dangdang looks to greatly benefit from it.
Conclusion
On May 10, 2013, I previewed Dangdang's 2013 Q1 earnings report and told investors that shares of Dangdang were a good pickup @ $4.35. If you headed my advice, you would have made plenty of profits as the stock hit a new 52-week high last month.
I personally like Dangdang and the direction the company is going. I feel that shares are a good pickup at this point considering the future the company has, and the potential for big profits in China's e-commerce market. I must mention that even though I like shares at these levels, looking over the charts, I wouldn't be surprised to see the stock test the $7 level first, before heading back up. So investors who are on the fence might want to wait a bit before getting in.
Baidu (NASDAQ:BIDU) one of China's largest companies, reported earnings last week and beat expectations. One of the things to note from the earnings report is that Baidu's revenue outlook topped analyst estimates. This is a very positive sign for other Chinese companies as it signals that the economy is rebounding and is in better shape than most expected.
Seeing as how the Company has already pre-announced earnings, I believe the stock has already priced in a lot of those factors which in turn decreases the shock and risk on earnings day.
Analysts' Recommendations: Of Wall Street's recommendations, the consensus on Dangdang is a Buy rating, with an average price target of $10.85. This would reflect an increase of over 30% from Dangdang's recent closing price of $8.24.
Disclaimer: Investors are always reminded that before making any investment, you should do your own proper diligence on any stock mentioned in this article. Have a great day and as always, I look forward to hearing your thoughts or questions that you might have.
Disclosure: I have no positions in any stocks mentioned, but may initiate a long position in DANG over the next 72 hours. I wrote this article myself, and it expresses my own opinions. I am not receiving compensation for it (other than from Seeking Alpha). I have no business relationship with any company whose stock is mentioned in this article.