Duke Energy Corp. (NYSE:DUK) reported Q3 results yesterday and missed analyst estimates both in terms of revenue and earnings. Adjusted EPS came in at $1.46 vs. consensus estimates of $1.51 per share. Revenues stood at $6.71 billion vs. analyst estimates of $7.32 billion. Duke Energy also narrowed its 2013 adjusted EPS guidance range from $4.20-4.45 to $4.25-4.45 per share.
Duke Energy operates an energy and commercial power business. Its energy exposure makes the company generally suitable for investors who have a desire for low business risk, low operating cash flow volatility and stable dividends. However, the utilities sector is valued rather highly and Duke Energy fetches a premium valuation that I do not think is warranted based on my projections about its future free cash flows.
Share performance
Duke Energy has performed well over the last year but might be up for a correction due to its high relative valuation and disappointing Q3 results. Duke is one of the better performing utility companies over the last year with a positive performance of 16%. Northern Utilities (NU) gained 12% while Exelon (NYSE:EXC) lost 8% and Southern Company (NYSE:SO) lost 2%.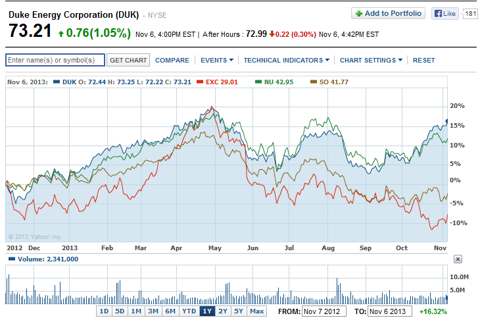 Free cash flow
I estimate that Duke Energy can earn about $3.26 in normalized free cash flow in 2013. Given the relatively stable business of Duke Energy, I estimate that growth rates in 2015 and 2016 come in at 3.50% and 3.32% and eventually trickle down to 3% in 2017. Assuming equity cost of capital of 9% the intrinsic value of Duke Energy comes out to be $54.72. Given a current share price of $73.21 Duke Energy has about 25% downside potential. From a free cash flow perspective Duke Energy is clearly overvalued.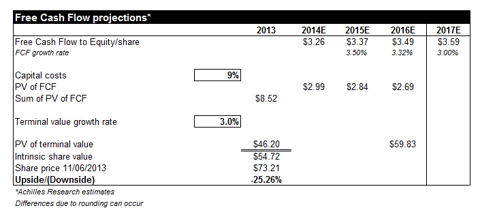 Market valuation
Duke Energy's observed P/E ratio of 16.07 indicates overvaluation as well. With a peer group average P/E ratio of 14.88 Duke Energy is the most expensive company in the group. Exelon has the lowest P/E ratio of 12.81 and might be a better alternative for investors who are seeking utilities exposure.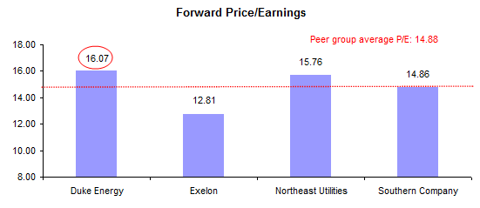 Duke Energy's dividend yield is just above the peer group average yield of 4.20%. With a cash flow yield of 4.26%, however, Duke Energy doesn't do enough to set itself apart from Exelon's 4.27% and Southern Company's 4.86%. From a peer group perspective, Duke Energy's dividend yield is rather mediocre.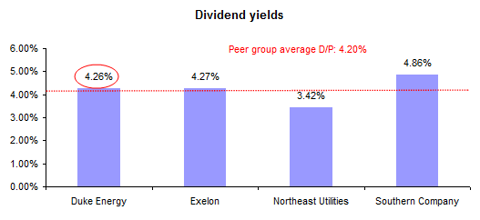 A summary of valuation metrics for Duke Energy and comparable utility companies is provided in the table below: Duke Energy trades at an eight percent premium to the peer group average P/E ratio of 14.88 and pays just about the peer group average dividend yield.

Conclusion
Investors who are looking for utilities exposure might want to look beyond Duke Energy to find decent-priced value. Duke Energy currently trades at high multiples of free cash flow and earnings which make an investment rather unattractive. I also think that free cash flow growth prospects in the defensive utility sector are not as attractive as in other sectors of the energy economy. Investors who are looking for bargain-priced value investments could take a look at the basic materials sector which also offers energy exposure albeit of a different sort. Large-cap exploration companies such as BP or ConocoPhillips (NYSE:COP) work in a different energy sector (exploring and marketing fossil fuels as opposed to offering electric- and nuclear power) but their value propositions are way more attractive since their growth premiums are substantially lower than in the utilities field (here and here).
Disclosure: I am long BP. I wrote this article myself, and it expresses my own opinions. I am not receiving compensation for it (other than from Seeking Alpha). I have no business relationship with any company whose stock is mentioned in this article.