GLUU Volume data by YCharts
Most investors that have held shares of Glu Mobile, Inc. (NASDAQ:GLUU) for a while have seen a few patterns emerge when it comes to earnings reports. The first is that the management team seems to give low guidance for the next quarter, while the second is a selloff after this guidance. This quarter was no different for Glu. We saw a lot of buying leading up to the report from people expecting the company to beat expectations and the stock to rise on this news, as can be seen in the following chart. Glu did beat expectations but a lot of people saw guidance being a bit low which brought a decent selloff.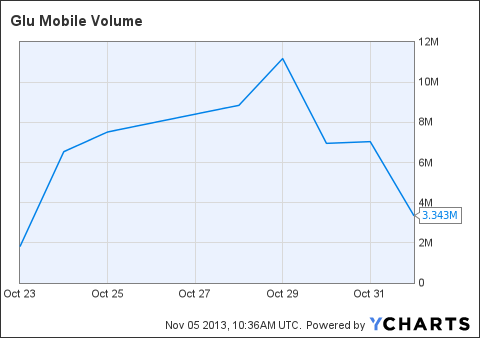 Even with this selloff I still think Glu is a good investment for a number of reasons. The first reason for this stance is DH14 is generating good revenue and will contribute to a strong Q4 for Glu. At the time of this writing DH14 was the number 8 grossing game on Android and number 7 on iOS. Glu also decided to push some games back into 2014 so it can focus on DH14, which I believe will help to keep it in the top 10 for the rest of 2013. Think holiday themes like Christmas and Thanksgiving similar to what they have done for Halloween.
The second reason for my stance on this stock is Glu's upcoming games pipeline. December should see the release of Eternity Warriors III which is a sequel to EW II. EWII was released in August 2012 and is rated 4.5 stars on both iOS and Android. It featured PvP and online coop play. EW II did well in the ACAP/China region, which can be seen in the conference call. If you take into consideration Glu is seeing 30% revenue growth in this region, according to Glu's Q3 earnings call, EW III could turn out to be another big revenue game for the company. We should also see four games come out in Q1 of 2014. They are Robocop and Defenders & Dragons, both in January '14, Motocross Meltdown in February '14 and Frontline Commando 2 in March '14. Frontline Commando 2 is actually the third installment of the game with FC D-Day being the second. FC D-Day was a huge improvement compared to FC 1, and was highly rated as well. If Glu can do a good job implementing the PvP play in FC 2, I believe they could have another hit game on their hands that could generate good revenue.
One of the last reasons I see the future of Glu Mobile being bright is the fact that mobile gaming is becoming more and more popular. If Glu can maintain the momentum it has gained from DH14 and solidify its name as one of the stronger companies, it will have a huge upside. With mobile advertising spending being only 3% of the total advertising spending as can be seen here, we should see an increase in mobile spending through the rest of 2013 and into 2014. Glu could see a nice increase in advertising revenue if it can keep the momentum going through Q4 2013 and into the first half of 2014. It also seems like the management team at Glu has figured out what works and how to capitalize on it when the right time comes. The great success Glu has with DH14 presents it with a great learning experience, which I believe will help it into 2014 and beyond.
While I admit the guidance from Glu Mobile was somewhat low and gave a good reason for people to sell (even though we have seen a number of upgrades), I also feel like there will be good entry points in the next couple weeks for investors looking to pick up shares and hold onto them into the first half of 2014. The stock could bounce off of the 3.30 to .35 range. If it doesn't the next good entry point will be around the 3.15 area of support.
Disclosure: I am long GLUU. I wrote this article myself, and it expresses my own opinions. I am not receiving compensation for it (other than from Seeking Alpha). I have no business relationship with any company whose stock is mentioned in this article.