HSN, Inc., (HSNI) is a nearly $3 billion interactive multi-channel retailer that provides retail experiences through various platforms, including television, online, mobile, catalogs, and retail and outlet stores, and is the only retailer offering live streaming video through all through platforms; TV, online and mobile.

The company markets and sells a range of third party and private label merchandise primarily in the United States via its live 24/7 TV broadcasts which reach 95 million households and through its website which features more than 50,000 product videos. HSN also leverages apps for iPad, iPhone, Android and HSN OnDemand.
HSN, Inc. operates in two business segments, HSN and Cornerstone. The HSN segment offers jewelry, apparel and accessories, beauty and wellness products, housewares, home fashions, electronics, culinary, and fitness and other products to consumers while the Cornerstone segment provides home furnishings, including indoor/outdoor furniture, window treatments, and other home related goods under the Frontgate, Ballard Designs, Grandin Road, and Improvements brands; and apparel and accessories under the Garnet Hill, TravelSmith, and Chasing Fireflies names. The Cornerstone segment operates 8 websites, maintains 11 retail outlets and has distributed around 300 million catalogs as of early 2013. HSN currently trades for $53 per share, has a recently increased quarterly dividend of $0.25 which represents a 1.9% yield and trades on average 275,000 shares per day.
Why HSN Is On Sale
HSN hit its 52-week and all-time high of nearly $64 earlier this year in August, before falling nearly 30% over the next couple of months to $50. The company has since rebounded slightly, and now trades for $53, however I believe that HSN is considerably undervalued at these levels, and believe that the stock has been penalized as a result of the underperformance of close competitors and more recently, slight misses of aggressive revenue targets.
The slide started after HSN's Q2 earnings release on August 1st, despite the company posting surging net income which increased 41% compared to Q2 of 2012, jumping from $30.8 million in 2012 to $43.3 million. This increase in income lead to a beat of analyst EPS estimates, with HSN delivering actual of EPS of $0.79 versus an average estimate of $0.73. Revenue also increased 6% to $812.6 million thanks to a double-digit growth rate in online sales, beating street estimates of $805.1 million. Revenue (and earnings) growth was driven by increasingly strong online sales and fewer product returns, and it is important to note that although the average price for HSN's products fell 4%, but the HSN segment shipped more items, with increased sales of clothing, accessories, household goods and electronics.
Despite HSN's impressive Q2 delivery, Liberty Interactive (LINTA) would report less than desirable earnings just a week later (parent company of QVC) on August 7th. Liberty's net income for the quarter was only $120 million, compared to $234 million in the same quarter in 2012, a 49% decrease. However, quarterly revenue actually increased year over year, landing at $2.65 billion, up 11.9%. Despite the revenue gains, considerably slowing sales in parts of Europe and Japan weighed heavily on Liberty's stock as well as the industry. Liberty's size and global footprint as the second-largest e-retailer in the U.S. and the largest U.S. TV home shopping allowed the disappointing earnings to hammer the stock 15%, and hit the much smaller HSN even harder (nearly 30%), despite their better than expected earnings.
HSN, Inc. again delivered outstanding Q3 earnings yesterday (11/6), beating analyst estimates of $0.64 by $0.06 or 9%, but with a slight miss of revenue targets. Despite another solid performance, the stock opened down nearly 4% but ultimately finished flat on the day. Continuing with the Q2 theme, Liberty missed EPS estimates again, posting $0.15 for the quarter versus the expected $0.18. Despite improving U.S. revenue and earnings, QVC's international revenues again fell year over year. Liberty was also flat in trading on the day.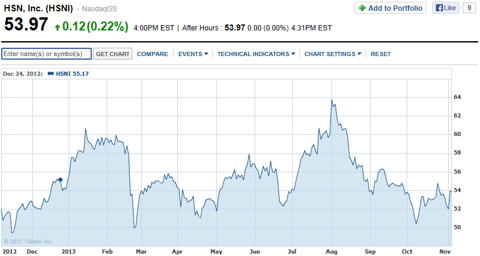 Courtesy of Yahoo Finance
HSN Is Due Some Upside, Liberty Has Proved It
HSN has experienced what I believe to be a substantial and unwarranted fall from grace as a result of poor (international) performance from its main and much larger competitor Liberty Interactive. Liberty is five times larger than HSN, and has significantly more global exposure than HSN (HSN has virtually none). While Liberty's global presence could be seen as an opportunity to expand, shrinking international sales reported late this summer took 15% off of its stock, and ultimately peel nearly 30% off of HSN despite its U.S. focused business. More interestingly, not only has Liberty recovered from its fall from over $25 to $22, it has since surpassed its original high and now trades at almost $28, a 25% increase from its summer bottom. However, unfortunately for HSN, its stock has only recovered about 5% from its low which also occurred a couple of months ago, and has 20% more upside just to return to its previous high of this summer and a total of 35% upside if it were to surge 12% over its original high as Liberty has recently done.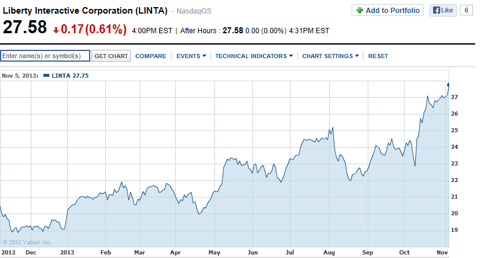 Courtesy of Yahoo Finance
HSN has beat quarterly earnings estimates in 9 of the last 12 quarters, with the 3 misses coming in against aggressive Q4 estimates each of the last 3 years. The same consistency in earnings beats cannot be found with Liberty, as they've missed targets in 8 of the last 12 quarters. Similar trends can also be seen in quarterly revenue deliveries, with HSN posting much more consistent and stable growth than Liberty.
With Q3 announcements behind us, Liberty is now trading at roughly 31x earnings using its last 4 quarters EPS, while HSN trades at a much more modest 17.6x earnings. Earlier this year when HSN hit its all-time high in August, the stock was trading for nearly 22x earnings, while Liberty traded for 31x earnings at that time as well. Retreating further back in time, it seems that HSN seems to normalize around the 22x earnings level, as it hovered around this level during the summer before its recent fall and also at the end of 2012 when the stock hit its first peak around $60. Since the string of quarterly estimate beats that really ramped up early last year, HSN has seemed to trade in a window around this the 22x earnings level, making it what I believe to be a fair value, especially relative to the more aggressive 31x earnings that Liberty has traded for at the same times.


Another interesting point to note is that while US QVC revenue grew 5% during Q3 (Liberty overall increased revenue by 2.2%) compared to 3% growth for HSN, QVC's average selling price per unit was up 5% while HSN's was flat to slightly down in Q3. HSN's average price per product was also down in Q2 by 4%, again a fall that Liberty did not experience. I believe HSN's ability to grow revenue at a similar rate to Liberty's QVC, despite declining prices relative to QVC, highlights HSN's increasing purchase volume and gaining transaction market share, relative to QVC.


Additionally, while QVC online sales grew 12% (remember revenue not volume), and HSN increased at 8%, HSN's penetration of total sales increased by 2.2% compared to QVC's 2%. HSN's better mobile sales penetration is also helping to pull even with QVC, as the mobile platform now represents about 12% of HSN's revenue and around 13% for QVC US.
Lastly, analysts have full year EPS estimates of $3.12 for HSN in 2013 and $3.49 in 2014. Q4 estimates currently sit at $1.14 and represent a more conservative estimate relative to prior Q4 estimates using year over year growth. 2013 Q4 estimates portray a 14% increase year over year, while 2012 Q4 was a 27% increase year over year, which HSN only missed by $0.01 or 1%. 2011 Q4 estimates represented a 15% year over year increase which HSN hit right on the head. Additionally, HSN has been able to beat quarterly estimates that have increased considerably and more aggressively year over year in each of the previously three quarters this year, beating Q3 estimates which increased 19% YoY, Q2 which increased 30% YoY and Q1 which increased 27%. Given the relatively easy beats that occurred in these quarters, and given the mere 14% increase in YoY estimates for Q4 (compared to the 27% increase from last year), I believe HSN is set up nicely or a strong delivery in Q4.
HSN handily exceeded growing street expectations during the first three quarters of the year by an average of 8% each quarter, making the generous Q4 estimates seems as though a bit of an understatement. With the more conservative Q4 estimates in place, in addition to HSN's delivery of beats over the last three quarters by roughly 8%, I believe the company will deliver its first better than expected Q4 earnings in 4 years, delivering around 1.20 EPS for Q4 or $0.06 over the consensus of $1.14 which would represent a more conservative beat of 5%, during the holiday shopping season. I believe an overall improvement in retail shopping this holiday season given such an improvement in the broad base indices this year, in conjunction with the growing mobile/online platform of HSN, and the company's incremental gains in U.S. market share will help to propel earnings to these levels.
This increase would put HSN's 2013 full year EPS at $3.25, and its price at $57 using its current multiple of 17.6x earnings. Additionally, as investors begin to realize the value proposition that HSN offers, and as the company delivers another earnings beat during its biggest quarter of the year, I believe investors will be willing to pay the 22x earnings that the company traded at this summer when it hit its all-time high, the same P/E that HSN traded at after 2012 Q4 earnings. This multiple combined with my 2013 FY EPS estimate gives me a price target of $71 or over 30% upside from currently levels.
HSN's Discount Won't Last
While 30% upside is substantial, I do not believe that this discount will last long and I expect it to be priced out of the stock within the next 3 to 6 months.
I believe this change in investor perception will be driven by several catalysts, the first being improving consumer confidence as a result of the ongoing bull market. Additionally, and more specific to HSN, the ever increasing volume of online shopping, especially around major events such as Black Friday as well as the holidays will pad the company's already accelerating online revenue growth. This increase in volume will push HSN over the hump that has been Q4 earnings estimates over the last few years, and help to prove that HSN is a true force to be reckoned with in the retail space, ultimately attracting investors. Lastly, HSN is also doing its part to attract more investors through corporate action by announcing a 39% increase in its dividend as part of yesterday's earnings release. This increase gives HSN a current yield of around 1.8%.
Conclusion
I had high expectations that HSN would beat Q3 estimates yesterday and they did fairly handily. I fully expect HSN to do the same in Q4, making the first time that the company has beaten Q4 estimates in 4 years. Despite their run of Q4 misses, HSN has beaten analyst estimates in 9 of the last 12 quarters, offering consistent earnings growth. However, unfortunately for HSN and its investors, the company's stock price has not seemed to be overly correlated with its steadily growing earnings. As a result of sub-par performance earlier this year by HSN's main and much larger competitor Liberty/QVC, investors saw HSN lose nearly 30% of its value, despite Liberty falling only 15%. Liberty has since recovered nearly 25%, while HSN has seen only about 5% upside since its bottom, despite a considerably better performance by HSN in Q2 and Q3. I believe this lag in recovery by HSN represents an incredible buying opportunity, especially given the company's growth and outlook. I expect the recent dividend increase in addition to a positive Q4 earnings announcement will improve investor sentiment around HSN, as well as attract buyers over the next few months, ultimately driving HSN's price to $70 per share.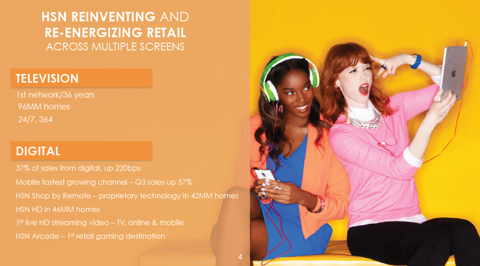 Disclosure: I have no positions in any stocks mentioned, and no plans to initiate any positions within the next 72 hours. I wrote this article myself, and it expresses my own opinions. I am not receiving compensation for it (other than from Seeking Alpha). I have no business relationship with any company whose stock is mentioned in this article.
Additional disclosure: This article expresses the opinion of the author and is not a solicitation to buy or sell any security. Before making any investment decision you should always consult your personal financial advisor.