Oracle Corporation (NYSE:ORCL) is set to report fiscal second quarter earnings in December.
I think the balance of risk heading into the report is roughly even but favoring downside.
In the last report I was waiting for a substantial dip to accumulate shares.
That dip did not happen. Consequently, I'm planning on getting long at roughly the current share price with a stop loss level at $24 per share and a profit target of $55 per share.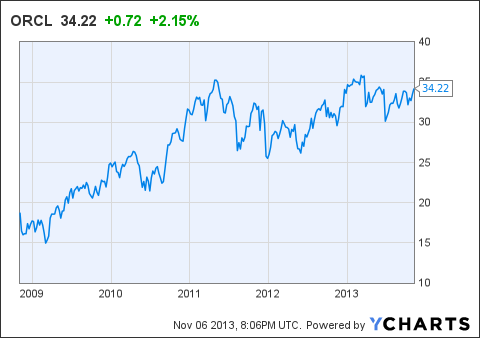 Longer term, the biggest risk to my outlook, in my opinion, is the impact of rising interest rates. The cost of equity could continue to increase and growth expectations could be lowered in the coming years. The share price of Oracle is subject to other risks not mentioned in this report.
Overall, I think of Oracle as having a superior position in the technology sector. Also, the firm has excellent leadership, which is reflected in its strategic positioning and results of operations. I expect Oracle to continue to grow but at a lower rate than it has historically. Consequently, I'm bullish on Oracle over the next one to three years.
Fundamental Analysis
I think Oracle is transitioning investor clientele as revenue growth slows and returning capital to shareholders trumps available investment opportunities.
But Oracle continues to be an active acquirer of businesses, including developed and in-process technologies.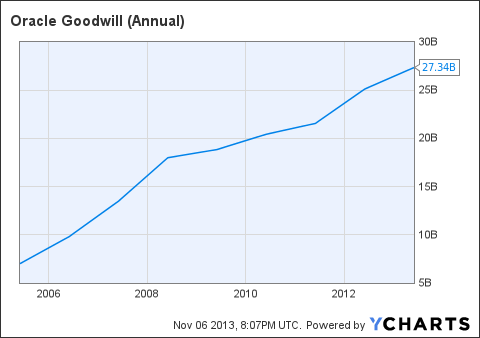 ORCL Goodwill (Annual) data by YCharts
The technology giant is making a push into cloud computing, application virtualization and software-defined networking. Application virtualization and software-defined networking should be key areas of revenue growth going forward. But there is significant competition in those markets.
Further, the combination of hardware and software, engineered systems, is a rapidly growing business.
The revenue headwinds appear to be coming from standalone hardware solutions.
Further, the increase in companies offering cloud-based solutions is providing a tailwind to Oracle's results of operations. This is a trend that I expect to continue. Also, I expect Oracle to grow its book of business in the as-a-service area, which could adversely impact growth. Management is focused on being the #1 provider of cloud-based software.
Overall, I think that the demand environment is favorable, but supply increases are putting downward pressure on prices.
Valuations And Portfolio Management
Oracle's profitability makes the firm appear to be overvalued relative to the S&P 500 based on sales.
Further, share repurchases adversely impacted the relative price/book valuation.
Consequently, relative to the market, Oracle's relative value is unclear.
But, relative to its 5-year average valuations, Oracle is undervalued, which could be explained by slowing growth.
On a time-series basis, Oracle is fairly valued after bouncing off of an undervalued level.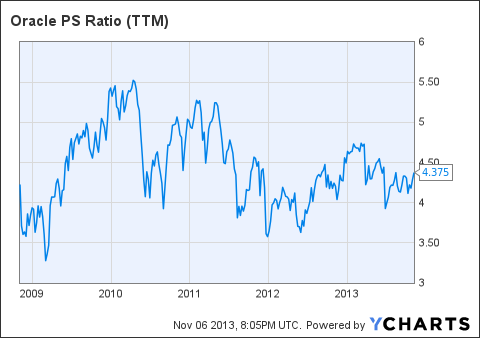 ORCL PS Ratio (TTM) data by YCharts
Overall, the multiplier model valuations are inconclusive, but I think of Oracle as being fairly valued.
On a forward looking basis, I expect Oracle to grow in the mid to high single digits near term, which would justify a rising share price. Thus, on a forward looking basis, Oracle is reasonably priced ("GARP").
From a technical perspective, Oracle shares are trading in a bear market of primary degree, which is nearing an end. I think we see the share price rise to the $55-$75 per share range.
From $34 per share, the risk is about $10 with a reward of at least $20.
Disclosure: I have no positions in any stocks mentioned, and no plans to initiate any positions within the next 72 hours. I wrote this article myself, and it expresses my own opinions. I am not receiving compensation for it (other than from Seeking Alpha). I have no business relationship with any company whose stock is mentioned in this article.