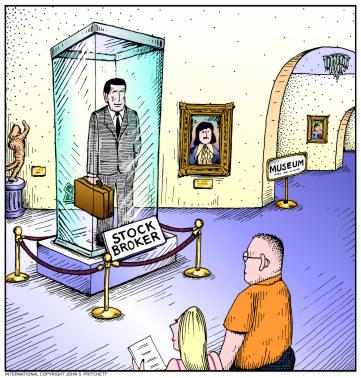 CEF Weekly Review: The 13 closed end fund (CEF) types on average posted a 1.9% increase for the week ending 1/8/10. On an aggregate, unweighted basis, the weekly average price change for the 505 CEFs increased 1.9%.
The weighted 49 CEFs comprising the Claymore CEF Index registered a curiously meager average increase of 0.1% for the week. The S&P 500, as measured by the SPDR S&P 500 ETF (NYSEARCA:SPY), increased 2.8%.
(Click here for YTD CEF performance. The table is based on a 273 CEF sample size as all the data fields are not available for the CEF universe.)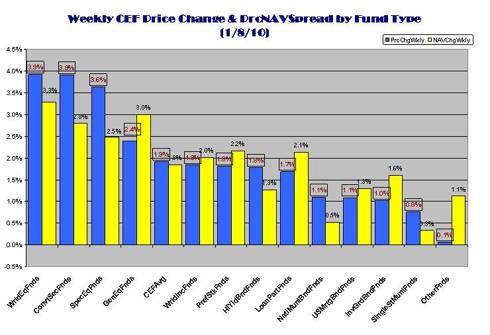 The Eqcome CEF Fear Index experienced significant easing (1.5%) the first week of the New Year. The aggregate weekly price change advanced 1.9% while NAV increased a more modest 0.4%. The CBOE Volatility Index (VIX), which typically moves inversely with the stock market slid throughout the week and ended the week slightly above 18—a drop of 16.2%. The last time the VIX was in this territory was late 2008. Investors should anticipate greater volatility going forward. S&P 500 volume for the week was 4.2 million shares, slightly greater than December volume of 4.1 million.
CEF Weekly Fund Type Performance: The average price performance for the CEF fund types was a strong 1.9% for the week with all fund types posting gains. Equity fund types surged: WrldEqFnds (3.9%), SpecEqFnds (3.6%) and GenEqFnds (2.4%) all posted greater than average results. ConvtSecFnds also advanced 3.9%.
Debt-oriented fund types continued to lag the CEF average with SingleStMuniFnds being weighted down by high profile state budget deficits with California taking the spotlight. OtherFnds were hurt by the slashing in half of the distribution by Dow 30 Enhanced Premium & Income (DPO).
The PrcNAVSprds[1], for all fund types moved in the upward direction of share prices. The only notable spread was for OtherFnds due to the aforementioned distribution cut by DPO where NAV advanced 1.1% while share price increased only 0.1%.
CEF Winners and Losers: The CEF with the greatest positive PrcNAVSprd for the week was Cohen & Steers Worldwide Realty Income Fund (RWF) which saw its stock climb 12.6% while its NAV advance a more moderate 2.1%. The average PrcNAVSprd for the 22 other real estate funds was only 1.5% by comparison.
Maybe as a result of a special year-end distribution of $.3825 along with its regular quarterly distribution of $.0925 per share investors are annualizing the quarterly $.475 per share combined rate as its new annualized distribution rate. The press release was somewhat misleading. The board of RWF is proposing a merger of it into Cohen & Steers Quality Income Realty Funds (NYSE:RQI). A new special meeting date is proposed for February 26th.
This week's CEF with the greatest negative PrcNAVSprd was Claymore Dividend & Income Fund (NYSE:DCS) of -10.1%; a result of a 7.6% decline in price and an increase of 2.5% in its NAV. DCS announced the preliminary results of its 4.1 million share in-kind tender offer. Over the maximum amount of 4.1 million shares were tendered representing approximately 45% its outstanding shares. A reduction of assets would likely increase the cost of operating the fund and lower returns.
Economic & Earnings Outlook: (Click here for next week's economic calendar; click here for earnings announcements and estimates.)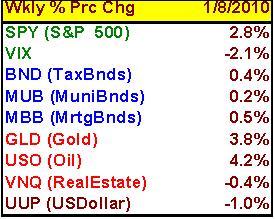 ETFs: (Click here for ETF YTD sector performance.)
Insider Trading: CEF Insider trading ended last year in a whimper and began this year in the same fashion. The Horejsi Group continued its insider buying in Boulder Growth & Income Fund (NYSE:BIF)--although there was the absence of the typical companion buying in Denali Fund (DNY).
Horejsi added another 107,718 shares at around $5.79 per share in 10 separate filings with the SEC. Horejsi holdings now account for 7,083,910 shares of BIF representing approximately 27.8% of the shares outstanding.
It is becoming increasing likely that strategy here is to accumulate a significant holding, institute a managed distribution policy—in hopes that the stock will move to a premium—and sell the stock it accumulated, at a discount, over time at premium share price—much like Cornerstone Progressive Return Funds (NYSEMKT:CFP).
With a significant holding in the BIF there would be adequate fodder to use the share holdings to facilitate the stock price to levels that would be an attractive exit. Of course this is pure conjecture. However, for those with further interest in this story see the following article written earlier last year: The Curious Case of Insider Buying at BIF: A Case of Manipulation or Hallucination? (5/7/09).
Speaking of CFP, Doliver Capital Advisors, LP, ("Doliver"), its major shareholder, sold an additional 872,582 during December reducing its control of the share holdings to 4,055,828, or 43.4% of the outstanding shares. Ralph W. Bradshaw, president and chairman of CFP, reduced his personal holding in CFP down to 3 shares after purchasing and selling 3,813 shares on December 30, 2009. Since June of last year Doliver's holdings has dropped from 91.4% to 43.4% at the end of the year. Doliver has sold or distributed 4,480,271 shares of CFP in the past 6 months (See: CFP Major Shareholder Continues to Bailout of the Stock).
This stock has no investment value and the major shareholder(s) are dumping it. For this reason it has been awarded the Joe Eqcome 2010 Investor Stupidity Award.
There was other insider buying of a deminimous nature. Karen H. Hogan, director of various Flaherty & Crumrine CEFs, purchased a small number of shares in 3 of the funds (FLC, PFD and PFO). There has been some consistent buying by some of the insiders in LMP Capital & Income Fund (NYSE:SCD). Peter Vanderlee, a portfolio manager, has been consistently adding to his holdings. (Click here for a hyperlink to the Joe Eqcome CEF Weekly Insider Report.)
CEF Distribution Announcements This Week: The following is a link to a table of CEF distribution announcements this week as well as the previous week's with yet expired ex-dividend dates. The list is not intended to be inclusive. (Click here for Weekly CEF Distribution Announcements.)
CEFs Focus for the Week: The focus stock of the week is Gabelli Utility Trust (NYSE:GUT). GUT had the highest 2009 premium year-end at 72.1%. Over its 11 year operating history GUT has traded at an average premium of 27.5% with a standard deviation of 19.5%. Statistically, its ability to maintain that premium is very small. Its previously highest year-end discount was 40.6% in 2003. (While its premium could decline, the share price could still go up based on an increase in NAV.) GUT is proposing a rights offering as it has previously done on multiple occasion. More will be forthcoming on GUT.
Consider it food for discussion.
Have a great investment year!

---
[1] A positive PrcNAVSprd can be interpreted as negative because it typically signals a share price movement less favorable than the NAV. All things being equal, price and NAV should move in tandem. A price movement greater than the NAV may indicate the stock is overvalued relative to its NAV which in theory is the stock's intrinsic value. The opposite would be true for a negative PrcNAVSprd.

Disclosure: Author owns a diversified portfolio of CEFs including a long position in BIF; he does not own a long or short position in CFP