The reason for the ongoing delay in production and shipments of UniPixel's (NASDAQ:UNXL) touch sensors since April appears to be the unacceptable (as low as 30%) manufacturing yield at the module level, effectively rendering the product unusable. Today's press release about a purchase order seems to be a diversion, similar to an earlier announcement by a competitor, Atmel (NASDAQ:ATML), that reported an order and subsequent shipment to Asus (OTC:AKCPF), but the few thousand sensors shipped never ended up in devices on the store shelves. The irony is that, based on public disclosures, the touch modules built with UniPixel's product are simply not price competitive, so the company may be unable to find customers even if it gives its sensors away for free.
Lack of Product Qualification
When asked about the obstacles to meaningful production at the Oppenheimer Emerging Innovations Conference on September 17, UniPixel's CEO stated that it was all about quality and testing, admitting:
"But if we are shipping rolls of film over there [to the module integration partner in China], and they are die cutting and laminating and coming back and saying, "You guys are only yielding 30% or only yielding 50%," we have to scratch our heads and say, "Where is the failure happening?" because it should be better than that. So, we look at it, and if we don't get it 100% tested before it gets there, then when they handle it, do they scratch it or have a bad TAB [tape-automated bonding] on, do they have this or that, then it becomes a pissing contest [about] whose problem it is. And we don't necessarily want that - coming out of the gate, we want to be able to be in control of our investment there."
Even a 10% deviation from anticipated yield in the module integration process at the touch panel manufacturer (that is, the ODM), before the final screen is shipped to the PC manufacturer (that is, the OEM), is problematic, because the ODM profit margins are already razor thin. For example, TPK (3673:TT), the largest and most efficient touch module maker, had only a 12% gross margin and a 4% operating margin in the latest quarter.
UniPixel has always maintained that there are no quality problems on its side. The company previously told investors, on the February 26 earnings call, that if it had to ship product on that day, it could. In March, at the Roth Capital Partners Annual Growth Stock Conference, it disclosed that it expected yields to be 85% and improve further. By the time the company's production capacity was to go live in late April, the number had dropped to 70%, but the company was planning to improve it by introducing more automated real-time, in-line testing, as disclosed on the April 30 earnings call.
UniPixel made its first production-level shipment attempt on April 26. The handpicked 50 sensor units were to be assembled by the ODM into touch modules within the following 4-6 weeks, and then used in touch-enabled notebooks that were to undergo extensive qualification testing.
On May 20 the company disclosed a production and shipment delay, putting the blame on its PC manufacturing partner and Microsoft, claiming that a slippage in Windows 8.1 release date caused the PC partner to change its anticipated design and production timeline, and moving the expectation for products on the shelves from Q3 to Q4.
That explanation makes no sense. By the time UniPixel shipped its first sensor units in late April, it was common knowledge that Windows 8.1 would be released to manufacturers on or around August, and Microsoft ended up delivering it right on target in late August. Moreover, a Windows 8.1 delay should not have affected any PC design changes or notebook release dates. Windows 8.1 is not a new operating system, but a minor update, available for free download for any PC that has Windows 8 already installed. Specifically, all the 17 hardware requirements for touch screens (see the Device.Digitizer.Touch section) have remained the same between the 8 and 8.1 versions.
At the Cowen Technology, Media & Telecom Conference on May 30, right around the time when the ODM was supposed to have completed the modules from the first sensor batch, the company's CEO told investors that the shipment had been, effectively, rejected, and the company was working on redesigning the sensor and reshipping the units at some future date. Supposedly, the PC partner was doing away with the "home button," a change in the design caused by the operating system update delay. However, that explanation also makes no sense as the first 50 units shipped were notebook sensor units, and, unlike tablets, notebooks designed for Windows simply do not have a home button on the screen to begin with - that function is fulfilled by a Windows logo key,

or

, on the keyboard.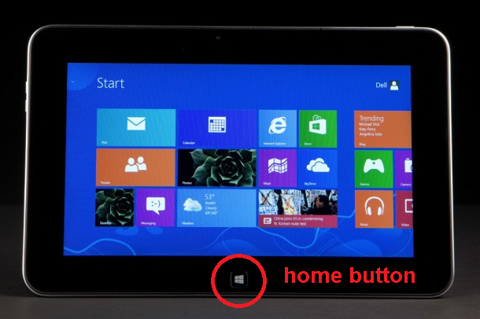 Moreover, a delay in a notebook platform should not have affected the production and shipments of tablet units in Q2. On its earnings call in November 2012, the company had disclosed that its design wins were staged "right behind each other" (at that time, there were four products - one 11.6 notebook and three 10.8 inch tablets). On an investor call on April 15, only eleven days before the shipment attempt, the company maintained that its sensors were scheduled to be utilized in two notebook and three tablet products as part of the production orders to be placed by the PC partner in Q2, and that order visibility was "pretty good." And since some of the designs were supposed to be transitional (products already on the market to be retrofit/refreshed with UniPixel's sensor) rather than dedicated (new products designed specificity to UniPixel's sensor), a postponement of one platform should not have affected the planned retrofit with UniPixel's sensors in the quarter. All the PC OEMs have continued to manufacture touch-enabled devices and have released new tablet and notebook models since, including ones with Windows 8.1 pre-installed.
Finally, if the delay were only due to an operating system or a "home button" redesign, UniPixel should have been back on track already. On the August 8 earnings call, the company reported that it was "submitting new sensors for evaluation and approval," meaning its sensors still had a chance to be built into modules sometime in September and appear in final products on store shelves in Q4. However, on September 17, the company's CEO not only confirmed that it was already too late for products on the shelves by the end of the year, but, when asked about Q1 2014, he offered an uncommitted "I think so," followed by the qualification that 1) it is up to its PC partner whether to put product on the shelves, and 2) the PC partner may "not necessarily" be the one with the first product, despite having certain exclusivity. As of today, despite the press release about a purchase order, there has been no announcement from the company that it has met its production qualification requirements or that its sensors are about to appear in actual devices on store shelves.
Lack of Price Competitiveness
Getting a purchase order and even shipping a product may be moot at this point. The touch modules with UniPixel sensors appear to be priced too high compared to the regular ITO modules, which dominate the market, and may not sell, based on public selling price disclosures by the company. Even if the company were to give away its product for free, the module price may still be above current market prices.
The touch market had been capacity constrained in late 2012 and early 2013, especially for larger-size modules, driving prices up and forcing PC OEMs to scramble to secure guaranteed supply. At the time, paying for new capacity or even new, but unproven technologies, such as metal mesh, probably sounded like a good idea. A PC manufacturer signed a "multi-million dollar" preferred price and capacity license agreement with UniPixel in December. Intel (NASDAQ:INTC) followed up in April, after having previously paid millions of dollars to the major touch module makers to ensure adequate production capacity.
However, by August the shortage was all over. In early September, Intel declared that "touch as a supply issue is completely gone," in effect, admitting that securing touch production capacity may have been a mistake and waste of money.
When asked at the Oppenheimer conference a few days later about the developing price war and oversupply in the touch market, the CEO admitted his "belief" that TPK was selling a 13.3-inch touch module at $2.5 per diagonal inch. But the CEO did not agree with Intel's conclusion, stating,
"Every time Intel comes back to talk to us, they say the price is going down, and I say no, it is not."
Notebook module prices have fallen 20% since. A recent research report stated that the price of a 14-inch module was "expected to decrease from $50 to $30 [or, $2.1 per diagonal inch], touching $20 in 2014 and $15 in 2015." And then on November 4, Digitimes reported,
"Notebook vendors have begun to increasingly care about the price of touch panels but not about quality, and quotes for notebook-use touch panel modules have dropped from $4.0-4.5/inch in the first half of 2013 to $3.5-4.0/inch in mid-2013 and further to $2.0-2.3/inch currently."
Touch modules for tablets are also dropping in price - WitsView reports $12 average price for a 7-inch touch module in October, or $1.7/inch, an 8% drop from September. On its latest earnings call, TPK said that it did not expect prices to stabilize at least until Q3 2014.
UniPixel insists that it is the low-cost producer in the world even though it is not shipping product and its qualification units fail on module level. The slide below, taken from the company's presentation at the Roth conference just eight months ago, shows pricing and savings comparison between the products on the market (overwhelmingly using ITO technologies) and UniPixel's for various sensors and modules built from those sensors. UniPixel's pricing structure, specifically on module level, is already woefully outdated.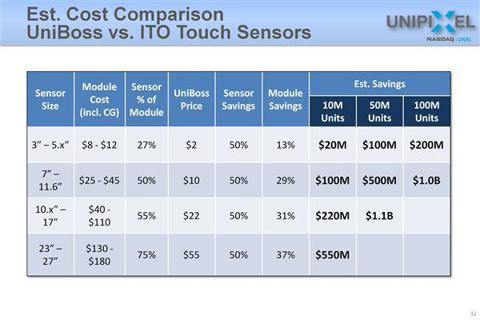 For example, using the numbers from the table, a 7-inch UniPixel sensor for tablets is sold for $10, generating savings of 50% compared to the $20 ITO sensor. So the ITO module is $40 (since the $20 sensor is 50% of the module price), while the module with a UniPixel's sensor is supposed to be about $28 (providing 29% savings vs the ITO module). Even if UniPixel gives away its sensor for free, the module price comes down to something like $18 ($28 less the $10 sensor). But the current market price for 7-inch touch modules is $12, or about 30% lower than the price of a module with a free UniPixel sensor from the table.
Similarly, a 13-inch UniPixel sensor for tablets is sold for $22, generating savings of 50% compared to the $44 ITO sensor. So the ITO module is $80 (since the $44 sensor is 55% of the module price), while the module with a UniPixel's sensor is supposed to be about $55 (providing 31% savings vs the ITO module). Even if UniPixel gives away its sensor for free, the module price comes down to something like $33 ($55 less the $22 sensor). But the current market price for 13-inch touch modules is about $26 ($13 x $2/inch), or about 20% lower than a module with a free UniPixel sensor.
Kodak can't turn things around
Just a few days before UniPixel's first shipment in April, Kodak (NYSE:KODK) signed a manufacturing and supply agreement to jointly produce the company's sensors. Kodak's renewed emphasis on printed electronics with specific focus on touch sensors and its continued involvement with the company may appear to be a major boost to UniPixel's credibility. However, the management that got Kodak into trouble and Chapter 11 has not changed. In the words of a former employee,
"It's hard to believe that you can solve a problem using the same consciousness that created it in the first place."
Kodak's initial foray into touch sensors in 2011, using a different technology, has failed to gain any market traction. Even today the company is hedging its bet by actively partnering with Kingsbury/Optimation Techology, planning its "first" market entry with them, while the partnership with UniPixel is supposed to be a next, "Phase 1.5." (Slide 32).
Kodak's ambivalence is probably justified. Print experts intimately familiar with Kodak's capabilities and the limits of printing technology are skeptical that even Kodak possesses the ability to reliably print 5-micron-wide lines with catalytic ink using a flexographic process (UniPixel has been secretive about its printing process, but customs records show that a flexographic cleaning machine destined for the joint manufacturing facility arrived in late September). To quote,
"There is a difference between technically possible and technically probable."
So it is not surprising that several officers and directors of UniPixel set up 10b5-1 trading plans in early June shortly after the delay announcement and have been selling regularly since.
Disclosure: I am short UNXL. I wrote this article myself, and it expresses my own opinions. I am not receiving compensation for it (other than from Seeking Alpha). I have no business relationship with any company whose stock is mentioned in this article.