Insider selling picked up in the latest week as corporate insiders remain heavy sellers of their own shares. Selling totaled $318.9MM for the week up from $222MM last week. Buying increased marginally, but remains low by historical standards.
Insiders have been skeptical of the Fed induced rally for most of the last year. As a long-term indicator their bearishness is a likely a representation of the rebound in corporate earnings – which has been characterized by weak economic conditions, low revenue growth and continued joblessness. The bearishness by corporate insiders is understandable for these reasons. Much like Main Street, corporate insiders aren't feeling or seeing the impacts of the recovery that have been so widely reported. This is one more sign that leaves us skeptical of the new secular bull market theory.
The most notable of purchases is action in Legg Mason (NYSE:LM). Nelson Peltz continues to purchase shares of Legg Mason. The activist investor is expressing an extreme amount of confidence in future share performance.
Notable buying: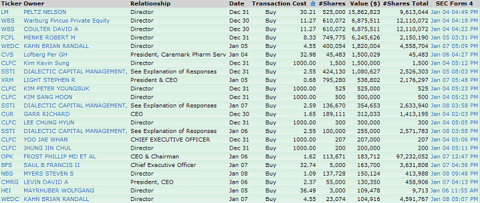 Notable selling: