The Market Now and Ahead

China is to allow stock index futures trading, short selling, and trading on margin now. Equities went higher into the New Year and may continue up as the next earnings season starts. I still think the markets are headed for another fall of either minor and or major proportions longer term. In the meantime, check your risk reward ratio before going long into this market is my best suggestion unless you're buying into some dividend plays for long term, as they have fully priced valuations right now, and as you will see below on one of them. The global data report calendar this week is loaded with potentially major market moving reports. This is looking to be a very fun and potentially rewarding week.

Important Major Global Economic Data Reports This Week

Monday: Switzerland Retail Sales, Canada Housing & Building Reports, New Zealand Business Opinion, Japan Trade Balance and Current Account.

Tuesday: Japan Watchers Survey, UK Retail Sales, Housing, and Trade Balance. Canada Housing and Trade, USA Trade Balance.

Wednesday: UK & Germany Gross Domestic Product, Germany Public Finance Balance, UK & Euro Zone Industrial Production, USA Beige Book.

Thursday: Australia Unemployment, ECB Central Bank Interest Rate Decision, Germany Consumer Prices, USA Retail Sales and Import Prices.

Friday: Euro Zone & USA Consumer Prices, USA Michigan Confidence Survey

My First Stock Pick of 2010 is a global healthcare behemoth and is almost fully valued right now in my opinion. If they can keep earnings stable and moving up, which they could, then my trade plan below may work out. If not, if you own it, it's because of the 3% or so dividend or any number of other reasons for a longer term return. If you're going to go long at this current price & time, do it with the leaders and avoid the laggards, especially right now.

Buy Long Johnson & Johnson – Ticker (NYSE:JNJ)

Buy Entry: 63.05 to 64.26

Stop-Loss: 62.00 or Lower or 8% from Your Buy Entry Price

Take Profit Areas: 65.52 to 66.15, 67.09 to 67.85, 69.49 to 70.28, 74.82 to 75.67, 81.42 to 82.34

Johnson & Johnson Company Profile

Johnson & Johnson engages in the research and development, manufacture, and sale of various products in the health care field worldwide. Its Consumer segment provides products used in baby care, skin care, oral care, wound care, and women's health care fields, as well as nutritional and over-the-counter pharmaceutical products under JOHNSON'S, AVEENO, CLEAN & CLEAR, NEUTROGENA, RoC, LUBRIDERM, LISTERINE, REACH, CAREFREE, STAYFREE, SPLENDA, TYLENOL, SUDAFED, ZYRTEC, MOTRIN IB, and PEPCID AC names. The company's Pharmaceutical segment offers products in various therapeutic areas, such as anti-infective, antipsychotic, cardiovascular, contraceptive, dermatology, gastrointestinal, hematology, immunology, neurology, oncology, pain management, urology, and virology. Its products include REMICADE, a biologic to treat Crohn's disease, ankylosing spondylitis, psoriasis, psoriatic arthritis, ulcerative colitis, and used to treat rheumatoid arthritis; TOPAMAX, for adjunctive and monotherapy use in epilepsy, as well as for treating migraines; PROCRIT that stimulates red blood cell production; RISPERDAL oral, a medication to treat the symptoms of schizophrenia, bipolar mania, and irritability associated with autistic behavior in indicated patients; RISPERDAL CONSTA, an injectable, and INVEGATM Extended-Release tablets to treat schizophrenia; LEVAQUIN and FLOXIN, anti-infective products; CONCERTA, a product for treating attention deficit hyperactivity disorder; ACIPHEX/PARIET, a proton pump inhibitor; and DURAGESIC/Fentanyl Transdermal, a treatment for chronic pain. Johnson & Johnson's Medical Devices and Diagnostics segment offers circulatory disease management, orthopaedic joint reconstruction and spinal care and sports medicine, surgical care and women's health, minimally invasive surgical, blood glucose monitoring and insulin delivery, and diagnostic products, as well as disposable contact lenses. The company was founded in 1886 and is based in New Brunswick, New Jersey.

Click here to review and trial the Trading Software we used in determining our buy long position on JNJ.

Click the Johnson & Johnson Stock Chart for a larger view.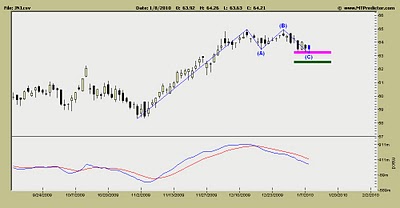 Disclosure: No Positions