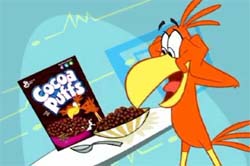 The recession has proven that chocolate is a comfort food that is not easily given up. Like other commodity funds, the cocoa exchange traded note has been on the rise, but unlike other commodities, cocoa is backed by a lot of people with a sweet tooth.
According to Mintel, chocolate sales around the world didn't miss a step during the recession, and sales growth are likely to increase. Marcia Mogelonsky, global food and drink analyst at Mintel, noted that consumers who cut back on spending still scrounged up enough cash to indulge on the small and affordable treat.
China and the Ukraine, two countries not thought of as chocoholic, saw chocolate sales rise last year by 18% and 12%, respectively. Other countries also saw increased consumption, such as in Britain up 5.9%, the United States up 2.6%, Argentina rising 1.8% and Belgium increasing by 3.2%.
Mintel's Global New Products Database (GNPD) reports that companies are offering more chocolate varieties, with more new products hitting Latin America, Asia, the Middle East and Africa.
Cocoa prices are now at a 30-year peak, and the price level could force confectioners to switch to milk chocolate, reduce bar sizes and use cheaper ingredients, reports David Brough for Reuters. Cocoa prices almost doubled in the past two years alone as dwindling supplies and low investment by West African producers helped drive cocoa futures prices up to a high of $3,510 per tonne on Dec. 16.
For information on chocolate, visit our cocoa category.
iPath Dow Jones AIG Cocoa ETN (NYSEArca: NIB): up 20.5% in the last year
Max Chen contributed to this article.