There's a chart that's been making the rounds lately comparing the S&P 500 in 2003 and 2004 to the current pattern in the same index. It's always dangerous to blindly compare two different periods in market history, but in this instance there are some striking similarities.
Between 2003 and 2004 the market was recovering from bearish sentiment, the bursting of the technology bubble in 1999 and a relatively mild recession.
Today the market is recovering from another dramatic bear market and another burst bubble, this time in credit and housing. The economy also appears to be exiting the worst recession since at least the recession of the early 1980s. Here's the chart.
Source: Bloomberg
I didn't have to normalize the data one bit in this comparison; the S&P 500 ended 2002 and 2008 at almost exactly the same level.
When graphs like this make their way around Wall Street, they have an odd tendency to become self-fulfilling prophesies. If the pattern holds, we'll see a rally in early 2010 followed by a lengthy correction over several months as investors fret over the durability of the economic recovery.
The final part of the pattern would be a dramatic year-end run that propels the S&P 500 up roughly 11 percent on the year. The S&P 500 Energy Index broadly outperformed in 2004, jumping 31.5 percent as the economy improved.
I can almost guarantee you the pattern won't be identical. But this sort of pattern is broadly consistent with the returns one would expect in the first full year of an economic recovery. And keep in mind that a rally to the 1,250 would simply take the S&P 500 back to levels last seen in September and October 2008. In other words, such a rally would simply erase the market's decline in the wake of Lehman Brothers' failure--hardly an outrageously bullish outcome but one that should provide plenty of opportunity for investors.
Longtime readers know that I use the Conference Board's Leading Economic Index [LEI] to gauge the health of the US economy. My use of this indicator is based simply on past experience; the LEI has proven its worth over many decades, including during the most recent economic cycle. Although I can't claim to have a crystal ball or to have "called" the financial crisis (whatever that means), in the Jan. 23, 2008, issue of The Energy Strategist I wrote:
Near-term cash requirements aside, the root cause of what's really troubling global markets and killing risk appetite is the specter of a US-led recession. Although some investors love to scour every minutiae of economic news released, I prefer to look at just a handful of simple indicators. First, check out the chart of US Leading Economic Index below.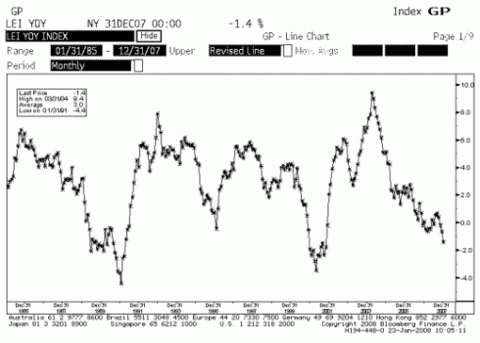 Source: Bloomberg
The LEI is actually a composite of 10 key economic indicators. The list includes housing starts, consumer expectations, jobless claims and even the performance of the US stock market.
The chart shows the year-over-year percent change in leading economic indicators. As evidenced from this chart, the LEI tends to turn negative just ahead of or coincident with US recessions.
For example, the LEI turned negative on a year-over-year basis in June 1989; a US recession followed in July 1990 and lasted through March 1991. Similarly, the December 2000 dip in the LEI below zero foreshadowed the March-November 2001 recession.
Like every indicator, the LEI is far from infallible. For example, a short dip below zero in 1996 turned out to be a false alarm. However, the indicator is right more than it's wrong, and we can't ignore the slump since late 2007.
The LEI officially broke below zero in November. I believe that this presages at least a minor US recession in 2008.
Contrary to the view publicly espoused by the European Central Bank (ECB), I just don't see Europe remaining totally immune either. The largest economy in Europe is Germany, and leading indicators in that nation are also deteriorating. For example, retail sales were down 5.6 percent year-over-year in November, the latest month for which we have reliable data.
For what it's worth, at the time most economists and strategists were still calling for the global economy to avoid recession in 2008, a year that turned out to be the worst for the broader market since 1937 and the deepest recession since at least 1982. My call, while imperfect, served an early warning of what ultimately transpired.
Years ago, after duck-hooking three straight drives in the first few holes of a golf tournament, I was counseled to "dance with the swing that brought me" rather than trying to change my style mid-round. Although I didn't win the tournament, the advice settled my nerves, and I ended up playing one of my best rounds of the year.
I won't ignore that advice today and embrace some new economic indicator of the moment: The very same indicators that correctly told me the US was entering a recession two years ago tell me that the economy is enjoying a cyclical recovery today.
Like most investors, I have a healthy skepticism for economic statistics released by the government several that underlie the LEI. That's why I examine other indicators, including container-ship traffic into major US ports and freight traffic data on US railroads to help confirm my outlook.
The graph below depicts total loaded container-ship traffic--inbound and outbound--from the Port of Long Beach, California.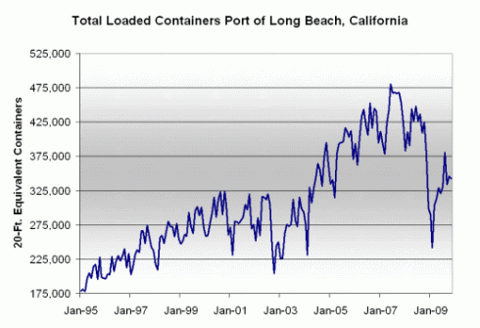 Source: Port of Long Beach
As you can see, container-ship traffic slumped in late 2008 but has rebounded quickly in recent months. Although traffic hasn't recovered to the highs reached in 2006 and 2007, volumes have returned to healthy levels.
The Association of American Railroads [AAR] publishes its Rail Time Indicators Report in the second week of each month. In its most recent release, the AAR notes that excluding the typically low-volume Thanksgiving week of November 2009 brought the strongest volume for US railroads since the preceding year. Although freight transported is down from a year ago, the comparison skewed by coal-car loadings, which are down sharply from last year's record levels.
In short, both container-ship and rail-freight traffic indicate a slow but steady recovery from a severe recession.
Investors tend to spend an inordinate amount of time focusing on the US economy, but economic growth in the emerging markets is arguably more important for many global markets, particularly energy and other commodities. But growth abroad has also been powering most of the growth in S&P 500 profits; you can't focus solely on the US and ignore the rest of the world.
Some pundits argue that the synchronized decline in global markets in late 2008 and early 2009 is proof that emerging markets have not decoupled from the US and other developed markets. I think that pronouncement is entirely too hasty.
There's a big difference between a decoupling in markets and a decoupling in economies. Although markets worldwide declined amid a global credit panic, emerging economies largely held up better than their developed counterparts and rebounded more quickly in 2009.
This superior economic performance translated to market performance. Consider, for example, that China's Shanghai Composite Index actually hit its low in fall 2008 and didn't suffer the body blow that US markets did in early 2009.
Along these lines, one indicator that has served us well in recent quarters is China's Purchasing Managers Index [PMI] for manufacturing. The graph below tracks China's PMI back to 2005.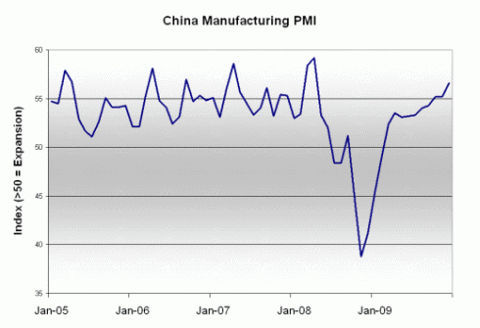 Source: Bloomberg
PMI readings below 50 indicate a contraction in the manufacturing component of the Chinese economy; levels above 50 indicate an expansion. PMI dropped rapidly from near 60 in spring 2008 to under 40 in November. But note how quickly PMI bounced back in early 2009; by March PMI indicated a reacceleration in Chinese growth. That quick bounce-back was a major factor behind the recovery in oil prices.
The current PMI points to a further acceleration Chinese growth; the index recently touched 56.6, its highest level since April 2008.
Chinese electricity demand is another indicator to keep an eye on.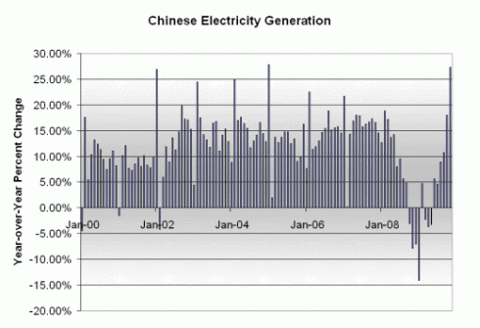 Source: Bloomberg
This graph tracks the year-over-year change in Chinese electricity demand since 2000. The stronger the economy, the more electricity consumers use; this relationship has clear implications for Chinese demand for commodities used to produce power.
Chinese electricity demand has improved steadily over the past few months. In the most recent month for which we have data--November 2009--Chinese electricity demand was up close to 30 percent compared to November 2008 and 17 percent from November 2007 levels. That's impressive growth.
This all bodes well for a global economic recovery that's led by the developing world.
Disclosure: No positions