Based on metrics from EnergyPoint Research's independent customer satisfaction surveys, Pride International (NYSE:PDE) appears to have succeeded in its efforts to reorganize, refocus and revitalize its business over the last few years. As evidence, the company's ratings are up across-the-board for the job-quality related attributes we track in our surveys (see chart below, click to enlarge).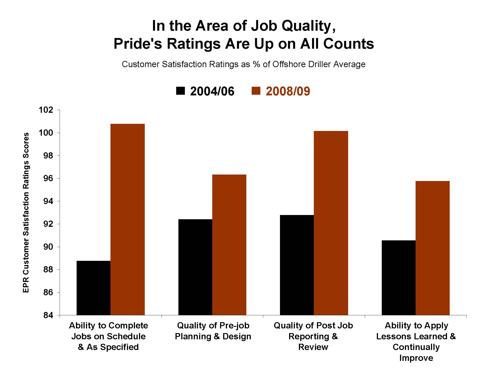 This pop in performance is no doubt a function of numerous constructive actions taken by current management. However, we see the company's prescient decision to focus on burgeoning deepwater drilling opportunities –- while jettisoning its international land drilling, upstream services and mat jackup rig businesses –- as a particularly well crafted, and deftly executed, move.
Pride's deepwater ambitions have certainly gained the company considerable attention. But its progress in the eyes of our survey respondents reflects more than just its change in strategy and market focus. We believe the company has developed a more performance-oriented mindset across its organization in general, supported by improved customer ratings for its shallow-water drilling operations.
Whatever the origins of the improvements, shareholders have taken note. Over the last 24 months, Pride has seen its stock price rise 4.7% compared to an average 17.6% decline for the industry's largest offshore drillers –- Diamond Offshore (NYSE:DO), Ensco International (NYSE:ESV), Noble (NYSE:NE) and Transocean (NYSE:RIG).
While Pride and its stakeholders clearly have reason to be encouraged concerning the direction of the company, there are (as always) opportunities for improvement. To this end, at least one respondent would like to see the company become more reactive, commenting "It's difficult for [Pride] to attend to our requests without serious discussions."
It's also important to note that Pride's competitors are, in our opinion, some of the best managed contractors in the oilfield. In fact, at the height of the last industry upcycle in 2008, ratings for offshore drillers as a whole were highest of all service categories covered in our surveys [click here to read more]. That said, we suspect having now completed its transformation, Pride will prove itself a worthy competitor.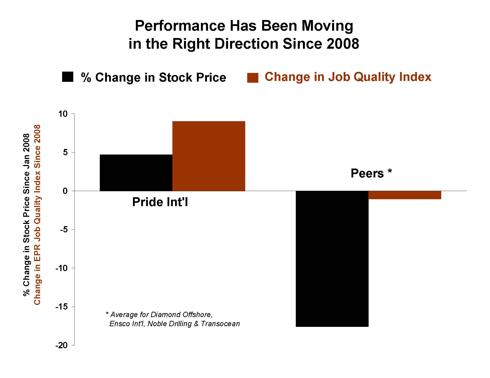 This report is derived from over 530 in-depth customer evaluations of offshore drilling contractors, including more than 280 evaluations of the companies mentioned herein, via EnergyPoint's 2004 – 09 independent surveys.
Disclosure: No positions