It's that time of the year. The NBA has just tipped off a brand new season last week; the NHL dropped the puck just a few weeks earlier. The NFL season is in full swing, and the World Series has just reached its culmination. These are exciting times for sports fans across North America, and those of them who invest probably wonder how they can profit from it. Or maybe they haven't until they read this. Either way, you probably can if you know where to look.
The business of professional sports as live entertainment is essentially about what most businesses are about - selling the product. The three major revenue streams typically come, in order of importance and magnitude, from broadcasting rights, ticket sales, and merchandise sales. The main expenses are the team's payroll (usually protected by collective bargaining agreements between owners and players unions), arena lease, staff payroll, and other typical corporate expenses ranging from office space to insurance to marketing.
It's no wonder then that professional sports teams are highly dependent on their arenas and local TV rights. And furthermore, should a team struggle with securing either, it may turn to a corporate sponsor for help, and those companies are often in media business. It should come as no surprise that a vast majority of teams are privately owned, and while there are no "pure play" publicly traded professional sports teams in North America, there are several that are owned wholly or in substantial part by public companies. Let's first take a look at the teams by sport, as the list below may surprise you.
Teams Owned by Public Companies
Major League Baseball: Atlanta Braves, Toronto Blue Jays. The Fenway Sports Group which owns The Boston Red Sox as well as Liverpool Football Club of the Premier League in England used to have the New York Times (NYSE:NYT) as one of its investors, but the Times have sold off the last of its shares in 2012. No more chance to own a piece of the World Series champs! The Cleveland Indians went public in 1998, but were taken private two years later.
National Basketball Association: New York Knicks, Toronto Raptors. The Boston Celtics were public once upon a time (1986 - 1998), but no more.
National Hockey League: Philadelphia Flyers, New York Rangers, Toronto Maple Leafs, Montreal Canadiens.
National Football League: None. The urban legend has it that the Green Bay Packers are a publicly traded company. Don't you believe it. It's true that the team actually sold shares to the public twice, for $200 a share in 1997 and again for $250 a share in 2011. However, neither sale was sanctioned by the SEC, and the shares are not listed on any exchange and can't even be traded in. The shares pay no dividend either, and all that the buyers get, in addition to the right to buy exclusive merchandise, is an invitation to the annual meeting where their voting power remains "insubstantial," even combined. Tradability is key in my definition of common stock, and I would tend to agree with some analysts and advisers who have called this stock that can't be traded "an expensive souvenir."
Public Companies
Let's now take a look at the public companies that own the teams listed above.
Rogers Communications (NYSE:RCI) is a diversified Canadian communications and media company headquartered in Toronto. Its operations include wireless communications, cable television, telephone, and Internet connectivity. It also has significant additional telecommunications and mass media assets. Rogers Media division owns Rogers Publishing Limited, Canada's largest publishing company, which has more than 70 consumer and business publications, 51 radio stations and television broadcasting. In addition to owning 3 sports cable channels, RCI also owns naming rights to Rogers Arena, the home of NHL's Vancouver Canucks. Rogers Media operates the Toronto Blue Jays baseball team through Rogers Blue Jays Baseball Partnership and the Rogers Centre (previously known as SkyDome). In 2011, RCI acquired a 37.5% stake in Maple Leaf Sports & Entertainment Limited aka MLSE, owner of the Toronto Maple Leafs of the NHL, the Toronto Raptors of the NBA, Toronto FC of Major League Soccer, and the Toronto Marlies of the American Hockey League, the lower level alternative to the NHL. MLSE is also involved in property management, including ownership of the Air Canada Centre, the home arena of the Maple Leafs and Raptors.
Bell Canada (NYSE:BCE), formerly known as Bell Canada Enterprises, is a Canadian telecom company based in Montreal providing local telephone and Internet services in most of Canada, east of Manitoba, and is one of Canada's Big Three mobile providers. It also offers digital TV and broadcasting services. BCE owns (together with BCE's pension plan) a 37.5% interest in Maple Leaf Sports & Entertainment. That's the same stake as RCI, as mentioned above, which together with RCI forms a joint venture that always votes together on the board of directors and therefore controls the sports franchises. They also own 18% of the Montreal Canadiens NHL team. This ownership structure was set up to allow BCE the stake in the Canadiens, since the NHL prohibits an entity from direct ownership of more than one franchise.
Comcast Corp. (NASDAQ:CMCSA) probably does not need an introduction. Comcast is a $125B global media and technology company with operations in cable communications and networks, broadcasting, filmed entertainment, and theme parks. The company's sports assets include three major cable channels in NBC Sports Network, Golf Channel, and SportsNets. The company also has a majority ownership in Comcast-Spectacor, whose major holdings include the Philadelphia Flyers NHL hockey team and two arenas in Philadelphia, where the company is headquartered. They also owned a controlling stake of the NBA's Philadelphia 76ers until 2011 when they sold it off to a consortium of private owners, while retaining cable rights.
Liberty Media Corp. (LMCA) is yet another American mass media company. The $18.5B company is controlled by company Chairman John Malone, who owns a majority of the voting shares. The company holds stakes in multiple telecommunications, broadcasting and media companies, including Viacom, Time Warner, Sprint, Sirius XM Radio, Crown Media Holdings, Live Nation Entertainment, CenturyLink, Barnes & Noble, Expedia, Evite, and much more. Through their Liberty Capital Division, Comcast owns the Atlanta Braves baseball team. They also hold a 7% stake in Kroenke Arena Company, the owner of the Pepsi Center, home to the Denver Nuggets of the NBA and Colorado Avalanche of the NHL. Liberty Media is headquartered in Colorado.
The Madison Square Garden Company (NASDAQ:MSG) is perhaps the closest to the "pure play" sports company you can get. The company owns the New York Knicks of NBA and the New York Rangers of NHL franchises in the largest US market, together with their home, the self-proclaimed "world's most famous arena" and the company's namesake. However, you may be surprised to find out that the company derives only about a third of its revenue from sports. It operates in three segments: MSG Media, MSG Entertainment, and MSG Sports. The Madison Square Garden is a multi-purpose arena in the heart of Manhattan, and it provides revenue as a venue for all kinds of events through the Entertainment division. The Media segment operates the MSG and MSG Plus cable channels, which have broadcasting rights to other local sports teams, as well as to other sports and entertainment events at MSG and Radio City Hall. Yet a case can be made that all these revenue streams are more predictable, and the stock has been rising mainly due to the improved status of the Knicks and, to some degree, the Rangers as both teams were elevated in recent years from missing playoffs in 2009 to (almost) title contenders. Since MSG was spun off from Cablevision Systems (NYSE:CVC) in early 2010, the stock has gained a cumulative 220%, and even after a recent pullback it sports (no pun intended) a hefty $4.4B in market cap. It trades at forward P/E of over 20 and P/B of 2.9.
Soccer
If you're looking to invest in the sport of soccer in North America, that may be a tough a proposition. MLS, the North American league, is a single entity where each team is owned and controlled by the league's investors. RCI may be the only public company that has a controlling interest over any MLS franchises, as mentioned above.
However, even though soccer may not be one of the big 4 major leagues in North America, it is by far the #1 watched team sport in the world including Europe, Latin America and Africa. One of the largest soccer clubs in the world, English club Manchester United (NYSE:MANU) had its IPO on New York Stock Exchange in 2012. The company manages, in addition to the team, all affiliated activities that includes media network, foundation, news and sports features, and team merchandise. A $2.6B company trades at modest forward P/E ratio of 7, and the stock has traded rather thinly and in a narrow range all year.
Other than that, a number of European soccer clubs are public companies and trade on their home country's exchanges. Here is a representative sampling of top European public clubs:
Juventus Football Club (MTAA: JUVE), Societa Sportiva Lazio SPA [MTAA: (SSL)], and A.S. Roma [MTAA: (ASR)] on the Borsa Italiana,
German Borussia Dortmund (Xetra: BVB),
French Olympique Lyonnais Groupe [EN: (OLG)] on EuroNext Paris,
Dutch AFC Ajax NV (EN: AJAX) on EuroNext Amsterdam,
top three Portuguese teams S.L. Benfica (EN: SLBEN), FC Porto (EN: FCP), and Sporting Clube De Portugal-Futebol (EN: SCP) on EuroNext Lisbon,
Danish Brøndby IF [OMX: (BIF)] and Copenhagen FC's owner PARKEN Sport & Entertainment (OMX: PARKEN) on Nasdaq OMX Nordic,
top Scottish teams Rangers International Football Club PLC (LSE: RFC) and Celtic PLC (LSE: CCP).
There is, in fact, STOXX Europe Football index which tracks 23 public football clubs in Europe and Turkey, although I am not aware of any funds using the index as a benchmark.
Motor Sports
Unlike the four major leagues and soccer, the motor sports business model is very different when it comes to stadiums. Racetracks are obviously necessary, but you don't have a "home team," so they can be anywhere and they don't need to be owned by the teams or the league. So while NASCAR itself retains the broadcasting rights (which, by the way, are second richest in all US sports behind only NFL) and it remains a private company, the owners of the racetracks they use include not only private (e.g., Hulman & Co., the owner of The Indianapolis Motor Speedway, home of the famous Indianapolis 500) but also two public companies.
International Speedway Corp. (NASDAQ:ISCA) is an owner of multiple premier motorsports facilities, including gems like Daytona and Talladega. According to ISC website, the company strives to bring together "the race day venue, on-site and off-site media, hospitality, consumer promotions, VIP access and merchandising for our Partnership Marketing partners." With $1.5B market cap and 0.67% yield, ISCA trades at 17.5 forward P/E and 1.2 P/B ratios.
Speedway Motorsports Inc. (NYSE:TRK) is a smaller competitor, which owns and operates 8 racing facilities including Charlotte and Texas Motor Speedway. The Company also provides souvenir merchandising services, and food, beverage and hospitality catering services through its SMI Properties subsidiaries; manufactures and distributes smaller-scale, modified racing cars and parts through its U.S. Legend Cars International subsidiary; provides radio programming, production and distribution through its Performance Racing Network subsidiary. TRK is valued at $750M, 11.4 forward P/E and 1.0 P/B ratios, while yielding 3.3%.
Other Sports
My focus has been on the team sports, so without wandering off too far, the only other sport I'd like to mention is professional wrestling. World Wrestling Entertainment (NYSE:WWE) is a publicly traded, but privately controlled company with nearly $1B in market cap. In addition to ticket sales and pay-per-view broadcasting, the company derives revenue from film, music, product licensing, and direct product sales. The stock's 60% YTD performance is sweetened by 3.77% yield.
From time to time, rumors surface about a potential IPO of Zuffa, LLC, a private owner of the largest mixed martial arts promotion label, Ultimate Fighting Championship. However, the fate of the International Fight League remains a cautionary tale. Billed as the world's first MMA league, IFL went public in 2006 and traded under IFL ticker. However, even after securing TV rights from Fox Sports Net, the company failed to capitalize on the growing popularity of MMA and filed for bankruptcy in 2008.
Below is a chart of relative 1-year performance for the stocks mentioned above. As you can see, with the notable exception of the Canadian media companies and some recent underperformance of TRK, the other stocks are beating S&P 500 index over this period.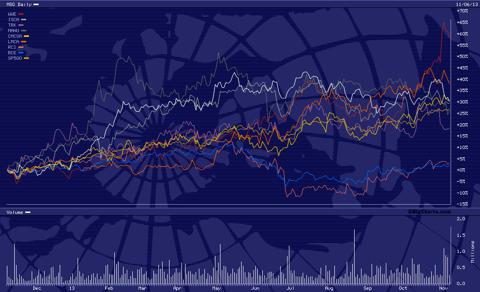 Source: MarketWatch BigCharts
Conclusion
Still not sure where to put your money and no ETF to help you decide? One economical option to invest into a basket of stocks listed above is through Motif Investing. Motif Investing is a relatively new online broker that allows investors to buy "motifs" - a group of up to 30 US listed equities or ETFs combined by a common theme, all for one low commission. Not only the company provides over 100 motifs, it lets investors modify them and recently allowed members to create their own motifs, complete with weighting methodologies and custom names, and share them on the site. I think of these motifs as a cheap way to create my own custom ETF. My custom We're The Champions motif is presented below.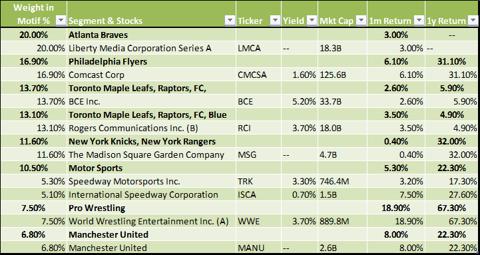 Source: Motif Investing, 11/06/13
The business of sports has been growing rapidly, but it's still difficult for an individual investor to profit from it directly. Some opportunities do exist, and others will likely open up in the future. One possible new opportunity to keep an eye on comes from Fantex, a new exchange and broker-dealer that deals with unusual securities. It has recently announced that it will soon start trading "tracking stocks intended to reflect the separate economic performance" of individual athletes. The first IPO will be for Houston Texans running back Arian Foster. Though it may sound far-fetched, Fantex may just be on to a new way to satisfy the public's cooped up demand for sports investments.
Disclosure: I have no positions in any stocks mentioned, and no plans to initiate any positions within the next 72 hours. I wrote this article myself, and it expresses my own opinions. I am not receiving compensation for it (other than from Seeking Alpha). I have no business relationship with any company whose stock is mentioned in this article.