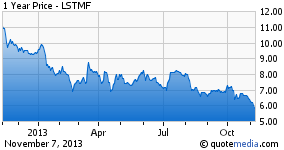 Lightstream Resources (OTC:LSTMF) reported third quarter earnings after the close on Thursday. With its focus on light oil production in the prolific Bakken and Cardium plays, the company turned in excellent results. The number one highlight was this:
During the quarter, our funds flow from operations (cash in) exceeded our net capital and cash dividends (cash out) by $8 million.
Herewith some other highlights. Production averaged 45,160 barrels (78% light oil and liquids), a 17% increase over the third quarter last year. Strong crude oil prices helped drive operating netbacks up to $54.75/BOE -- one of the highest levels in the Canadian E&P sector. As a result, the company was able to finance both its growth capital expenditure and its dividend, with cash left to reduce debt.
Funds Flow from Operations: $180 Million
Capital Expenditures: $141 Million
Dividends paid: $32 Million
To grow production that fast and cover a hefty dividend is quite remarkable. A few more quarters like this would easily dispel concerns about Lightstream's dividend sustainability and need to sell non-producing assets.
Why Canadian Oil Stocks Have Gotten Hammered
When you see a release like this, you have to question why Canadian oil stocks have gotten hammered so relentlessly over the last few weeks. We've seen Penn West (PWE) lose 23% of its value in just two days; Pengrowth (NYSE:PGH) lose 6% in two days; and blue-chip Baytex (NYSE:BTE) lose 5% in a week.
While PWE has had some company-specific issues, the dark cloud over all Canadian companies is the differential between Canadian and West Texas (NYSE:WTI) oil prices. For most of the year the differential has remained under 10%. Lightstream expects it to widen to 17.5% or more in the third quarter. With WTI at $94, that means Canadians will only be getting $77 for their oil.
Why Lightstream Will Weather Weakness in Canadian Crude
Looking at Lightstream's production breakdown, you can see why they are in a better position than many Canadian oil producers. Of the 35,445 barrels of oil and NGLs Lightstream produced, 55% came from the Bakken or Southeast Saskatchewan. This oil generally fetches prices that are much closer to WTI prices than other Canadian oil. This is one reason Lightstream enjoys such high netbacks. With current average netbacks well over $50, Lightstream can afford to give up some. Many other Canadian producer have netbacks in the low $20 range, so lower oil prices could make life really tough.
Fostering Long Term Sustainability and Growth
As I discussed in previous articles (here and here), Lightstream has a goal to reduce its debt/cash flow ratio from 3.2X to around 2. In these articles I suggest, the company could easily reach that ratio by selling some non-producing assets, such as its Duvernay acreage.
In addition to its regular earnings conference call on November 8, the company has scheduled a special call on November 21, 2013 to "advance our business plans" and provide guidance for 2014.
NCIB, Short Interest and the Big Squeeze
Nestled at the bottom of Lightstream's press release was an announcement of a "Normal Course Issuer Bid" (NCIB) which is a quaint Canadian term for a share buyback. Starting November 12, the company can buy back up to 10% of the float, or 17 million shares.
As of October 31, there were 7.7 million shares of Lightstream shorted. That works out to more than two weeks of trading volume (based on the 90 day average). With the company poised to buy back a boatload of its own shares, we're guessing a squeeze is imminent.
I find the timing of the NCIB interesting, coming well before the 2014 guidance call. If I were running Lightstream, I would buy up as many shares as possible on the cheap and then announce an asset sale at the conference call.
Summary
As I've noted in the previous articles, Lightstream has an asset value that is more than twice its current Enterprise Value. It has excellent production growth and is making plenty of money. It simply needs to configure its assets and its budge in a package that investors find convincing. A significant asset sale would go a long way to achieving that. Judging from this quarter's results, a dividend cut might not even be necessary. A slightly lower capex budget -- say targeting 5% growth rather than 10% -- would save more than the dividend.
Disclosure: I am long OTC:LSTMF. I wrote this article myself, and it expresses my own opinions. I am not receiving compensation for it (other than from Seeking Alpha). I have no business relationship with any company whose stock is mentioned in this article. I am also long LTS.TO on the Canadian TSX exchange