The reboot of the electric grid is an exciting investment opportunity that promises to be one of the biggest energy transformation stories of the early 21st century. Bloomberg New Energy Finance projects that by 2018 global smart grid investments should grow to $25.2 billion per year.
This article will give a brief overview of what the smart grid is, which companies are involved in the smart grid industry, and what strategies the effective smart grid investor can utilize.
What Is the Smart Grid?
By integrating two-way communication and feedback into the power system, the smart grid will efficiently distribute power to where it is need, when it is needed. This is very different from just delivering electricity everywhere all the time, which is the current grid model. Additionally, the smart grid will better integrate alternative energy producers such as wind, solar and other renewable sources.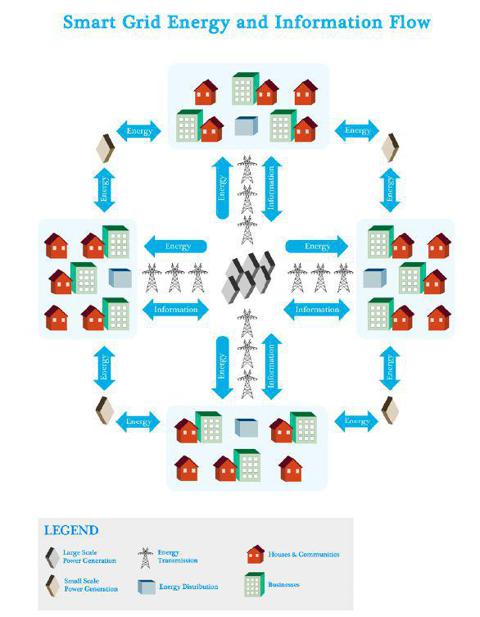 Most of what drives the grid now is ensuring that there is enough electricity during peak usage times so the system will not fail. That means that there is plenty of excess capacity during non-peak periods, which means tremendous room for increasing efficiencies. One example of this relates to electric vehicles. Vehicle battery systems could be set to charge at night, when peak demand is low and there is plenty of capacity. Cars that are parked during the day could then feed power back into the grid when electricity demand is higher.
Below are some of the characteristics of a smart grid according to the National Institute of Standards and Technology (NIST):
• Improves power reliability and quality
• Optimizes facility utilization and averts construction of backup (peak load) power plants
• Enhances capacity and efficiency of existing electric power networks
• Improves resilience to disruption
• Enables predictive maintenance and "self-healing" responses to system disturbances
• Facilitates expanded deployment of renewable energy sources
• Accommodates distributed power sources
• Reduces greenhouse gas emissions by enabling electric vehicles and new power sources
• Reduces oil consumption by reducing the need for inefficient generation during peak usage periods
• Presents opportunities to improve grid security
• Enables transition to plug-in electric vehicles and new energy storage options
What makes the smart grid a must-do endeavor is the synergistic potential of greatly reducing carbon emissions and other pollutants, while at the same time lowering electric costs.
Smart Grid Companies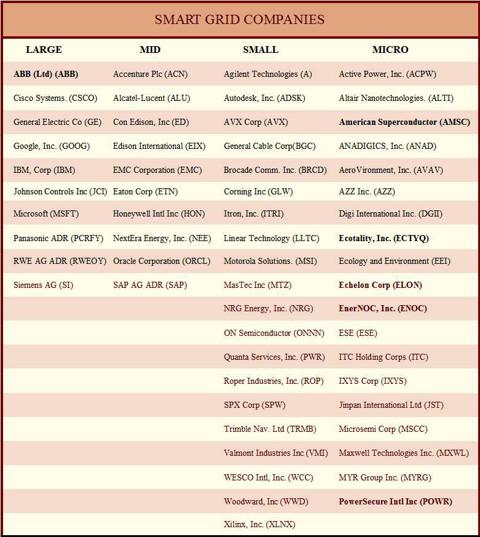 The Roen Financial Report tracks almost 60 publicly traded smart grid companies. We take a broad view of the smart grid when placing companies in this category. Included are those that work in advanced power transmission, energy storage, grid software and other areas. Companies we follow, therefore, range widely in size, industry, business model and other aspects.
It is hard to find a "pure play" smart grid stock. However, six companies the Roen Financial Report covers are involved in smart grid and have a very strong alternative energy focus, indicated in bold (note that Ecotality has filed for bankruptcy, so caution for that company is advised). Many of the larger companies on the list, in contrast, work in a variety of enterprises. They are important to take account of, however, if they have a strong presence in one or more smart grid business areas.
Smart Grid Investments - Two Stocks and One ETF
One of the most ubiquitous communications equipment company is Cisco Systems, Inc. (NASDAQ:CSCO). As the internet grew in the 1990s, Cisco grew along with it into one of silicon-valley's giants. Its routers, switches, security devices and related equipment move mountains of digital information for virtually everything from raw data to video. As such, Cisco is one of the backbone companies in creating a robust two-way smart grid communication system.
The financials for Cisco look very good as of fall 21013. Earnings are at a seven-year high, and sales have been steadily growing for the past eight quarters. Returns on Cisco stock have been very good relative to value and risk. It also has low debt. For this and other reasons, Cisco is a component of the Roen Financial Report Paradigm Portfolio, making it one of our top picks.
On the down side, Cisco is considered overvalued at current trading levels. As can be seen on the Fair Value chart below, Cisco has been trading at the top of its fair value range since July 2013 (the dark blue line shows the weekly closing stock price, and the shaded area is the fair value range for the company). The stock price has continued to drop since reaching its overvalued status. Though this may be a good stock for the long-term investor, waiting until the price looks more attractive is a good strategy.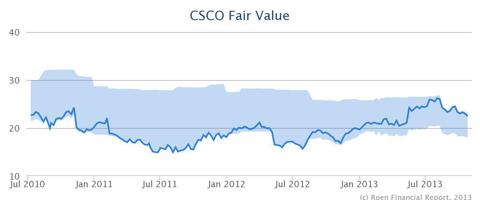 Quanta Services, Inc. (NYSE:PWR) is a specialty contractor in the energy industry that has a large role to play in the smart grid build out. This Texas-based company offers infrastructure solutions for electric power, telecommunications, and other industries. Services include work on renewable energy facilities, electric power transmission and distribution networks, and substation upgrades.
Also a Paradigm Portfolio stock, Quanta Services has had nicely growing annual sales since the economic meltdown in 2009. It also has very low debt, and is well liked by analysts. Free cash flow for the company has been positive for four out of the past eight quarters. Back in early 2011 PWR was trading at upper levels of its fair value channel, so investors would have been paying top dollar for the stock in our estimate. Currently, however, Quanta Services is trading at the bottom of its fair value channel, so looks more attractive as a buy.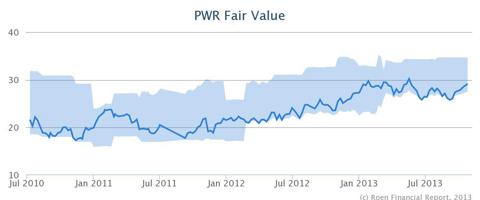 Another way to efficiently diversify in smart grid investing is through an Exchange Traded Fund (ETF). One of the more highly rated green funds is First Trust NASDAQ® Clean Edge® Smart Grid Infrastructure Index Fund (NASDAQ:GRID). The Roen Financial Report rates GRID as a Rank 2 fund on a scale of one to five, one being best. Relative to other alternative energy ETFs, GRID has a good risk/reward ratio, is very tax efficient and has low management fees.
Overall, I believe smart grid companies will prove to be an excellent long-term investment if you are strategic in picking the right companies.
Disclosure: I have no positions in any stocks mentioned, and no plans to initiate any positions within the next 72 hours. I wrote this article myself, and it expresses my own opinions. I am not receiving compensation for it. I have no business relationship with any company whose stock is mentioned in this article.