Setting aside the 'active versus passive' argument, major stock indices can provide insights helpful for asset allocation across regions and sectors. We often hear that non-US stocks have a role to play in our retirement portfolio, so maybe a look at long-term performances of some key indices will give us some clues on where to start. Of course 'past performance is no guarantee of future returns', but a historical perspective is handy, particularly if we have plenty of data.
The Biggest Global Equity Markets
The number of published indices has grown exponentially over the last couple of decades. This is partly in response to the rise of interest in indices generally (and low cost index tracker funds), and partly a reflection of the growth of global equity markets. According to the World Bank, global market capitalization quadrupled in the twenty years from 1991 ($11.35 trillion) to 2011 ($45.08 trillion), and a rising proportion is non-US. Nevertheless, North America remains the lion's share of world market capitalization, as Table 1 shows (data from World Federation of Exchanges, 2012).
TABLE 1 - Largest domestic equity market capitalizations at year-end 2012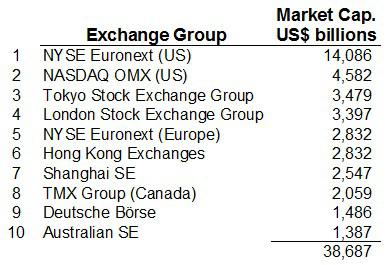 So Which Index Wins Over 25 Years?
I wanted to compare long-term performances of major market indices (on a total return basis), going back twenty-five years. Many of the familiar USA and UK indices were around then, but not so many from other parts of the world.
Table 2 shows the growth of $1000, if invested 25 years ago. I have rebased all data into USD for comparison purposes.
TABLE 2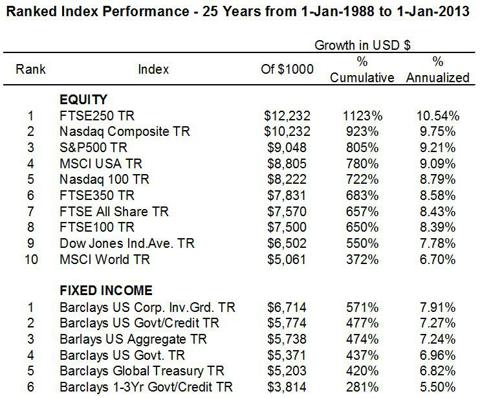 Over a twenty-five period, the FTSE250 index has delivered 200% more growth than the second best index, the Nasdaq Composite, and over 300% more growth than the S&P500, in US dollar terms.
The FTSE Indices
In case you are not too familiar with the major UK indices provided by FTSE, here is a recap. The FTSE100 is a market capitalization weighted index of the largest 100 companies listed on the London Stock Exchange. As such, it represents about 80% of total market capitalisation. The FTSE250 is the next 250 largest firms after the FTSE100, and the FTSE350 is the two aggregated. The FTSE All-Share index is the aggregate of the FTSE350 with the FTSE SmallCap index, making a capitalisation weighted index of the top 620 listed companies on the LSE (about 98% of the total capitalisation).
Index Volatility
What Table 1 doesn't show is the wild ride of highs and lows, which can be seen in Figure 1 below.
FIGURE 1 - Growth of $1000 - major indices over 25 years to January 1st, 2013.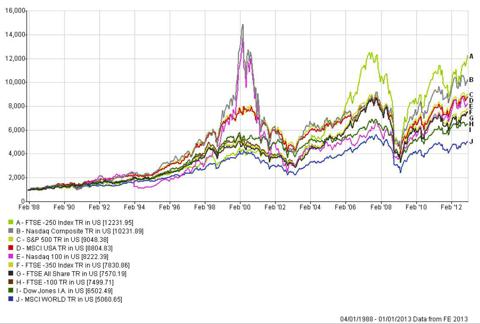 Whilst the FTSE250 wasn't a participant in the 2000-2002 dotcom boom-bust in the same way as the Nasdaq indices, it demonstrated more volatility in the run up to the 2008 global financial crisis. Table 2 shows a scatter chart of growth versus annualized volatility for the ten years to September 30th, 2013. It's striking to see the linearity of the volatility-return relationship over this time period.
FIGURE 2 - Scatter chart of growth versus annualized volatility for major indices, ten years to 30th September, 2013.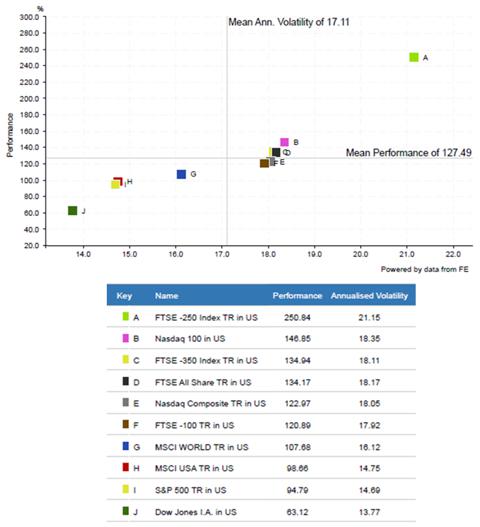 Indices For Other Regions Of The World
Indices with twenty years of data include the Hang Seng, MSCI Australia, and DJ Euro Stoxx 50. The FTSE World Asia Pacific index has fifteen years of data.
Table 3 below shows these ranked by annualized growth in USD terms, for a selection of periods ending January 1st, 2013. (Blanks indicate no data.)
TABLE 3 - selected equity indices ranked by annualized growth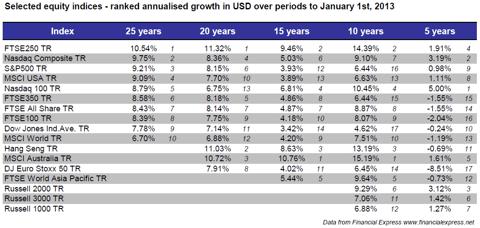 Unsurprisingly, data for the final five-year period reflects the recovery in US being initially faster than elsewhere since the crisis. The top three slots are Nasdaq 100, Nasdaq Composite, and the Russell 2000. Next is the FTSE250, which the data shows has been in the first or second position for each period from 25 years to 10 years. The Hang Seng and MSCI Australia were both also in the top three rankings for each of the 20-year, 15-year, and 10-year periods to January 1st, 2013.
But as Figure 3 shows below, the performance chart for five years to November 1st, 2013 indicates that as I write this article the FTSE250 has already recovered pole position. $1000 invested five years ago would have grown to $2793, being an annualized growth rate of 22.8%, versus the Nasdaq 100 at 20.42%.
FIGURE 3 - Growth of $1000 - major indices over 5 years to November 1st, 2013.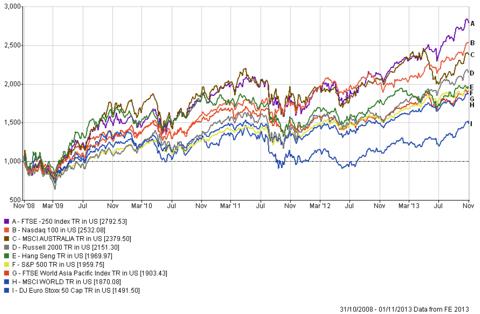 Similarly, over ten years to November 1st, 2013, FTSE250 is back in front. $1000 invested would have grown to $3338, an annualized 12.81%. FTSE250 is joined on the podium by the Hang Seng and MSCI Australia in second and third places.
FIGURE 4 - Growth of $1000 - major indices over 10 years to November 1st, 2013.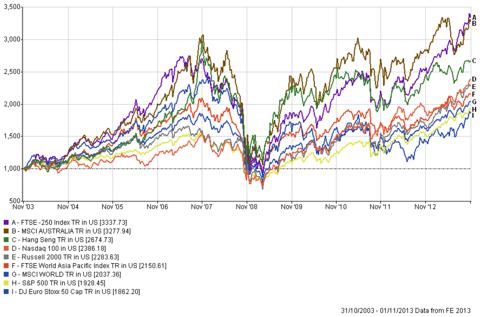 Investment Implications
Of those indices I looked at, over the last ten years the top three (in US dollar terms) were focused on UK, Australia, and Hong Kong. The results are the same for a twenty-year period. I think this underlines the common wisdom of an allocation to foreign equity in your retirement plan, and maybe gives some clues where to look.
If you're looking for a western developed market equity index, with the best and most consistent track record of growth (in US dollar terms) over the last 25 years, then it seems the FTSE250 is a prime candidate.
How You Can Act On This Information
Here are some exchange traded index trackers for exposure to some of the regional indices mentioned in this article:
FTSE250 - iShares FTSE250 ETF listed in UK
DJ Euro Stoxx 50 - SPDR DJ Euro Stoxx 50 ETF (NYSEARCA:FEZ) listed in USA
Hang Seng - HSI ETF (2833) listed in Hong Kong
MSCI Australia - iShares MSCI Australia Index Fund (NYSEARCA:EWA) listed in USA.
Note that overseas listed stocks & ETFs such as the iShares FTSE250 tracker are available through online brokers such as Interactive Brokers, so are easily accessible.
Source of data and performance charts for this article: Financial Express, based in Woking, United Kingdom.
Disclosure: I have no positions in any stocks mentioned, and no plans to initiate any positions within the next 72 hours. I wrote this article myself, and it expresses my own opinions. I am not receiving compensation for it. I have no business relationship with any company whose stock is mentioned in this article.