On October 22, 2013, Novartis (NVS) declared its third quarter result; its revenue grew by 4% year over year to $14.34 billion, while its core EPS declined 4% to $1.26. Its two divisions, Sandoz and Consumer Healthcare, reported strong double-digit growth year over year, thus increasing the company's revenue. Its key drugs Gilenya, Afinitor, Tasigna, Galvus, Xolair, Arcapta Neohaler/Onbrez Breezhaler, Seebri Breezhaler, and Jakavi, posted a combined year-over-year growth of 28% and contributed 39% to total sales in the third quarter of 2013.
| | | | |
| --- | --- | --- | --- |
| Divisions | Third-quarter Sales ($ million) | Growth (YOY) | Percentage of Total Revenue |
| Pharmaceuticals | 7893 | 4% | 55.2% |
| Alcon | 2539 | 6% | 17.5% |
| Sandoz | 2273 | 11% | 16.1% |
| Consumer health | 1039 | 12% | 7% |
| Vaccines & diagnostics | 594 | 1% | 4.2% |
As indicated in the chart above, its pharmaceutical division is the leading revenue contributor. To grow its divisions further Novartis initiated the development of various drugs. Its' newly developed Ultibro Breezhaler, drug for chronic obstructive pulmonary disease, or COPD, which we covered in our previous article, received regulatory approval in the European Union and Japan. The company expects to launch this drug by the end of 2013.
Further, Novartis will compete with GlaxoSmithKline (GSK) and Theravance's (THRX) Breo Ellipta, the FDA approved COPD drug. Novartis is planning to file the applications for FDA approval for both Ultibro Breezhaler and Seebri Breezhaler in 2014. Seebri Breezhaler reported the year-over-year sales growth of 103% to $64 million in third quarter, and the FDA approval for both medications will significantly enhance future sales. It is expected that Ultibro Breezhaler may generate peak sales of more than $2 billion. As supported by our previous article, we believe approvals from the major regulatory bodies may help it achieve the peak sales target comfortably.
Additionally, Novartis has succeeded in reporting encouraging top-line data from its phase III FIXTURE study of its psoriasis drug Secukinumab, or AIN457, compared to Amgen (AMGN) and Pfizer's (PFE) Enbrel. It also announced the positive results for the Omalizumab final phase III trial, which it co-developed with Roche (OTCQX:RHHBY). We believe these approvals and the positive trial phase results will boost Novartis's revenue in the future and support bottom-line growth.
Growth opportunity with Omalizumab
Omalizumab, an allergic asthma treatment, was approved in more than 90 countries and received the FDA in 2003 for treating moderate to severe allergic asthma. Roche has gained the right to market Omalizumab in the U.S. Both Novartis and Roche initiated phase III ASTERIA I study for evaluating the efficacy and safety profile of Omalizumab to treat chronic spontaneous urticaria, or CSU, a chronic and debilitating form of hives.
In October 2013, the company declared the phase III ASTERIA I study result, which showed Omalizumab efficacy in treating CSU disease compared to placebo. The drug was able to meet both primary endpoints and the pre-specified secondary efficacy endpoint. Omalizumab significantly reduced the itching and improved the quality of the patient's life. Its benefits can be observed as early as one week after its first dosing compared to four weeks with placebo. Around 52% of the patients treated with Omalizumab for 12 weeks found notable reduction in CSU symptoms and 36% of the patients are free from all CSU symptoms.
Based on positive and consistent results from its previous two phase III studies, ASTERIA II and GLACIAL, both the companies filed the application for Omalizumab approval with the FDA and the EMA. It is expected that the FDA will review and give its decision by the first half of 2014. Further, we expect the positive response in ASTERIA I study will help it receive the approvals faster. In the first half of 2013, Omalizumab generated the revenue of $430 million with a year-over-year growth of 11% for Roche and $289 million with a significant year-over-year growth of 21% for Novartis.
We expect the positive trial phase results will enable these companies to receive faster regulatory approval for Omalizumab in the U.S. and European Union for the treatment of CSU. It is also predicted that the approval will significantly drive both companies' revenue. This will provide an opportunity for the companies to grab the majority of the CSU drug market as more than 50% of the patients don't respond to the approved drug antihistamines, the only licensed treatment available.
CSU prevalence
It is expected that around 1% of the world population is affected by CSU. In Europe, it is estimated that more than 5 million European residents are suffering from CSU. While, in the U.K. approximately 15% of the population experience Urticaria symptoms, with a CSU prevalence in one-to-five people per 1,000.
Novartis has a great opportunity in the U.S.; nearly 0.1%-3% of U.S. residents are affected with CSU and account for 75% of all chronic uticaria cases. If Novartis is able to clear the FDA regulations, we expect it has a solid chance to grab the CSU drug market, as there is no alternative other than antihistamines, which aren't able to treat CSU patients efficiently.
Further, Omalizumab can be priced at a higher side for the treatment of allergic asthma. The treatment cost is in range of $500-$2,000 a month, depending on doses. By looking at its superior efficacy and safety in the trial phases for the treatment CSU, we expect Novartis may price it at a higher side and Omalizumab will contribute significantly to the company's revenue. This should help the company achieve its Omalizumab peak sales target of $3 billion, and we believe it can add an additional million dollars to the top-line on its approval for treatment of CSU.
Raising full year earning guidance
Novartis raised its revenue guidance for the full year, due to the expected delay in the generic competition for its blockbuster blood pressure drug, Diovan. Last year, the company lost the U.S. patent rights for Diovan. This drug helped Novartis generate the revenue around $4.4 billion in 2012.
To date the FDA hasn't approved a generic version, and we expect Novartis to have lower competition from the generic drug manufacturing companies. The company previously estimated the revenue loss of $2.7 billion, but due to the delay in the generic equivalent for Diovan, it lowered the sales impact to $2.3 billion. It is now expecting a growth of low-to-mid single digit in its full-year sales compared to its previous expectation of low single digit growth.
India's Ranbaxy Laboratory (OTC:RBXZF), a subsidiary of Daiichi Sankyo (OTCPK:DSKYF), is the leading contender for the development of the generic equivalent of Diovan. However, Novartis may not face any competition for Diovan this year, since the FDA banned Ranbaxy's Mohali plant, which is expected to produce Diovan, because it wasn't able to meet the FDA's regulatory guidelines. Due to this, Ranbaxy reported the loss of $70 billion compared to the profit of $12 billion for the same period last year.
However, on October 10, 2013, the FDA approved Ranbaxy's U.S. manufacturing facility, Ohm Laboratories. The company will now able to file the applications for developing new drugs from this plant and is expected to grow its U.S. drugs sales and enhance its revenue. We also expect the approval for its U.S. facility will help the company to maintain the investors' confidence, fostering significant upside in its stock price.
Conclusion
With the regulatory approval for its COPD drugs, Ultibro Breezhaler and Seebri Breezhaler, in the U.S. and approval of Omalizumab for the treatment of CSU, Novartis is expected to enhance its overall revenue. Further delay by the FDA for the generic version of its blockbuster Diovan will continue to increase its earnings for the coming quarters.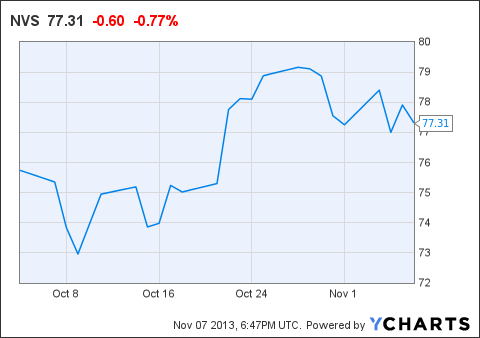 Moreover, Novartis's stock was hovering around $75, and after declaring its quarterly results, the stock reached the 52-week high of $79.64. Its stock is trailing at a Price-to earning, or PE, multiple of 20.38 and a forward PE of 14.25, representing significant growth opportunities in its future earnings. It is expected that Novartis will enhance its presence globally, and the new indications will drive its future earnings and maintain investors' interest in its stock.
Disclosure: I have no positions in any stocks mentioned, and no plans to initiate any positions within the next 72 hours.
Business relationship disclosure: Fusion Research is a team of equity analysts. This article was written by Satya Prakash, one of our research analysts. We did not receive compensation for this article (other than from Seeking Alpha), and we have no business relationship with any company whose stock is mentioned in this article.