When it comes to athletics apparel, a handful of major players come to mind: Nike (NYSE:NKE), Adidas (OTCQX:ADDYY), Under Armour (UA) and Lululemon (NASDAQ:LULU). The latter has distinguished itself as a premium company by carving a niche in the popular yoga market, mostly in North America and Australia. Compared to its competitors, LULU enjoys the highest ttm operating profit margin, ringing in at 26.5%. The company also enjoys strong revenue growth, especially in the e-commerce space. As a result, Wall Street has awarded investors by giving LULU shares an elevated forward p/e of 35 and a p/s of 7.
However, not all is rosy. The charts below show the shares have stagnated between ~$60-$80 in the last 12 months. This is especially frustrating to LULU shareholders who have seen the share prices of UA and NKE rally on the back of the rising U.S. equity market. If one buys into the thesis that the stock market is an indicator of future performance, then one must ask: what is wrong with LULU?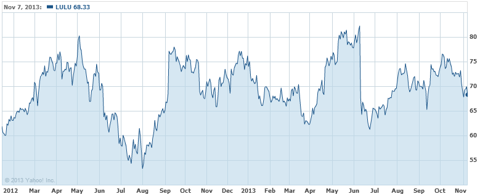 Fool me once, shame on you; fool me twice, shame on me.
On March 18, 2013, the company recalled 17% of it black luon women's bottoms from its inventory. Surprisingly, the stock reacted little to the material event, and in fact went on to make new highs in the following two months. Investors had basically forgiven LULU for either 1) the lack of existing quality assurance, or 2) trying to skim material to maintain high profit margin. What eventually did cause the stock to tumble in June was the surprise resignation of CEO Christine Day.
In its latest quarterly report, LULU reported 22% yoy revenue growth, indicating that the buyers of Lululemon products had also forgiven the company for the "see through" fiasco. But now, less than 9 months later, a new report is surfacing suggesting that the new pants are too sheer and are prone to pilling. It is unclear at this point whether these allegations are baseless or not. But if they turn out to be substantiated, investors can expect another write-down in the near future. Will investors be as forgiving as the fiasco in March? A more important question is: will shoppers heed this warning and steer away from Lululemon during the Christmas shopping season?
Where one apple falls, others will fall nearby
Just as LULU is the epitome of yoga apparel at present, Apple (OTC:APPL) was once (and may arguably still be) the premier smartphone company. What makes Apple stand out from other cell phone manufacturers is its sky high profit margin. However, over the past year, Apple has seen its margins slowly erode away due to competitions from Samsung (OTC:SSNLF) LG, Nokia (NOK) and other low cost handset manufacturers.
Yes, we are comparing apples and oranges (actually, Apple and 'Lemon), but margin erosion in the face of increasing competition is a common paradigm that should not be ignored. Look what happened to Coach (COH) in the past 2 years. Look what happened to Kodak when it was outcompeted by digital photography. Remember when BlackBerry (BBRY) phones were popular just 5 years ago?
The threat of competition is closing in on LULU everyday. Macy's (NYSE:M) and The Gap (NYSE:GPS) have yoga wear offerings that are similar but are priced more competitively than those from Lululemon. If even a fraction of female yoga aficionados are lured into these competing stores, that translates into slower revenue growth and smaller profit margin. A possible price war down the road would also dampen the growth prospects of LULU.
Conclusion
Thus far, LULU is enjoying a premium valuation for its stock price. This sentiment is echoed by other SA authors recently here and here. However, with increasing competition and potential problems with the quality of the new luon pants, profit margins and share price are bound to take a hit. The way Lululemon founder Chip Wilson tactlessly stated that "some women's bodies just don't work for (luon pants)" on Bloomberg TV yesterday also deals a blow to the company's public image and may deter a subset of buyers from future purchases. I was a shareholder of LULU, but had sold my shares in the past couple of weeks. I am not brave enough to short LULU, but in the event that shareholders are presented with a Santa Claus rally, I would suggest selling the shares at this opportunistic time.
Disclosure: I have no positions in any stocks mentioned, and no plans to initiate any positions within the next 72 hours. I wrote this article myself, and it expresses my own opinions. I am not receiving compensation for it (other than from Seeking Alpha). I have no business relationship with any company whose stock is mentioned in this article.