While people may fear the reaper around this time of year, they should not fear the taper, at least not from an economic perspective. The stock market has traded around the possibility, the likelihood of, and more recently, the absence of the tapering of Federal Reserve asset purchases. While the Fed chairman has offered assurances, investors continue to express severe aversion to a less dovish Fed. It's important, though, that investors understand that a less dovish Fed will at some point be a good thing for our economy, and so a long-term positive for stocks. In fact, I say the sooner the Fed gets to the business of shrinking its balance sheet the better.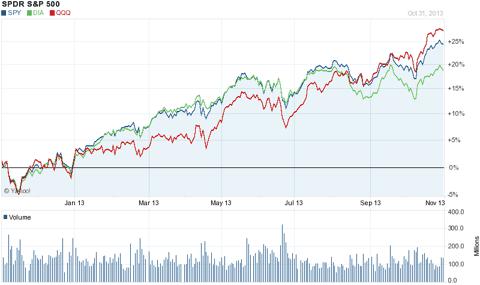 The longer term trend for stocks is clearly positive. However, this summer when the rumors started about a possible cease to the Federal Reserve's easy money policy, stocks turned lower. You can see that in the charts of the SPDR S&P 500 (NYSEARCA:SPY), SPDR Dow Jones Industrials (NYSEARCA:DIA) and the PowerShares QQQ (NASDAQ:QQQ). When the Fed Chairman later confirmed the market's concern, stocks turned lower again. But as government politics destabilized the economy, stocks illogically held ground, though there were dark days. The resiliency of stocks through that span was probably the result of the increasing likelihood that the Fed would put its tapering plans on hold. Investors are now celebrating again after last week's confirmation of just that; the Federal Open Market Committee (FOMC) said it would not be cutting back on asset purchases. However, after recent economic data points indicated some signs of strengthening overseas and here at home, investors are already worrying again about the next Fed meeting.
This sensitivity to the Fed drives a trading strategy based on fear and greed, and it is misplaced if you take the Fed for its word. That word is that it will act responsibly and be data dependent. But that reassurance and likelihood does not matter if every trader and his algorithm is trading on the Fed factor. So, rather than fearing the Fed, we might actually be fearing one another and the market common. In other words, while from an economic perspective we should not fear the taper, from a trading perspective, the prisoner's dilemma may still lead stocks lower on the catalyst. No one trader will trust the others to focus on the long-term economic feasibility of Fed tightening.
The economic data that reminded investors that the trend has been one of improvement came in the form of solid manufacturing reports from both home and abroad. The ISM Manufacturing Index, for one, showed a better rate of economic expansion for the sector. ISM's reading of 56.4 was better than the economists' consensus view for 55.0, and was also improved over September's 56.2. News of similarly improved manufacturing expansion in China also offered a positive sign for the global economy. This past week, U.S. GDP was reported better by 2.8% in Q3, exceeding economists' expectations for just 2.0% growth. All this good economic news sank stocks, obviously. Just look what happened to the broad indexes on the day GDP was reported.
| | | |
| --- | --- | --- |
| Market Security | 11/07/13 | Year-to-Date |
| SPDR S&P 500 | -1.3% | +24.5% |
| SPDR Dow Jones | -0.9% | +20.6% |
| PowerShares QQQ | -1.9% | +26.7% |
| iShares Russell 2000 (NYSEARCA:IWM) | -1.7% | +29.5% |
| Vanguard Total Market (NYSEARCA:VTI) | -1.3% | +25.4% |
On Friday, it is my belief that the nonfarm payroll figure for October and prior month revision were just too far above expectations to not be celebrated. Nonfarm payrolls rose by 204K in October, versus the economists' consensus forecast for just 120K. The broader indexes rose sharply on the day. This may be an indicator that the market will ignore Fed tapering if strong enough economic evidence avails.
What if the greedy got their way?
If the Fed kept on the gas pedal for as long as the greediest among us would prefer, inflation would surely reignite. That would force the Fed into eventual drastic rate hikes to curb destructive inflation, and we don't want that. And what if the Fed kept growing its balance sheet for so long that it was caught holding too many financial assets at a period of financial or other crisis? In such a case, it would be left with little power to help the economy, and the dollar would see damage as a result in my view. Again, inflation, or worse yet, deflation might be the result.
Conclusion
This is why I advise investors not to fear the taper, but to see it as market supportive. If we can trust the Fed to act responsibly and wisely, and with a little luck, we might experience a smooth transition into normal Fed policy and sustained economic growth as a result. For as long as earnings are growing and companies are finding a fertile operating environment, stocks should not falter. In such a scenario, even if Fed-sensitive trading dictates short-term declines on Fed tapering fear or even action, strong earnings seasons should restore valuations and positive stock chart trends. So, please don't fear the taper, as it is in our long-term economic interest.
Disclosure: I have no positions in any stocks mentioned, and no plans to initiate any positions within the next 72 hours. I wrote this article myself, and it expresses my own opinions. I am not receiving compensation for it (other than from Seeking Alpha). I have no business relationship with any company whose stock is mentioned in this article.