Seadrill Limited (NYSE:SDRL) is an offshore drilling company that has been very good for shareholders over the past few years, both from high dividends and capital appreciation. Currently, its high-dividend yield of 7.6% seems very attractive for income investors, but as usual with high-yields it can also represent a risky and unsustainable bet. Seadrill has been listed on the New York Stock Exchange since 2010 and the Oslo Stock Exchange since 2005, and has a market capitalization of $21.5 billion.
Company Overview
Seadrill Limited is an offshore drilling contractor providing worldwide offshore drilling services to the oil and gas industry. The company owns and operates a fleet of 64 offshore drilling units, and has 23 units under construction. Seadrill was founded in 2005 by John Fredriksen, Seadrill's President and Chairman, and is incorporated in Bermuda. Its main shareholder is Hemen Holding with an equity stake of 23%, which is an investment vehicle of John Fredriksen. Seadrill's strategy is to own and operate high-quality drilling equipment combining new builds and acquisitions, financed by a mix of operating cash flow, equity and above-average debt financing.
Most of its assets are engaged in offshore contract drilling for the oil and gas industry, serving oil and gas exploration and production companies, including integrated oil companies, independent oil and gas producers, and government-owned oil and gas companies. Seadrill has also two majority owned subsidiaries: Seadrill Partners (NYSE:SDLP) and North Atlantic Drilling Limited (OTCPK:NATDF). Seadrill Partners is the first-ever drilling Master Limited Partnership (MLP), which performed its IPO in 2012. Seadrill acquired recently more shares of Sevan Drilling (OTCPK:SDRNF) and now owns more than 50%, and therefore started to consolidate it on its own financial accounts since the past quarter.
The offshore drilling industry is highly competitive and fragmented, including several large companies that compete on a global scale, and numerous smaller companies that compete on a local basis. Its major competitors are Transocean (NYSE:RIG), Ensco (ESV) and Noble (NYSE:NE), among others. Seadrill's offshore drilling global market share by revenues is about 10%. The industry is also cyclical and volatile, and therefore Seadrill's business depends on the level of activity in oil and gas exploration, development, and production in offshore areas worldwide. Declines in oil and gas prices for an extended period of time can negatively affect Seadrill's operations, because low oil prices typically result in reduced exploration and drilling from oil and gas companies due to lower capital expenditure budgets. These changes in commodity prices can have a dramatic impact on rig demand, leading to higher competition in the industry. Although major integrated oil companies are starting to focus more on capex discipline, it should not decline substantially, supporting the offshore drilling industry's growth over the next few years. However, Seadrill relies on a small number of customers, being therefore particularly susceptible from capex decisions of its major customers. Also, as global E&P investments growth is expected to be slower over the next couple of years, this can put some pressure on Seadrill's growth.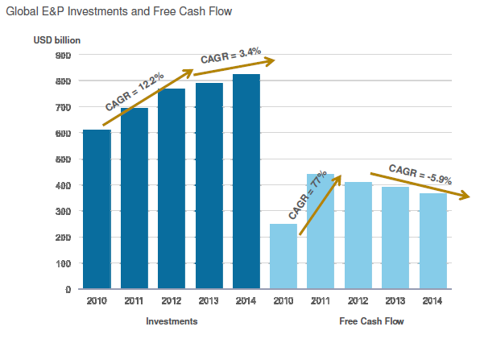 In 2012, its larger customers were Petrobras (NYSE:PBR), Total (NYSE:TOT), Royal Dutch Shell (NYSE:RDS.A), Exxon Mobil (XOM) and Statoil (NYSE:STO), which together accounted for 59% of Seadrill's revenues. At the end of 2012, Seadrill's five largest customers accounted for about 60% of its future contracted revenues, usually referred to as backlog. Its total backlog amounted to $19 billion at the end of August, which represents approximately four years of current annual revenues. Its order backlog provides good visibility for its future revenues and earnings over the next few years. On the other hand, most of Seadrill's drilling units are employed on medium to long-term contracts. The average remaining contract length is more than 2 years, with fixed daily rates over the contract term. Seadrill has 23 vessels under construction, with only 9 of them contracted upon delivery. Although the industry is not currently facing a lack of supply of new floaters, Seadrill still has some time to sign contracts until newbuilds end their construction phase.
Regarding its financial performance, Seadrill has been able to increase significantly its revenues and profitability over the past few years due to a strong investment program from 2006 to 2012, enabling it to grow its fleet considerably. In 2012, Seadrill's revenues increased by 6.8% to almost $4.5 billion. Its profitability is very high given its EBITDA of $2.4 billion, or an impressive EBITDA margin of 53.8%. Its net profit was about $1.2 billion, or $2.34 per share. During the first six months of 2013, Seadrill's revenues increased by 16.6% to $2.5 billion and its operating income by 13% to more than $1 billion. Its interest expense was up by 38% to $204 million. Seadrill's earnings were also supported by gains on sale of tender rigs, leading to earnings-per-share of $4.38.
Dividends
Seadrill's business model combines growth and an increasing dividend. Since its dividend omission during the financial crisis of 2008-09, Seadrill has increased its dividend consistently. From 2009 to 2012, its dividend CAGR was 47%, which is impressive. However, its dividend growth has slowed during the past few quarters, and in 2012 its growth was only 9.8%. Its last quarterly dividend was $0.91 per share, an increase of 3.4% from the previous quarter. Taking into account the last four quarterly payments, Seadrill's annual dividend per share (DPS) is $3.49 which means a current dividend yield of about 7.6%.
Based on reported earnings the dividend does not seem sustainable, given that Seadrill's earnings-per-share were $2.34 in 2012, compared to DPS of $3.36 or a dividend payout ratio of 143%. However, as Seadrill uses a lot of "financial engineering" of its dividend does not seem to be aligned with underlying earnings, so this ratio should not constraint the company to pay a higher dividend. However, based on cash flows Seadrill's dividend also does not look sustainable. Although Seadrill's cash flow generation is good, the company has huge capital expenditures (capex) that eat all generated cash flow. In 2012, Seadrill's operating cash flow was $1.6 billion and capex was $1.7 billion, implying negative free cash flow. Moreover, over the past five years Seadrill has always had negative free cash flow, which means its dividend payments are totally financed by increasing debt levels. Seadrill's dividend payments in 2012 amounted to almost $2 billion, despite the fact it did not generate any free cash flow.
Seadrill's business model requires heavy investments, given that in order to create a worldwide leader it needs to invest considerably more than competitors to squeeze their assets. Seadrill has had several years of higher capex than revenues, which is quite unusual, but given these large investments it has now the youngest fleet by age within its industry, which represents a competitive advantage over the long-term. The company has decreased a little its capex, leading to a lower in 2012, at 38% of its revenues. This is still a high ratio and according to analysts' estimates should remain relatively stable over the next couple of years. Although Seadrill's cash flow from operations should improve over the next few years, it will barely be enough to finance capex implying higher balance sheet leverage.
Regarding its balance sheet, in order to finathe nce its growth Seadrill has incurred significant amounts of debt over the past few years. At the end of the second quarter of 2013, its net debt was about $10.8 billion leading to a very leveraged capital structure, given that net debt-to-equity ratio was about 137%. Its net debt-to-EBITDA ratio was about 4x, which is high even considering that Seadrill's profitability is also quite high. Moreover, this ratio is close to its debt covenant of a ratio no greater than 4.5x, which may imply some deleveraging pressure over the next few quarters if dividend growth surpasses EBITDA growth.
Conclusion
Seadrill is a success story that has been good for investors, from dividends and capital appreciation as well. This may lead investors to think the future is bright and safe. Indeed, Seadrill has strong growth prospects and high profitability, positive factors which apparently should be enough to support its dividend policy. However, based on Seadrill's earnings, cash flow and capital structure, the conclusion is not the same and its dividend policy seems to be too aggressive. Investors should remember that the offshore drilling industry is cyclical, and if oil prices decline most oil majors will cut capex spending. This will expose Seadrill's fragility and its weak dividend quality, leading necessarily to a downward revision of its shareholder remuneration. Although this may not happen in the short-term and Seadrill will most likely continue to pay and even increase its dividends over the next few quarters, its financial profile of negative free cash flow and high balance sheet leverage does not bode well for its dividend sustainability in the long-term.
Disclosure: I am long TOT. I wrote this article myself, and it expresses my own opinions. I am not receiving compensation for it (other than from Seeking Alpha). I have no business relationship with any company whose stock is mentioned in this article.