With global television ad spend expected to remain flat or drop slightly over the next couple of years, CBS (NYSE:CBS) has worked hard on changing its revenue mix in response to the soft broadcast advertising market.
In its latest quarter the revenue mix reported by CBS confirms this trend, as it was only able to grow ad revenue by 4 percent, while its affiliate revenue and subscription fees jumped by 23 percent.
Even so, one reason for expecting CBS to outperform its competitors on the advertising side is its status of being the top network. It also helps it in other revenue streams as well, giving it pricing power above its peers.
source: ZenithOptimedia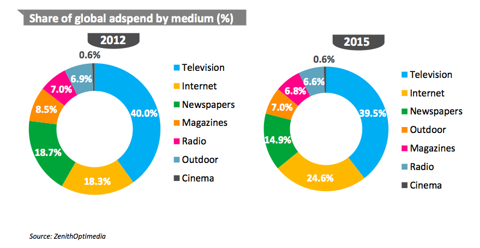 Demographics
Last year CBS broke Fox's domination in the 18-49 demographic as it ended the season in the top position. This year it hasn't been able to repeat that performance, and it may weaken the company in that area. In the first five weeks of the new TV season CBS saw its numbers in the key demo plunge by 7.3 percent. NBC and Fox, on the other hand, are the apparent beneficiaries of that drop, both rebounding from last year.
But for overall audience, CBS isn't likely to lose its lead anytime in the near future. It's major weakness so far has been Monday nights, where it has been surprisingly weak.
The fact that CBS is able to compete in the overall ratings and the ratings in the 18-49 demographic does reveal how strong its content offerings are.
source: StockCharts.com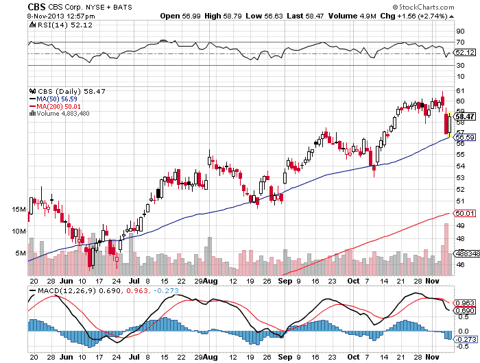 Content Advantage
We'll get into the changing revenue mix in a moment, but all of that is basically meaningless unless there is the premium content to drive it. The record of CBS reveals, as far as broadcast television goes, it has the ability to figure out what content viewers want beyond its competitors - the reason it leads in viewership every year.
It can't be overstated as to the importance of identifying and/or creating content consumers want. The winner in that category basically gets to dictate the terms of the overall market, which puts CBS in a unique and enviable position.
CBS doesn't just create or acquire good content, it creates or acquires good content across a wide variety of genres, which is why it can win specific, targeted ratings battles on most nights and time slots it competes in. To give an idea of how far it is above its competition, so far in the fall of 2013 it tops 14 of the time slots it competes in, more than the rest of its network competition combined. It also has 3 of the top 5 shows.
Content is currency, and for CBS that makes it the top broadcaster, as it gives them numerous ways to monetize it at top prices.
Leslie Moonves
Another advantage belonging to CBS is Chief Executive Officer, President and Director Leslie Moonves. Moonves has been very aggressive in a number of initiatives that should position CBS to have steady and consistent growth over time.
Moonves knows he has to take bold steps and move fast with the performance of the company, giving him a window of opportunity to make some terrific deals for the company.
The only downside is it is frustrating companies like Time Warner Cable (TWC) and DirecTV (NYSE:DTV), which are concerned about the sustainability of retransmission costs, which are up 50 percent in 2013, and are expected to go much higher before leveling off. The question there is churn rate of satellite and cable companies, and if in fact the aggressive pricing can continue to grow at existing and projected levels.
Probably more fervently than anyone in the business, Moonves is attempting to monetize every eyeball that watches content, whether it's VOD, streaming on the Internet, or dynamic ad insertion. Another new project related to that is called 7-day viewing. That's a reference to extending the existing 3-day window to 7 days. That means advertisers will now pay for days 4 through 7, rather than only the first three days after the original broadcast of a show. VOD is new in that Nielsen (NYSE:NLSN) had not been measuring that in the past so broadcasters and advertisers could get together on a price. That has changed in the 2013 season. Added together, and taking into account CBS having the most popular content, you have a money machine that will generate a lot of revenue and earnings as long as the quality of content remains high.
It's Moonves that is the driving force behind all of this, and he has the determination and boldness to make it happen in the face of opposition. CBS and its shareholders are the beneficiaries of the characteristics, expertise and management style of Moonves. That will remain a competitive advantage going forward.
Revenue Mix
Breaking down the revenue mix for the latest quarter, ad revenue rose 4.3 percent to $1.86 billion, revenue from licensing and distribution climbed 18 percent to $1.1 billion, and affiliate and subscription revenue increased 28 percent to $611 million.
Sales in its Simon and Schuster publishing unit are also growing, largely from the boost in digital book sales, which jumped 39 percent in the quarter. Again, it points to the ability of the company to make good content decisions for its books as well. Revenue in the unit rose to $224 million, gaining 7 percent year-over-year.
CBS is getting rid of its billboard business, having sold its operations in Asia and Europe for $225 million in the quarter. It is also in the process of splitting off its U.S. billboard division by converting it to a REIT. The purpose is to focus totally on content.
On the advertising front, even though revenue was up, you can see it's growing at a slow pace, and that will continue, if it grows at all over the next couple of years. This is why the revenue mix is so important to CBS.
And even though CBS remains the overall broadcast leader, it has slipped in general viewership this quarter, which could result in lower pricing power going forward if that's where it ends up at the end of the year.
There is still plenty of room to run on the licensing and subscription side, and that has enough leg room for at least two more years, possibly three. It depends on consumer response on the cable and satellite side goes as to whether they push back hard and pricing power weakens. If that's the case, a big war would erupt over the rising cost or retransmission fees, which could put pressure on CBS.
It has yet to be proven whether or not CBS and other broadcasters can continue to raise retransmission fees to levels they believe they can. The sustainability of that pricing model is in question, and the answer to that will be a big part of how CBS performs over the next several years, as advertising revenue remains level or possibly drops a little.
In the business it operates in though, and in light of the trend, CBS is taking the steps it needs to in order to generate growth. We won't know for a couple of years whether the company will be able to continue to raise prices or not.
On the digital side, that's a more wide open market, and the company continues to use a strategy there of retaining all its rights to its content. Consequently, CBS Interactive had double-digit revenue growth in the quarter, and that will continue on for some time. Flexibility is the key, and that is empowered by keeping its content rights.
The demand for premium content continues to grow, and the emerging streaming video business is a source of significant revenue growth for CBS. It has made deals with Apple (NASDAQ:AAPL), Comcast (NASDAQ:CMCSA), Netflix (NASDAQ:NFLX) and Amazon.com (AMZN), among others, to showcase its content, and these companies, in order to differentiate and attract new customers, are willing to pay top dollar to secure the content. This has a lot of potential, and being the top content creator adds to the compelling growth narrative of the firm.
This also has to be watched closely because the sustainability of costs has to be taken into account. But for now, the battle for streaming on the Internet and mobile devices is heating up, and there is a lot of time before costs settle down concerning content sold to streaming businesses.
Counting Viewers
CBS has yet to reach its full potential as to knowing how many viewers it has for its content, as the speedy technological changes has disrupted the ability to accurately measure new ways of viewing content.
But Nielsen has added tools that it hadn't used before as it catches up to the rapidly changing market. It already has VOD metrics in place, and is working on mobile metrics. With mobile being the big advertising growth engine of the near future, that could add some serious revenue to CBS over the next three years.
On the VOD side, that's where the 7-day viewing initiative comes in mentioned earlier. Advertisers are increasingly receptive to it, and that will add four more days of revenue to the company's results although numbers haven't been revealed yet as to how much that will increase earnings. It's still being developed, and so that will take a little time before it adds value to CBS.
The bottom line here is CBS is working on getting the most accurate measure of how many viewers it really has for its content. There is no doubt those numbers will climb as long as it continues to maintain its leadership position. That means revenue will continue to grow as advertisers come to have confidence that the numbers are accurate and trustworthy.
Conclusion
CBS has employed a strategy of becoming a content company. That's why it is divesting of its billboard business. This is a good move because of the growing demand for premium content.
It's an interesting aside to see a gradual move away from reality TV, which has created a lot of fatigue in viewers. Reality TV will be around for some time, but the mix of reality and premium TV will continue to change, to the benefit of CBS.
The strength and competitive advantage of CBS is its underlying expertise concerning identifying or creating quality content. That gives the company bargaining power and flexibility as it makes the deals it wants to make, and is able to leverage its content across any platform or screen that is developed. Quality content positions itself for revenue-generating distributorship, so whatever device is used - whether now or in the future - will end up with consumers wanting to watch their favorite show on it. The remaining element is the ability of CBS and advertisers to be confident in what the viewing numbers are across the various devices. That's quickly improving in accuracy, and that means major growth for CBS.
I see CBS continuing to grow nicely over the next couple of years, and by that time the next presidential campaign will be in full swing, which will add some big numbers to the company. Mid-term campaigns will help in 2014, but not to the extent of the 2016 election. Local TV and radio station revenue dropped 15 percent to $161 million after the election year, and those numbers should rebound at least that much, and possibly more, as it promises to be a robust campaign.
The company is striving for a balance between advertising and other revenue, but I see advertising revenue remaining flat, or only slightly up, while the remaining revenue sources mentioned above continue to grow. Minus an election year, advertising will eventually fall in the percentage of revenue and earnings enjoyed by the company, although the sustainability factor remains an issue. Another question is how much more accurate metrics will increase revenue in each segment.
CBS shouldn't have any problems over the next three years in growing revenue and earnings, as it appears it has pricing power on all fronts. This assumes it holding onto its top position and continues to churn out premium content that is in high demand, whether the company acquires it or develops it in-house.
Finally, performance in the 18-49 demographic remains important, and the company has faltered some after a strong 2012. That could incrementally put downward pressure on ad revenue, but because of the revenue mix and growth prospects outside of advertising, this shouldn't be too much of a problem for CBS.
Barring another recession, I think CBS has the potential to move up to about $100 per share over the next three years, which would be a 75 percent move up from where it's trading today, which is at $58.40 per share. This assumes the demand for premium content remains in place and CBS continues to be the top provider of it.
It also assumes the pricing power across its various outlets remains sustainable. I think it will remain sustainable for a period into and through 2015, but it will be more challenging in 2016. That's where the election should help CBS make up for any leveling off of revenue outside of advertising. With that in mind, it looks like 2017 could be the year CBS will face growth headwinds.
Disclosure: I have no positions in any stocks mentioned, and no plans to initiate any positions within the next 72 hours. I wrote this article myself, and it expresses my own opinions. I am not receiving compensation for it (other than from Seeking Alpha). I have no business relationship with any company whose stock is mentioned in this article.